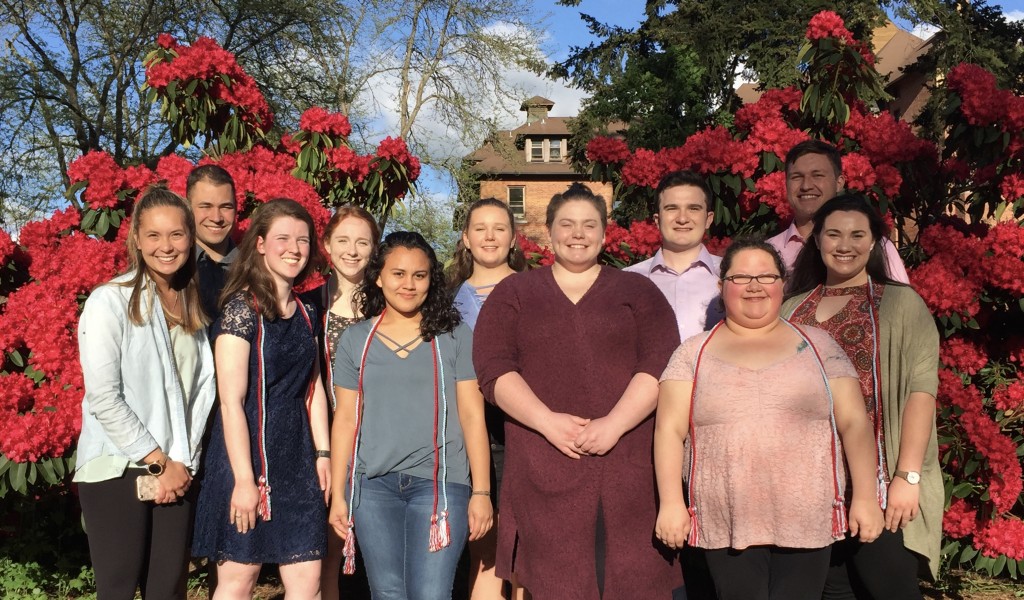 Phi Alpha Theta History Honors Society
About PAT
Phi Alpha Theta (ΦΑΘ) is an American honor society for undergraduate and graduate students and professors of history. The society has over 350,000 members, with about 9,500 new members joining each year through 860 local chapters. We are a professional society whose mission is to promote the study of history through the encouragement of research, good teaching, publication and the exchange of learning and ideas among historians. We seek to bring students and teachers together for intellectual and social exchanges, which promote and assist historical research and publication by our members in a variety of ways.
Membership Benefits
All members of the honor society are inducted through the local Phi Alpha Theta chapter at their respective college or university. Individual memberships sent directly to the National Office are not acceptable and will be returned. Our one-time initiation fee of $50.00 per student is payable at the time of initiation and can be paid by check (made payable to Phi Alpha Theta) or in cash submitted directly to the Faculty Advisor (Dr. Allinson.) This fee includes a membership certificate and four issues of our journal, The Historian. Membership in Phi Alpha Theta is a lifetime membership. Each chapter, however, may levy whatever dues or fees it deems necessary to promote its own local activities. Thereafter, there are no annual dues or fees. Members who wish to continue supporting the honor society may do so by subscribing to The Historian and/or to our newsletter.
Membership Requirements
Minimum of 12 credit hours in History (a maximum of 3 credit hours of online, transfer, or AP credits may be counted).
Minimum GPA of 3.1 in History and a GPA of 3.0 or better overall.
Membership is not limited to History majors.
If you are interested in joining PAT or would like more information, please contact your PAT Faculty Advisor, Dr Rayne Allinson (allinsra@plu.edu).
See below for more information about your PAT Committee.
Click here for membership application form.
Your PAT Committee Members
Michael Diambri '18 — President
Michael was inducted into Phi Alpha Theta as a first-year and served two terms as Vice President of the society before taking on the role of President for the 2017-18 school year. Michael has completed a number of research projects at Pacific Lutheran University including a Severtson Student-Faculty Research Fellowship with Dr. Gina Hames which allowed him to study the role of alcohol in shaping the lives and literature of the Beat Generation in Post-WWII America. He has also received a Benson Foundation Summer Research Fellowship which he used to study the history of gay bars in Seattle. Michael has presented research both at a humanities conference in Hawaii, thanks to a travel grant from the Office of the Provost, and at PLU's First Annual Undergraduate Research Symposium this past April. Additionally, in April, Michael managed to publish a book review in the Armstrong Undergraduate Journal of History. Currently, he is the history tutor for the Academic Assistance Center on campus. He hopes to continue studying history in graduate school upon completing his degree at PLU.
Current Areas of Emphasis/Interest:
20th Century U.S. History
Queer History and Studies
History of Alcohol and Drugs
Leisure and Culture
North American Literature
Alex Lund '18 – Vice President
A double major in History and Biology, Alex joined Phi Alpha Theta after declaring a History Major in the Spring of his sophomore year. Alex studied away at Oxford University, UK in the spring of 2016 where he completed a tutorial on the history of the English language. After completing his History Capstone in Spring, 2017 on the creation of the USDA, Alex is currently working on an independent research project as a Benson fellow investigating the effect that grain elevator closures had on rural farming communities in Northeastern Montana during the 20th century. Alex is very involved in student government on campus and is in his third term as a Senator for the Class of 2018 for the Associated Students of PLU. He is also an active member of the PLU Ultimate Frisbee team, Reign.
Current Areas of Emphasis/Interest:
The Evolution of the English Language and Uses
Orwellian Language Theory
Evolution and Specialization of Animal Diversity
American Agricultural History
Molly Munsterman '18 – Secretary
Molly was inducted to Phi Alpha Theta in the spring of 2016 and will serve as the Phi Alpha Theta's Secretary/Treasurer during the fall of 2016. In addition to Phi Alpha Theta, Molly currently serves as Student Vice President of Phi Kappa Phi and she recently began her position as a student worker in PLU's Archives & Special Collection. Molly hopes to continue researching feminist movements and resistance to British imperialism during her study abroad experience at Regents Park, Oxford, England in the spring of 2017.
Current Areas of Emphasis/Interest:
Resistance and Activist Movements
Colonizations in the Americas
Gender and Sexuality
Women in History
Rachel Watkins '18 — Treasurer
Rachel is  a senior at PLU. She is a transfer student and became a history major during her first-year at PLU in 2016-2017. This is Rachel's first year in Phi Alpha Theta. She will be graduating this Spring with many life skills that will help her in her future career as a teacher. Rachel also has a Children's Literature minor. Rachel's main goal a historian is to find ways to educate young students about History.
Current Areas of Emphasis/Interest:
American History
History of Technology
The Holocaust
Colton Moore '20 — Historian
Colton is currently a sophomore at PLU and was inducted into PAT at the end of his first year. He has enjoyed studying history since he was a young child. He is excited to continue his education at PLU. In addition to being a history major, Colton is a cadet in PLU's ROTC program.
Current areas of Emphasis/Interest:
19th and 20th Century Russia
Russian Culture
Spirituality in Eastern Europe