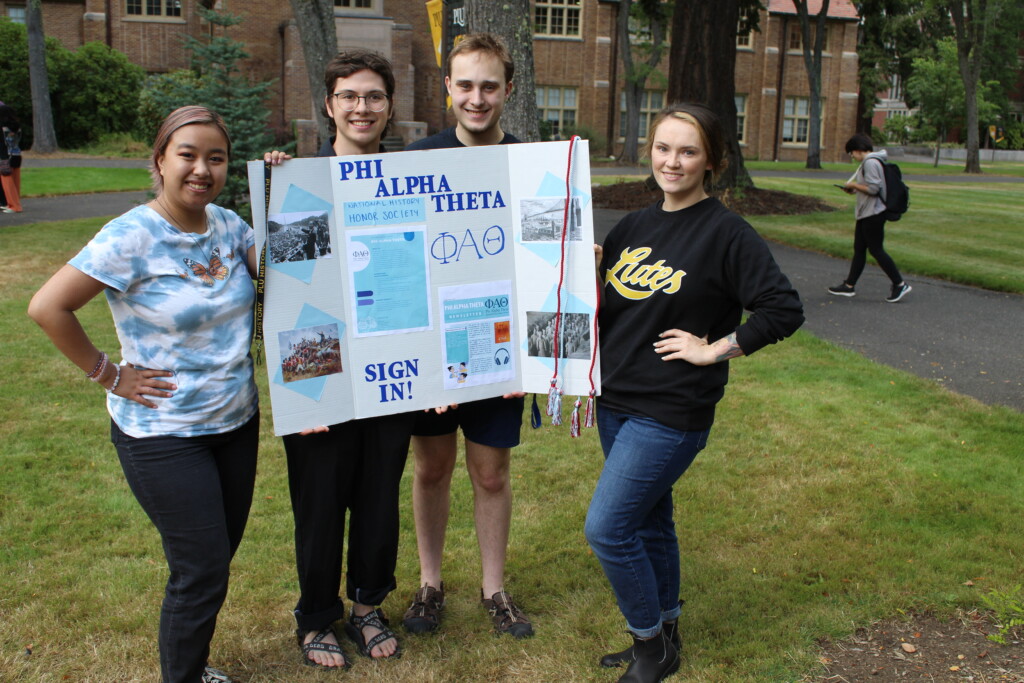 Phi Alpha Theta History Honors Society
About PAT
Phi Alpha Theta (ΦΑΘ) is an American honor society for undergraduate and graduate students and professors of history. The society has over 400,000 members, with about 9,500 new members joining each year through 860 local chapters. We are a professional society whose mission is to promote the study of history through the encouragement of research, good teaching, publication and the exchange of learning and ideas among historians. We seek to bring students and teachers together for intellectual and social exchanges, which promote and assist historical research and publication by our members in a variety of ways.
Membership Benefits
All members of the honor society are inducted through the local Phi Alpha Theta chapter at their respective college or university. The procedure at PLU is to email Prof. Gina Hames (advisor), who will collect the necessary information and send in your application. Students are welcome to ask Dr. Hames or current President Kara Atkinson questions about the process.
A one-time initiation fee of $50.00 per student is collected at the time of application, which may be paid via cash, check, or Venmo. This fee includes a membership certificate and four issues of our journal, The Historian. Students also receive honor cords for the PLU commencement ceremony. Membership in Phi Alpha Theta is a lifetime membership, and students can use the honor for fellowship opportunities, resumes, and networking within the national Phi Alpha Theta community.
Membership Requirements
Minimum of 12 credit hours in History (a maximum of 3 credit hours of online, transfer, or AP credits may be counted).
Minimum GPA of 3.1 in History and a GPA of 3.0 or better overall.
Membership is not limited to History majors and often includes History minors and other students who have taken an interest in historical study during their college years.
If you are interested in joining PAT or would like more information, please contact one of our PAT faculty advisors, Dr. Gina Hames (hamesgl@plu.edu) or Dr. Mike Halvorson (halvormj@plu.edu), or our President Kara Atkinson (kara.atkinson@plu.edu).
2022-2023 Events
On Sept. 26, 2022, tabled at the PLU Rock the Block event!
On Oct. 12, 2022 PAT hosts a Meet and Greet for history majors, minors, PAT members and more in Xavier Hall 150. Refreshments provided!
On Nov. 2, 2022 (7:00 p.m.), PAT hosts a historical film night in the Philip A. Nordquist lecture hall located in Xavier Hall 201. After watching the film, a short history-based discussion will happen. We welcome all majors for popcorn, history and more!
On May 17, 2023, PAT hosts the Phi Alpha Theta induction ceremony for new members. 5:00 p.m. – 6:00 p.m. in Xavier 201.
Click here to see the membership application form. When you are ready to sign up, please contact Dr. Gina Hames in the Dept. of History.