Currently Reading:
Fast Track setting PLU graduate students on right path
Fast Track setting PLU graduate students on right path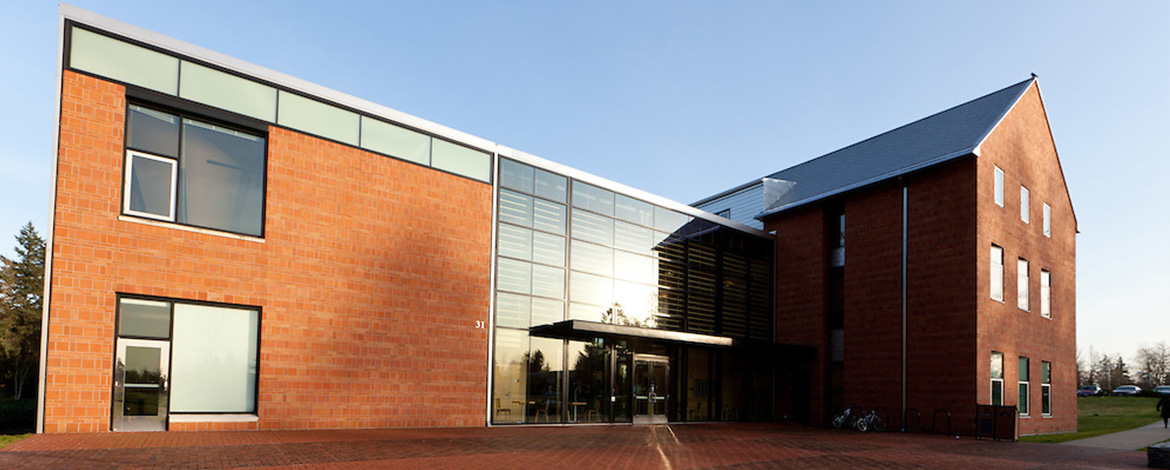 January 9, 2018
By Thomas Kyle-Milward
PLU Marketing & Communications
TACOMA, WASH. (Jan. 8, 2018)- Graduate school can be a daunting prospect for anyone. Students fresh off their undergraduate sprint are faced with a complicated application process and daunting comprehensive tests. But Leah Sweeney '17, a Fast Track student working on her Master of Business Administration, faced additional challenges -- as a new mother who needed to get started on a career, continued education seemed out of reach.
"I never really was set on going to graduate school, it was something that sort of happened by accident," Sweeney said. "I saw a flyer (for the Fast Track program) and I was like, 'I can't go to grad school. The application process is very intimidating, you have to pay a lot, I'm already a senior and I have a 2-year-old daughter. I need to start working.' I didn't really think that there was a chance I would get to go to grad school."
But after giving the idea a few days' thought, Sweeney reached out to Juanita Reed, PLU's director of MBA and undergraduate business programs. They scheduled a 30-minute consultation to discuss Fast Track and what the program could do for Sweeney, and by the end of the meeting her mind was made up.
"So I applied, which was very easy," Sweeney said. "It's really fate, and I'm really glad that it happened."
That's the beauty of Fast Track — it streamlines the application process by eliminating the fees and not requiring the submission of GMAT or GRE scores. Prospective graduate students must maintain a 3.0 GPA through their upper-division courses to gain admittance, but they can apply as first-years and plot a course to grad school through their four years on PLU's campus as undergrads and apply as many as five years after completing their degree. And after proving successful as a program limited to students graduating from PLU, Fast Track is expanding to students with undergrad degrees from other AACSB-accredited universities.
"With Fast Track, the students can explore their areas of interest and know that with just one additional year, they can now take their idea of what they've learned within their major and bring it to market," Reed said. "When you have someone that's majoring, say, in English, and they put together some type of capstone project and some ideas, taking it from those ideas and actually implementing them, a masters degree can help them make that jump. It gives the students a little bit more flexibility to really choose their path, choose their vocation — and then we can help them make that translation into industry."
Sweeney is taking advantage of that chance to chase her passions. Part of the accelerated nine-month program she's participating in has a ten-day international business study away built into the program cost. Each year, the MBA selects different countries for the international experience. Sweeney got to pick between China., Peru or Mexico
"I've been studying the Chinese language since I was in high school, and so I've always been interested in Chinese culture and language," said Sweeney, who was a double major in Chinese studies and political science, and studied away in China during her undergrad. "That's a really big reason why I chose PLU, because they have a really good Chinese studies program that actually allows you to get your major in that specific focus. I'm going to be studying in China. I thought it would be good to go back with a new eye, with the business perspective."
The condensed path to a graduate degree is another appealing Fast Track factor, especially for students like Shelondra Harris, a communication major currently working on her Master of Science in Marketing Research at PLU.
"My motivations for the Fast Track degree included convenience and speed," Harris said. "While most people who are going to graduate school are preparing their junior and senior year of college, I did not. I was studying abroad the end of my junior year (and) coming back to PLU in the fall of my final year was full of staying on track and doing what I needed to graduate undergrad — it was hard for me to think past what I was already engulfed in. Fast Track enabled me to apply to graduate school, while remaining extremely focused on my undergraduate career."
Mark Loveless, a business administration undergrad currently working on his Master of Science in Finance, agrees: "I chose Fast Track because I could rest assured that I had made it into the program ahead of time. Originally I was not dead-set on doing graduate work, but the simplicity of the Fast Track made it a smaller decision overall."
Perhaps at its core, the best way to describe Fast Track is as a leg up for students from all academic backgrounds who are considering graduate school. This uniquely PLU program is just another way the university is removing barriers for students who are striving to better themselves.
"One thing that stands out to me, as cliché as it sounds, is the care and genuine interest the faculty and staff show toward us students," Harris said. "I have had good teachers throughout my life, but never all at once. Every single professor of this program wants to see me succeed and does not only tell me, but shows me. I am excited to know that when I graduate I will have the skills and tools needed to succeed in the field I am studying."
The Fast Track application allows candidates to apply to a graduate program in the School of Business through an abbreviated process.