Currently Reading:
Anytime Counseling: Lute Telehealth Comes to PLU
Anytime Counseling: Lute Telehealth Comes to PLU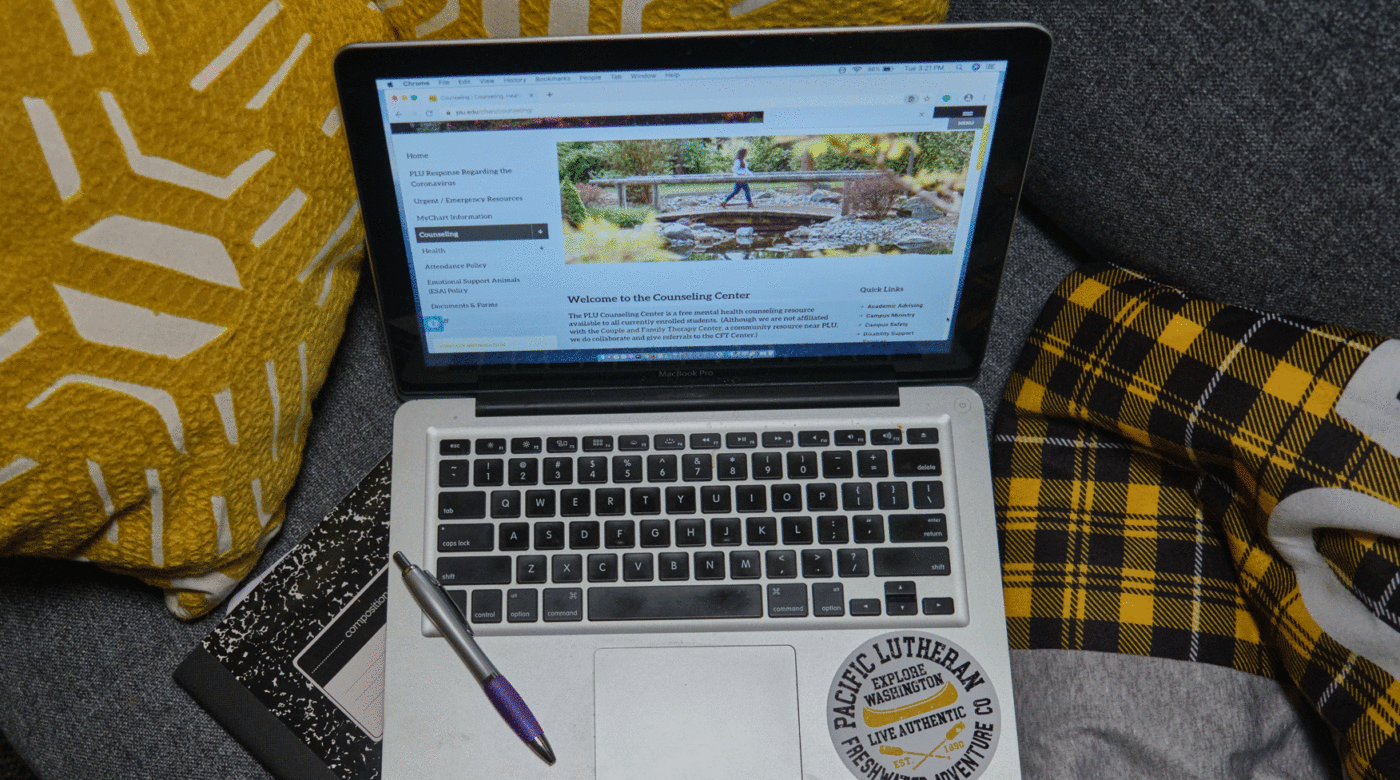 February 5, 2020
By Lora Shinn
Guest Writer for Marketing & Communications
Since 2014 there's been a remarkable 35 percent increase in public university students receiving mental health treatment, according to an original survey conducted by The Associated Press in December 2019. However, few universities can keep up with demand — even with licensed counselors on hand. At some universities, it may take weeks to get a first appointment or further treatment.
That's why Pacific Lutheran University is exploring ways to meet increased mental health service demands in a way that responds to how and when students access resources. 
This semester, PLU is launching a new service called Lute Telehealth, which will allow students to access no-cost, on-demand medical and mental health care by phone or video chat. With telehealth services, students can get help quickly — no waiting for an appointment or for the counseling or health centers to open.
To access this new service, a student only needs a web-enabled device, such as a smartphone, tablet, laptop or desktop. Like Uber, providers are available 24/7/365. 
Adding telehealth services emerged from a desire to increase PLU's capacity to invest in student well-being, says Joanna Royce-Davis, Vice President for Student Life at PLU.
"We noted how student needs are changing regarding mental health resources," she says.
"I think we do live in a more stressful time where students feel a lot of pressure to perform," says Grace Bingay, a PLU junior on the rowing team, a psychology major and a leader of PLU's Active Minds chapter.
Active Minds is a national organization dedicated to mental health advocacy, and PLU's chapter has created informational posters on eating disorders, sponsored a workshop on mental health for athletes and offered suicide prevention awareness.

"More people are talking about mental health and mental disorders. It's okay to feel overwhelmed, and it's okay to get help for it," Bingay says.
Healthy Minds
In the past, PLU offered after-hours crisis care for urgent mental health issues, and a nurse advice line for urgent medical problems. The new system is structured around typical student schedules and needs, a convenient way to seek and receive help. 
Students can even schedule up to 14 counseling appointments in the academic year — ongoing sessions that are much like traditional counseling appointments, for no additional cost. Yes, even if the best time is 2 a.m. every Thursday. 
The virtual tool complements those offered in the real world. For example, Bingay points out that PLU's counseling center has hired more people, and an athletic coach provides open hours for athletes. 
"But it's nice to have the opportunity for students to have the direct availability to talk to somebody, or have a cool ongoing relationship and see a therapist regularly," Bingay says. 
Required to respect the state's confidentiality rules, the app's licensed mental health providers can offer regular counseling on common causes of college stress, including anxiety, depression, eating disorders, addictions, trauma and panic disorders, or respond to each student's unique needs. 
Some students might not have experience with brick-and-mortar services, desire more diversity in counselor options, or feel self-conscious about seeking out mental health help.
"You can access care wherever it's most comfortable for you," Royce-Davis says. "It could be in your parked car, or in PLU's meditation and interfaith space."
Healthy Bodies. 
Lute Telehealth can also help resolve physical issues and illnesses — even those inconvenient enough to crop up when a student is between classes, traveling during winter break, or up all night after a cram session.
A licensed, board-certified physician, nurse practitioner, or physician assistant reviews symptoms, makes a diagnosis and then recommends treatments. They can provide relief for issues ranging from the flu to a UTI to allergies, in addition to the alleviation of traveler's concerns such as malaria and motion sickness.
Severe or complicated problems are referred to another care provider. Depending on the concern, students are either sent to a campus provider or other local providers, specialists and services.
Physicians can even prescribe and send medication prescriptions for short-term use to a student's regular pharmacy: antibiotics, inhalers, antihistamines and more. Providers may also be able to fill medication prescriptions if you're transitioning to a new doctor or can't get in touch with your own outside of regular business hours.
Patient records are shared with campus care providers, with students' permission. Information is protected with encryption and conforms to HIPAA requirements to ensure privacy.
"This is one of many investments we're making in developing an ecology of well-being," Royce-Davis says, describing a whole-person approach to mental and physical health. "The goal is to offer prevention and timely resources that keep students thriving overall and are supportive of their persistence and overall success at PLU."
The new service officially becomes available on February 6, the first day of the spring semester. On February 18 and 19, Active Minds members and Lute Telehealth representatives will table in the Anderson University Center. In the weeks ahead they'll meet with many PLU groups, to help students learn how to set up an account. Active Minds also plans to make an app-tutorial video.