Currently Reading:
PLU senior Daniel Hachet leaves a legacy of green on campus
PLU senior Daniel Hachet leaves a legacy of green on campus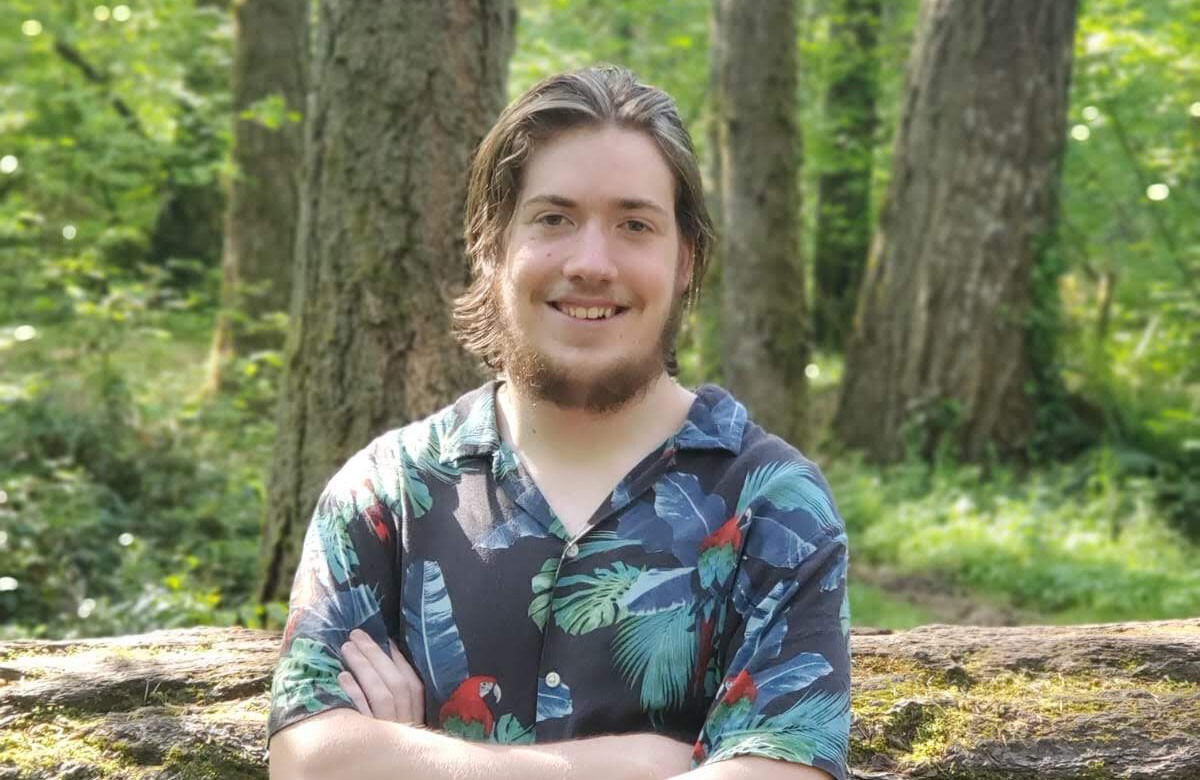 May 11, 2020
By Lora Shinn
Marketing & Communications Guest Writer
Daniel Hachet '20 might be graduating this spring, but his green initiatives will continue on at PLU. On-campus restaurants now recycle thousands of cereal bags—and are even getting paid to do so. Residence Halls now offer recycling during summer camps. Reusable dishes and compostable straws will be in Kelley Café, after it reopens. All in place thanks to sustainability initiatives led by Hachet.
The second-youngest of five siblings, Hachet grew up in Orient, Ohio (population: 252), where climate change isn't always widely accepted as a fact. After taking AP Environmental Science, Hachet became fascinated by sustainability—and also joined the gardening club. He started "Operation Green," a student group that collected recycling from classrooms for recycling and canceled school junk mail headed for the landfill. 
Hachet's first day in Washington State was his first day at PLU. He chose PLU after a Minnesotan (known for their niceness) told him that the PLU kids were friendly and super awesome—"and everyone I've met has been," he says.
As a first-year student, Hachet jumped into leadership, volunteering in his residence hall to promote sustainability and energy conservation. As a sophomore, he received his first paid position to promote sustainability across all of the residence halls, which he continued through his junior year. Senior year, he appointed sustainability director of ASPLU, and he took students on guided dump and composting-facility trips to learn about waste.
His efforts have been noticed. "He embodies PLU's mission in his care for others and care for the earth. He engages in thoughtful inquiry and leadership, by thinking critically and taking the initiative for education and practices that improve the sustainability of the university," says mathematics professor Nicola Justice, also Hachet's capstone advisor.
Hachet's favorite project on campus? Brokering a recycling bin-lending deal between PLU's Residential Life and Conferences and Events Departments—so that summer camps could have recycling, which they didn't have access to previously.
Leadership in Sustainability
PLU Student Affairs recently named Daniel Hachet '20 the winner of the "Leadership in Sustainability" award. The annual award honors a student who has demonstrated leadership through education and advocacy for the sustainability of the earth and its inhabitants.
"I spent a lot of that summer going back and forth between the departments," he says.  "It took about two months to figure out how to coordinate the recycling effort."
He enjoyed puzzling through negotiations and solutions. "One of the things I learned was that just because one idea fails, it doesn't mean the next one will," he observes.
Hachet is a dual major in mathematics and environmental studies. Although the two disciplines might seem quite different at first, his two senior capstone projects under Justice integrate the two to examine energy consumption and waste on campus.
His math capstone uses statistical analysis to determine the success of a PLU electricity conservation campaign. In environmental studies, the capstone focuses on how PLU's catering department could deal with leftover food in a more efficient and environmentally conscious way.
"It took a long time to come up with the subjects, but the two disciplines can go together, with data analysis as the linking piece," Hachet says. 
During this time of COVID-19 and shelter-in-place, Hachet is staying at a friend's house off-campus. He hopes to remain in Washington after graduation. "I go on hikes all the time, and everyone here is really friendly," he says. He hopes to land a position as an Americorps sustainability coordinator right after graduation. Eventually, he'd like to work in data analysis for environmental consulting firms.
Hachet will miss the connections he's made and the leadership experiences he's had at PLU. The university has been an excellent place to grow his stewardship capacity, he says. "Care for the earth is in our mission statement," Hachet points out, and PLU has provided many opportunities to develop new green initiatives. 
"Daniel embodies PLU's mission of care because his passion for sustainability is contagious, but not judgmental," Justice says. "With everyone he meets, he is an evangelist for sustainability," she says, "whether inviting them to join in a sweater swap or tour the dump."
Justice discovered she could bring home compost to campus after Hachet told her about the sustainability newsletter. "This has affected the way I live and the way I teach my children to live," she says. "It may seem small, but not when considering his similar influence on hundreds of Lutes." 
Encouraging others to get involved through making small changes is what inspires Hachet to keep up the good work.
"It motivates me, feeling like I can make the world a better place," he says. "Maybe the world is in tough shape, but if we can make it one percent better it's easy for me to get excited about that. 
"I get excited about the small things. I think seeing other people get excited too, taking pride in tiny accomplishments that are selfless and self-fulfilling – that's what sells it for me."