Currently Reading:
From Oxford, England to Oaxaca, Mexico, Jackie Lindstrom '23 uses math to understand migration
From Oxford, England to Oaxaca, Mexico, Jackie Lindstrom '23 uses math to understand migration
Posted by:
mhines
/ May 23, 2023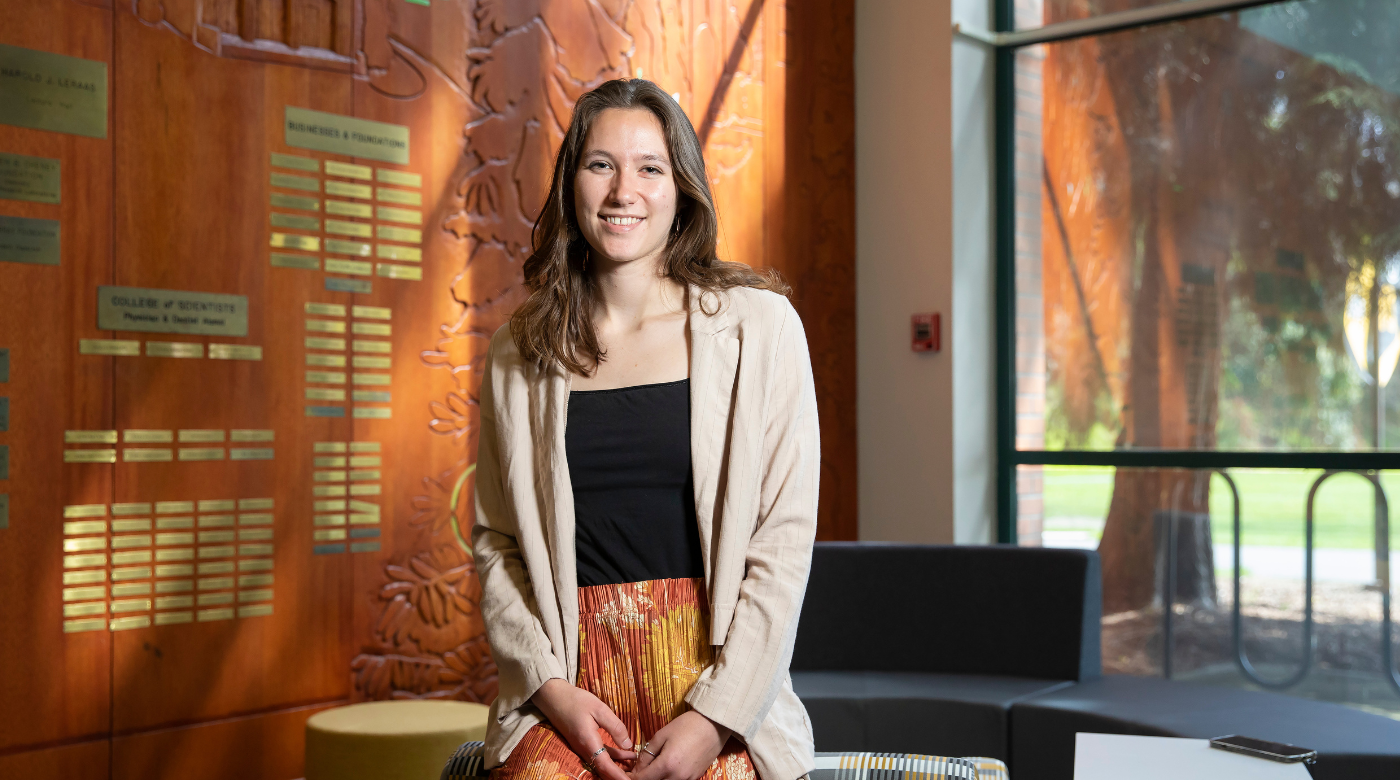 May 23, 2023
By Emily Holt, MFA '16
PLU Marketing and Communications Guest Writer
Recently, chemistry major Jackie Lindstrom found herself in Oxford, England, conducting a series of informational interviews with public health representatives from Oxfam and the International Organization for Migration, a United Nations advisory agency that promotes international cooperation on migration.
Traveling under a Wang Center Research Grant, Jackie worked with agency representatives to locate a dataset on Iraqi migration from a survey about access to basic needs such as water and shelter.
"It's really hard for people to look at a giant dataset and identify the main takeaways," Lindstrom said. "So I was just excited to be able to serve this organization and hopefully give them some helpful feedback."
Now, for her math capstone, she's running a statistical analysis, using principal component analysis to simplify the dataset and suggest ways the U.N. agency can fine-tune their surveys and reporting.
If collaborating with a U.N. agency seems unexpected for a chemistry major, for Jackie, it's been a natural outcome from the innovative interdisciplinary approach of PLU's International Honors Program (IHON). Through IHON, Jackie originally traveled to Oxford in fall 2021, and through the Wang Center's Gateway Program, she traveled to Oaxaca in spring 2022.
At Oxford, a class on forced migration and refugee studies spurred Jackie to apply for the Wang Center grant, and in Oaxaca, a literature course on United States-Mexico migration relations showed her another side of migration.
They're the kind of experiences Jackie might not have had without the benefit of a PLUS Year, a year of free tuition for undergraduates studying during COVID.
"I used it to be able to study abroad all of last year, which was really amazing and something that I would not really have been able to fit in as easily as a STEM major," Jackie said.
During her PLUS Year, Jackie was able to attend chemistry classes in person, turn her math minor into a major, and complete a minor in Hispanic Studies. After two summers working in Dr. Dean Waldow's chemistry lab, where students have been working to synthesize a solid polymer electrolyte for use in lithium-ion batteries, Jackie realized one of her favorite parts was the data analysis.
Her love of math has also been a way to serve the wider PLU community.
"While completing these degrees, she also had time to be an SI (supplemental instruction) leader for precalculus in 2020 [and] to grade for multiple instructors," said chemistry professor Dr. Andrea Munro. "She is an incredible student."
Jackie's sense of initiative has also been developed by club activities outside the classroom. As an Outdoor Rec trip leader and Ultimate Frisbee coach for elementary and middle school kids, Jackie has been able to appreciate a wilderness very different from that of Rhode Island, where she grew up, and to focus on improving accessibility in the outdoors.
"Ultimate Frisbee is self-officiated, which is really cool," Jackie added. "So it teaches good lessons on how to stand up for yourself."
Jackie is still contemplating her next steps after graduation. PLU's medical school application acceptance rates were part of what drew Jackie to the Northwest, and lately, graduate study in public health is looking like an ideal way to harness her diverse skill set and passion for tackling tough questions.