Currently Reading:
Venice Jakowchuk '23 travels through time, a dancer's journey toward archaeology
Venice Jakowchuk '23 travels through time, a dancer's journey toward archaeology
Posted by:
mhines
/ May 23, 2023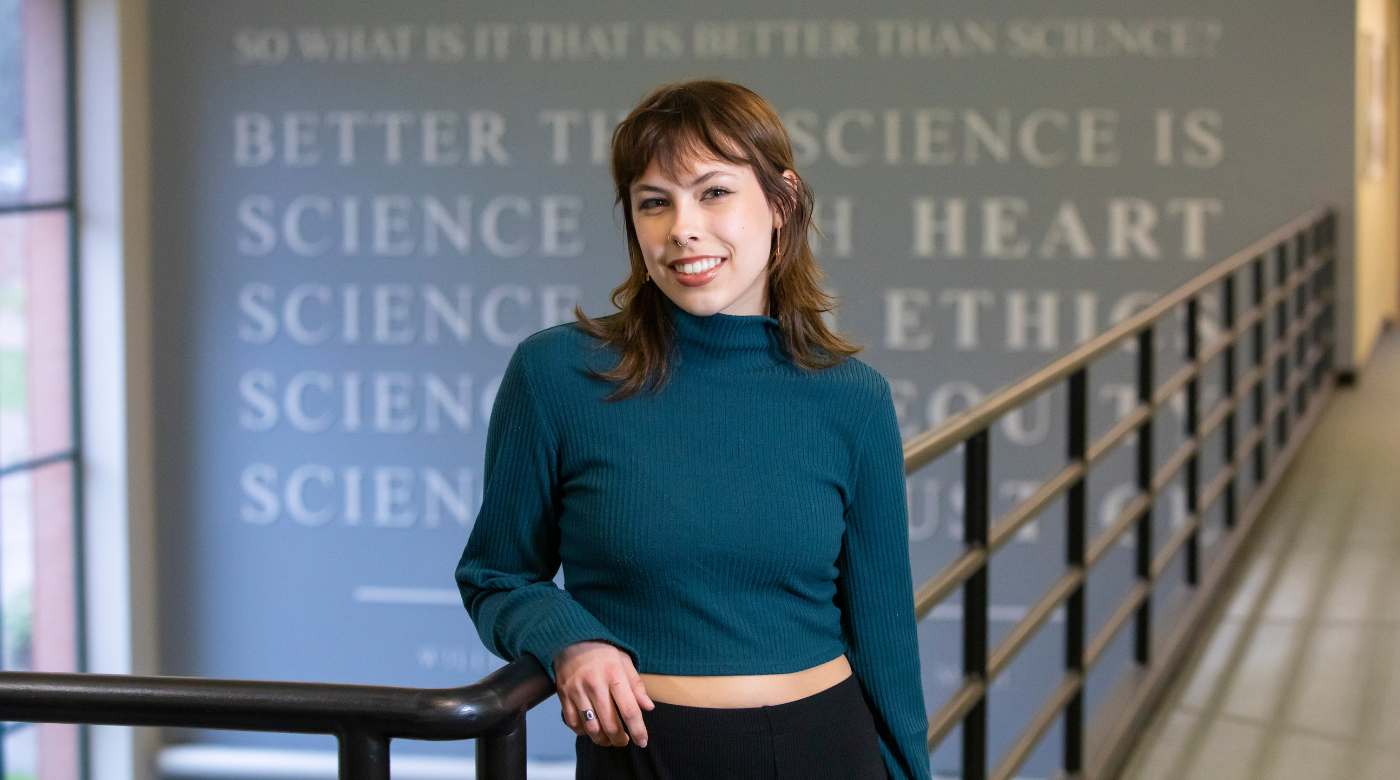 May 23, 2023
By Emily Holt, MFA '16
PLU Marketing and Communications Guest Writer
For Venice Jakowchuk '23, a single general education class sparked a passion that has since taken her—literally and/or metaphorically—from Herefordshire, England and Aberdeen, Scotland to the central highlands of Mexico and back to the lands of the Nisqually peoples.
Originally from Arizona, Jakowchuk entered PLU with a dance scholarship, tentatively planning to study history and become a teacher. But a physical anthropology class in biological diversity with department chair Dr. Bradford Andrews introduced her to a field—and a way of seeing the past—that piqued her interest. And then in Dr. Andrews's introduction to archaeology course, Jakowchuk said she just fell in love with the field.
"I liked being able to engage with the past in different ways that weren't just through the written record," Jakowchuk said. "And to be able to look at objects and features and see what they say about our past—I just thought that was so cool."
After committing to dual majors in history and anthropology with a specialty in archaeology, the next step for Jakowchuk was to get experience in the field. In the summer of 2021, she joined an excavation fair in Herefordshire, United Kingdom, working at Arthur's Stone, a Neolithic chambered tomb.
"It was an amazing experience, and it really solidified my love for archeology," Jakowchuk said. "I knew I liked archeology in the classroom, learning about the theory, the reading and writing. Then getting this hands-on experience gave me that same joy. It was just super exciting."
Because Jakowchuk was a sophomore when COVID hit, her initial plans to study abroad were canceled. But the PLUS Year, a tuition-free fifth year, allowed her to return to the U.K. to study at the University of Aberdeen, where all of her classes were in archaeology.
Jakowchuk returned with a "bigger toolbox" and has since turned her focus to local histories. She's currently curating the anthropology department's collection of small materials—mostly shells, pieces of animal bones and rocks—to record and preserve them before returning them to the Nisqually Tribe.
Her research on central Mexico may be less hands-on but is no less exciting. Looking at detailed drawings from the Aztec city of Calixtlahuaca, Jakowchuk is examining stylistic, political and geographic factors that influenced the production of projectile points, chipped stone artifacts used as multi-purpose tools, during the post-classic period, right before the Spanish conquest. This spring, she presented her findings at the Society for American Archaeology conference in Portland.
To Dr. Andrews, it's her willingness to dive into challenges like these that makes Jakowchuk such an impressive student. Though she entered PLU as a first-generation student, which she said can feel overwhelming, the opportunity to connect one-on-one with faculty, along with PLU's wider efforts to build inclusive communities, made a big difference.
Now, Jakowchuk is looking ahead to another big move—this time for graduate school. This fall, she'll be starting a master's in archaeology at the University of Edinburgh, and though it's a big move, Jakowchuk says she likes to get outside of her comfort zone. It's what led her to move from Arizona to Tacoma, and it continues to spark a desire to "dig deeper" into complex histories.