Congratulations to the 2019-20 Faculty Excellence Award Recipients!
Posted by:
abryant
/ January 10, 2020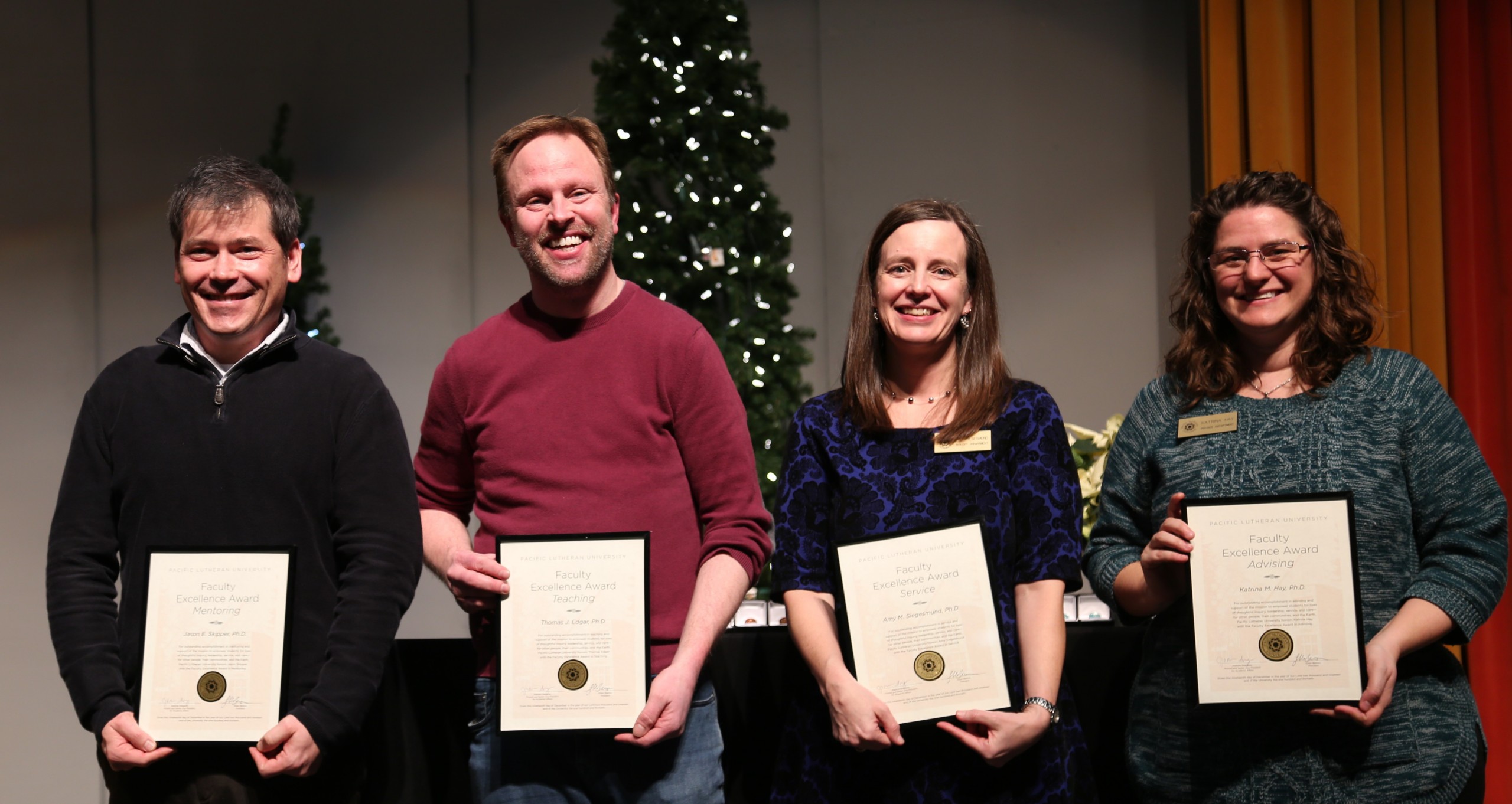 January 10, 2020
PLU sponsors Faculty Excellence Awards to recognize outstanding accomplishments of the faculty in five areas of faculty work: teaching, advising, mentoring, research, and service. The recipients have been nominated and selected by their peers, signifying their high regard among those who know them well. Congratulations to the 2019-20 award recipients!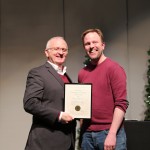 The Faculty Excellence Award in Teaching recognizes a member of our faculty who embodies a commitment to excellence in their ability to communicate knowledge and inspire students. The 2019 Faculty Excellence Award in Teaching is presented to Dr. Tom Edgar, Associate Professor of Mathematics.
One student writes, "Dr. Edgar makes every effort to get to know us beyond the student level. Not only does he listen to how we learn, how we study, and how nervous we are for an exam, he wants to know where we're from, where we're going, what our hobbies are, and what we enjoy in life. In my experience at PLU, I have never felt more appreciated, noticed, and understood than I do with Dr. Edgar."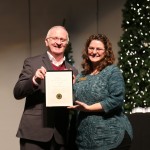 The Faculty Excellence Award in Advising recognizes a faculty advisor who embodies the qualities of effective and caring concern for student academic progress. This year we honor Dr. Katrina Hay, Associate Professor of Physics. 
A former student shared an anecdote about the first time they visited Dr. Hay's office hours. As a first-year student newly acquainted with college-level physics, the student recalls sharing with Dr. Hay a dream of someday working for NASA. The student shared that, "Dr. Hay did everything she could to help me get there, and at the end of my sophomore year, I was presented with a wonderful opportunity to be a NASA intern. It was a dream come true for me, but it also seemed that it was a dream come true for her as well."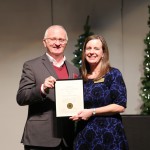 The Faculty Excellence Award in Service recognizes a faculty member who demonstrates academic leadership and who influences the life of the university through service in areas of faculty governance, the university, and the community beyond the university. This year we honor Dr. Amy Siegesmund, Associate Professor of Biology.
A PLU colleague who has worked with Dr. Siegesmund in a number of contexts wrote, "…[T]his award isn't about the amount of Amy's service, impressive as the list might be. It is a recognition of the quality of her sustained commitment to improving both the PLU community and the broader scientific community through her service on and beyond campus."
Dr. Siegesmund's service at PLU includes Governance Committee, Faculty Affairs Committee, co-chair of the Faculty Joint Committee, S-STEM, Natural Sciences Fellows program, and several student clubs such as the Biology club, Pre-Medical club, and Pre-Dental club. Beyond the campus, she is a board member of the American Society For Microbiology (AMS) Education where she identifies the everyday professional development needs of biology and microbiology undergraduate educators.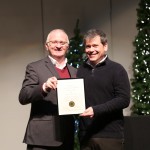 The Faculty Excellence Award in Mentoring was established by a gift from the late Tom Carlson, Professor of Biology, and honors Professor Emeritus of Biology Art Gee who excelled as a mentor to colleagues and students in his many years of service on the faculty. This award recognizes the efforts of a faculty member who serves as a "personal or professional guide" to students or colleagues and who make a profound difference in the lives of others as a role model, confidant, critic, or co-learner. This year we honor Dr. Jason Skipper, Associate Professor of English.
One colleague wrote, "From a first year writing course to the capstone, Jason mentors the room and crafts a supportive environment where people can take chances, be vulnerable, and be open-minded…. In doing this careful and labor-intensive work, Jason is mentoring these students into new lives as scholar-citizens. Jason's students are the sort of people I want teaching in schools, running for office, and leading global forces for change because I know that they've learned from him. I know they are more thoughtful, more creative, and more collaborative than they were before they came under his guidance."
*Note: All comments are moderated