Cadet Training
Cadets participate in hands-on training exercises designed to develop excellence in leadership as well as team building and individual soldier skills.
Training Includes:
1 to 2 hours of weekly classroom instruction in officer development topics
Physical Fitness conducted every Monday, Wednesday, Friday (0630-0730)
Rappelling
Land Navigation
Leadership Reaction Courses
Obstacle Course
Basic Rifle Marksmanship
Combat Water Survival/Swim Test
Extra Curricular Activities
Cadets are involved in a variety of ROTC affiliated extra-curricular activities as well as on-campus clubs and organizations.
ROTC:
Color Guard
Ranger Challenge Team
Cadet Activities Council (CAC)
Social Activities (military ball, dining-in, informal dances, picnics/bbq)
On Campus:
Jazz Band
Varsity, Club, and Intramural Sports
Dance Club
Theater
Academic Major Clubs
Community Service
The PLU Cadets have a 59% to 41% mix of male to female cadets, with 32% of our cadets coming from minority ethnic and racial groups, and they represent an equally wide variety of majors.  However, they all share the common goal of service to the nation through leadership in the United States Army.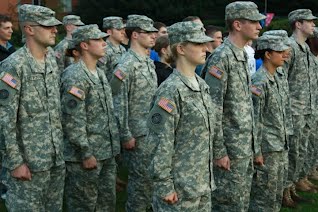 Interested?
Please contact our Scholarship and Enrollment Officer by phone at 253-535-8740, or by email at rotc@plu.edu if you are interested in a scholarship or joining ROTC.