``Find Your Mission``
Maj. Margaret Witt '86
7 p.m. | Thursday, Nov. 9 | Scandinavian Cultural Center
Free and Open to the Public
PLU Nursing alum, Maj. Margaret Witt '86 will share her story in her lecture "Find Your Mission" at 7 p.m. Thursday, Nov. 9 in the Scandinavian Cultural Center of the Anderson University Center.
Witt's lecture will share parts of her book Tell: Love, Defiance, and the Military Trial at the Tipping Point for Gay Rights. After the lecture there will be a question and answer period, followed by a book signing.
Witt is from University Place and currently lives in Portland, Ore.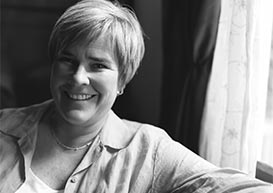 "In 1993 Margie Witt, a young Air Force nurse, was chosen as the face of the Air Force's "Cross into the Blue" recruitment campaign. This was also the year that President Clinton's plan for gays to serve openly in the military was quashed by an obdurate Congress, resulting in the blandly cynical political compromise known as Don't Ask, Don't Tell. Contrary to its intent, DADT had the perverse effect of making it harder for gay servicemen and women to fight expulsion. Over the next seventeen years more than 13,000 gay soldiers, sailors, marines, coast guard, and airmen and -women were removed from military service. That is, until Margie Witt's landmark case put a stop to it.
Tell is the riveting story of Major Margaret Witt's dedicated and decorated military career as a frontline flight nurse, and of her love and devotion to her partner—now wife—Laurie Johnson. Tell captures the tension and drama of the politically charged legal battle that led to the congressional repeal of the controversial law and helped pave the way for a suite of landmark political and legal victories for gay rights. Tell is a testament to the power of love to transform hearts and minds, as well as a celebration of the indomitable spirit of Major Witt, her wife Laurie, her dedicated legal team, and the brave men and women who came forward to testify on her behalf in a historic federal trial."
"The name Margaret Witt may join the canon of U.S. civil rights pioneers."
— Guardian 
Event Details
Speaker: Maj. Margaret Witt '86
Time: 7 p.m.
Date: Thursday, Nov. 9
Place: Scandinavian Cultural Center
After the lecture: Q&A and a book signing
Free and Open to the Public
This event is sponsored by: Meant to Live-Wild Hope Center for Vocation, Center for Gender Equity, Campus Ministry, School of Nursing, Student Life, Division of Humanities, Division of Social Sciences, Military Outreach, Religion Department, Residence Hall Association, Residential Programs, Alumni Office and the Center for Community Engagement and Service.
Endowed by a generous gift of the PLU Class of 1958, the Meant to Live events bring alumni back to campus to talk about vocation with current students.  
Meant To Live is an annual program organized by students and for students as an integral part of the Wild Hope Center for Vocation.  By bringing together a wide variety of artists, professionals, musicians, performers, and intellectuals to share their stories, these homecoming-week events hope to reach students on a personal level. All Meant to Live speakers explore what experiences, people, and passions have brought them to their current situations and how meaning manifests itself in their lives.
Since Wild Hope supports vocational exploration, we challenge students to ask themselves "Big Enough Questions." These are those profound questions to which we are drawn—questions that keep us up at night which deeply probe the human experience:
What am I living for? Whom do I truly want to become? How do I work towards something when I don't even know what it ultimately is? How does what I am studying matter to me and my path in life? Do my actions make any real difference in the bigger scheme of things? Where can I be creative? What is my society or life or God asking of me? Anything? How much is enough? Do I want to bring children into the world? To what am I most vulnerable? Will I always be stereotyped? Do I want friendship, partnership, marriage? If so, why? With whom? How do I bear the pain of being able to see what really goes on in the world? What is my religion? Do I need one? What vision of the world is worth living for? Sacrificing for? Does what I consume help others, or does it hurt them? What are my questions?
These are the questions that each Meant to Live speaker and all students explore together. Watch the calendar for upcoming Meant to Live events!
Past Meant to Live Speakers
The 2016 Meant to Live keynote was given by Brian Bannon '97. Brian is Commissioner and CEO of the Chicago Public Library system and was joined by Professor Beth Kraig, one of his mentors during his time at PLU. Brian completed a individualized bachelor of arts degree at PLU and then went on to earn a master's degree in library and information science from the University of Washington. Brian is a recognized leader in the government and nonprofit sectors, and has developed cross sector recognition as an innovator. He has a proven track record in developing and implementing innovative educational programs and leading large-scale operations that provide digital skills training, community-based learning, and educational advancement for children, families, and adults.
Janice Brunstrom-Hernandez '83
Janice E. Brunstrom-Hernandez, M.D., '83 was the 2015 Meant to Live keynote speaker.
Brunstrom-Hernandez is a board-certified pediatric neurologist, enthusiastically driven to help children with cerebral palsy "live their very best lives, now and in the future." She is able to empathize with the challenges facing her patients with cerebral palsy as she too has the disorder.