Sen. Maria Cantwell visits PLU classroom, talks with students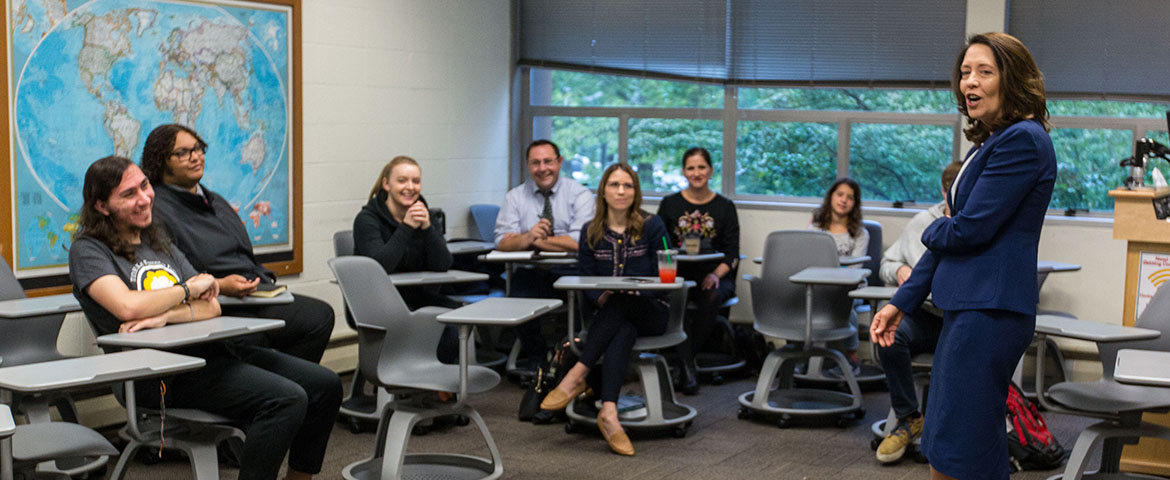 October 24, 2018
By Thomas Kyle-Milward
Marketing & Communications
Before debating challenger Susan Hutchison in the Karen Hille Phillips Center for Performing Arts on Oct. 8, Sen. Maria Cantwell took time to stop by a classroom and field questions from some inquisitive PLU students.
My dream job is Sen. Cantwell's job," said Gracie Anderson '21, a political science major. "I appreciated the chance to get to see her."
The senator briefly touched on DACA, the current political climate in D.C., college affordability, her committee work and student voter turnout in a visit that lasted about 25 minutes.
For Anderson, a member of the Associated Students of Pacific Lutheran University, the visit was particularly meaningful.
"(ASPLU) wrote a resolution and I actually suggested to collect signatures to encourage Sen. Cantwell to come to campus," she said. "I'm already so excited about being engaged and voting — it was just extra exciting to have her here."
The senator then shook hands and posed for photos before heading over to KHP to finalize her debate prep.
"I think it's really important to have one of the most powerful politicians in the state come and talk to the students, get up close to the students and really emphasize how much public policy matters," said Maria Chavez, PLU's Chair of Political Science. "Policy makes a difference in people's lives."
"It's an excellent opportunity," political science professor Michael Artime agreed. "(Students) have lots of questions about what politicians think about various issues, and I can research on those things — but that's very different than having a candidate there they can directly ask those questions to."
Anderson is working to capitalize on that student interest and turn it into student action. She's the data coordinator for Lute Vote, a PLU student government project that aims to increase civic participation through voter registration and education. Lute Vote brought Washington Secretary of State Kim Wyman to campus as part of its PLU Rocks the Vote! registration drive on Sept. 25, held a Civic Discourse and Engagement workshop with the PLU Debate team, and is organizing several Elect! Workshop events this month to inform voters and stir up engagement in local politics.
"Voting is something I'm so passionate about," Anderson said. "And something that so many people are unable to do, like are just completely oppressed and disenfranchised. And so I think it's really important that we exercise that power."