Celebrate Computer Education Week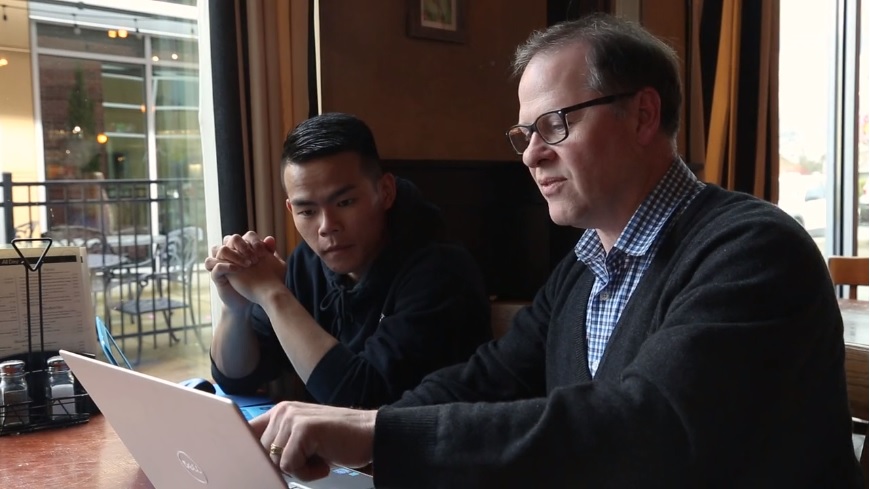 December 5, 2018
By Michael Halvorson, '85
This week is Computer Science Education Week (Dec. 3-Dec. 9) in the United States.
I helped celebrate on Monday at the Paul G. Allen School of Computer Science at the University of Washington in Seattle. The event was sponsored by Code.org, an important non-profit organization committed to training teachers and increasing general participation in computer education, with an emphasis on girls and underrepresented minority groups.
Regular blog readers may know that I work at Pacific Lutheran University (PLU) in Tacoma, but received my M.A. and Ph.D. degrees from the University of Washington. So I enjoy going back to the UW campus when I can.
But why is Computer Education Week so important?
First and foremost, Computer Education Week honors the birthday of computing pioneer Admiral Grace Murray Hopper, who was born on December 9, 1906. Hopper was a pioneer of modern computer programming who invented some of the first computer compiler tools. Although December is a busy time of the year for teachers and students, this week honors one of our founders and focuses attention on how people learn to program computers and why that skill might be useful.
The Code.org event was live-streamed in front of a festive crowd of educators, entrepreneurs, and technologists. Our speakers included Alice Steinglass (President of Code.org), Hadi Partovi (Co-founder of Code.org), Melinda Gates (Bill & Melinda Gates Foundation), Jake Baskin (Executive Director of the Computer Science Teachers Association), and Brad Smith (Microsoft's President and Chief Legal Officer).
Great boisterous groups of local school children were also present, and at one point they formed a high-five "go tunnel" to congratulate award winners. One of the students did an especially good job of interviewing Melinda Gates, who spoke about her experiences studying computer science in school.
A growing movement
Something to watch for this week is the momentum surrounding the Hour of Code movement, Code.org's free one-hour online curriculum that introduces computational thinking to people of all ages.
If you haven't tried Hour of Code yet, you should check it out this week. Just visit https://hourofcode.com/, create an account, and start problem solving.
Several learning scenarios are available, including an experience organized around Minecraft, Microsoft's hugely popular video game.
You can also create an Hour of Code Dance Party based on the Katy Perry song "Firework," or other popular tunes. To date, over 600 million Hour of Code sessions have been completed in 180 countries and 45 languages. It is truly a global phenomenon with an important social impact.
Social innovation
At PLU, we've been studying social innovation all year in our new Innovation Studies program. As part of our work, we invited Alice Steinglass to share her organization's strategy during this year's Benson Lecture in Business and Economic History.
Steinglass participated in a workshop on teaching computer science in local schools (with Heavenly Cole and Laurie Murphy), and she delivered an exciting evening talk for about 180-students, faculty, and alumni. (PLU's Department of Education co-organized the event and invited dozens of science and technology teachers from the Franklin Pierce School District.)
The presentation emphasized how important it is to prioritize diversity in computing, and we also learned how Code.Org has carefully scaled their efforts globally to reach thousands of teachers and millions of students. Thanks to Code.org and numerous partner organizations, cities and states across the nation are committing to increased spending on computer science and building new K-12 curriculum.
At PLU, we've just launched an Innovation program as well as numerous technology offerings in the School of Business and Department of Computer Science. Across the university, students learning how to integrate computing into their disciplines, how to build ethical frameworks to evaluate new technologies, and (for some) how to write interesting programs in Java, Python, C++, assembly language, and other tools.
This work is not just situated in the natural sciences. In the Department of History, for example, we had a fascinating student-faculty research project this summer that considered again the origins of personal computing. Damian Alessandro studied the history of Apple and their first products, wondering to what extent these systems might be considered 'convivial' according to the socio-technical context of the 1970s. (The term convivial was popularized by Ivan Illich in his 1973 book, Tools for Conviviality. It is still surprisingly relevant.)
For high school students who become interested in computing, there are a wide range of subjects that they can study in college to think about the implications of computational thinking in industry and society. We're really at the beginning of a surge in computer science, artificial intelligence, cognitive psychology, technical education, and the history and ethics of computing.
Computer Education Week provides schools, non-profits, and the region's great tech companies the opportunity to discuss what it means to build a diverse computing workforce. It's also a great time to assess how we're doing in our efforts to encourage young people to study computing concepts, coding fundamentals, and the overall impact of technology in society.
The value of mentoring
Take a moment this week to encourage a young person to learn more about programming and computational thinking. Use your organization's resources to support computer science education broadly in the community. If you haven't already done so, also give Hour of Code a try!
Grace Murray Hopper would be pleased.
Michael Halvorson, Ph.D., is Benson Family Chair in Business and Economic History and author of the forthcoming book, Code Nation: Personal Computing and the Learn to Program Movement in America, 1970-1995 (ACM Books / Morgan & Claypool). He received his undergraduate degree in Computer Science from Pacific Lutheran University.