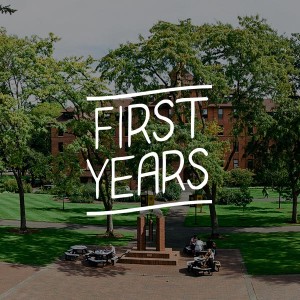 Entrance Requirements
In evaluating applications, the Office of Admission interprets grade point average and class rank in relation to the quality of the curriculum that the applicant has pursued in high school. A standard high school program in preparation for college should include the following:
English: four years
Mathematics: three years: (algebra, two years; and geometry, one year)
Foreign Language: two years
Social Studies: two years
Laboratory Sciences: two years
Fine, Visual, or Performing Arts: one year
Electives: three years (selected from the areas listed above, as well as courses in computer science, speech, and debate.)
Minimum Entrance Requirements
Two years of college preparatory mathematics (exclusive of computer science) with an average grade of C or higher, or an approved course at the college level, or demonstrated equivalent proficiency.

Two years of college preparatory mathematics means two years of high school algebra or one year of high school algebra and one year of high school geometry. Taking the algebra and/or geometry courses in middle or junior high school is acceptable provided they are high-school-level courses.
If a student is admitted to PLU with a deficiency in mathematics, that deficiency is removed after completion of approved courses as determined by the PLU math placement exam.

Two years of one foreign language in high school, with an average grade of C or higher, or one year at the college level or demonstrated equivalent proficiency. Courses in American Sign Language may fulfill this requirement.
Students who have not satisfied one or both of these requirements may still be admitted but must make up the deficiency as an additional degree requirement.
Additional study of both mathematics and foreign language is advisable for certain areas in the arts and sciences and in some professional programs. Those who follow the above preparatory program will find most curricular offerings of the University open to them and may also qualify for advanced placement in some areas.
Mathematics Department Minimum Entrance Requirements
The Office of the Registrar determines whether a student meets the minimum entrance requirements by following the above rules. When a student has a deficiency, after taking the Math Placement Test, the student will receive a recommendation about how to remove the deficiency based on the test results.
If the test result shows that a student is qualified to take MATH 115 or a higher numbered math course at PLU, then the deficiency will be removed when the student successfully passes such a course. In addition, the student will receive Math Reasoning (MR) General Education Program credit. Please be aware that credit from taking MATH 105 or MATH 107 or any non-math course which carries the MR attribute does not remove a math deficiency.
If the Math Placement Test result shows that the student is not qualified to take MATH 115 or a higher numbered math course, the student will have to take a course at a community college to remove the deficiency in his or her minimum mathematics entrance requirement. The course content should be equivalent to or more difficult than high school algebra or geometry, and it must be approved by the Department of Mathematics.
Application Procedures

PLU has four admission decision priority dates—October 15, November 15, December 15, and January 15. Students who complete their application materials prior to one of these dates can expect an admission decision and notification of academic scholarship eligibility prior to the next decision date. Applications received after January 15 will be reviewed on a rolling basis.
Credentials required are:
Formal Application: Submit the PLU Application for Admission or the Common Application online at www.plu.edu/apply or www.commonapp.org.  Both options are free.
Transcripts: Official transcripts must be submitted for all high school and college coursework. Transcripts must be sent directly from the school to PLU. All accepted students must submit a final high school transcript that indicates satisfactory completion of high school and attainment of a diploma. The University accepts the General Equivalency Diploma (GED) for those students who may not have completed a traditional high school program. Transcripts become the property of PLU and may not be returned or forwarded.
Recommendation: One academic recommendation must be completed. The form is available online.
Test Requirement: All entering first-year students must submit scores from either the College Board, Scholastic Assessment Test (SAT), or the American College Test (ACT) Assessment. Registration procedures and forms are available at high school counseling offices.
Personal Essay: Applicants will also include one essay with their application. Choice of topics is included in the application.
PLU Scholarship Opportunities: Scholarship information, including academic merit based and artistic achievement scholarships, may be found at www.plu.edu/admission/scholarships.  Students are also encouraged to indicate their intent to apply for financial aid via the FAFSA. Qualified first-year students are encouraged to apply for PLU's top academic and leadership Presidential Scholarships.
Early Admission
Qualified first-year students interested in accelerating their formal education may begin work toward a degree after completion of the junior year or first semester of the senior year of high school. Exceptional students who wish to enroll before completing all required units in high school must have a letter submitted by a recognized school official who approves early college admission and gives assurance that a high school diploma will be issued after completion of specified college work. Only students highly recommended for Early Admission will be considered. Generally these students rank near the top of their class and present high aptitude test scores.