Choir of the West wins on a global stage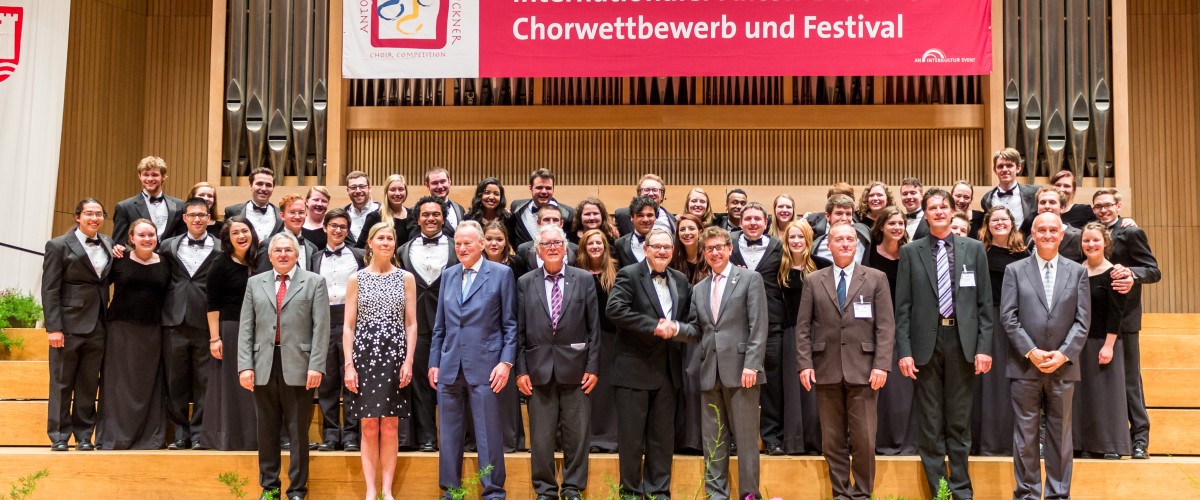 July 9, 2015
Choir of the West brings back the grand prize at International Anton Bruckner Choir Competition and Festival
The Choir of the West covered a lot of ground on their recent European Tour—five countries in twelve days, multiple gold awards and the grand prize award at the 5th Annual Anton Bruckner Choir Competition and Festival in Linz, Austria.
The Choir sang in churches and venues in Stockholm, Copenhagen, Prague and the Brucknerhaus in Linz. They sang in Martin Luther's home church in Wittenberg, Germany, as well as the Thomaskirche in Leipzig, where J.S. Bach worked for 37 years.
"All these experiences were unforgettable, but the highlight of course was winning the Grand Prize at the Anton Bruckner Choir Competition and Festival," Choir of the West Conductor Richard Nance remarked.
A total of 19 choirs from 12 countries took part in the competition, with the Choir of the West achieving the overall highest score. According to Interkultur, the presenting organization, the five internationally renowned judges were 'completely convinced,' and awarded PLU the Grand Prize.
"Compliments from the judging panel and the other participants were very positive, and as I told the choir, we made a difference for everyone that heard us sing," Nance said. "We represented our university, our music program and our country very well. It was also a wonderful opportunity for our students to hear groups from other countries and to interact with fellow singers from all over the world."
In addition to the Grand Prize, PLU took home gold awards in the Sacred Music and Mixed Choir divisions. PLU's Chamber Singers (eight singers from the Choir of the West) won Gold in the Vocal Ensemble division. Both PLU choirs were selected to perform in the Grand Prize competition with five other choirs.
The Anton Bruckner Competition was just the second world choral competition for Choir of the West. In 2011 the choir participated in the Harmonie Festival in Limburg-Lindenholzhausen, Germany, where they won gold awards in the large mixed chorus and male chorus categories, as well as silver in the women's category. Richard Nance hopes the Bruckner Competition will not be the choir's last.
"Singing on an international stage with outstanding choirs from all over the world is an experience students in the Choir of the West will remember for a lifetime. It is made all the better by our successes in these events, which brings great visibility to PLU and our music program," Nance said. "I hope we will continue to participate in festivals and competitions as we tour abroad in the future."
'Lux Aeterna,' was written and conducted by Jesus Gomez '17 and performed on the European Tour.
Links