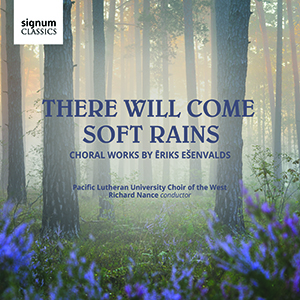 There Will Come Soft Rains
This record celebrates the music of Latvian composer Ēriks Ešenvalds. One of the most sought-after composers of today, Ešenvalds studied both in Latvia and the UK. He has had works premiered by the Boston Symphony Orchestra and the City of Birmingham Symphony Orchestra, which have won him many awards.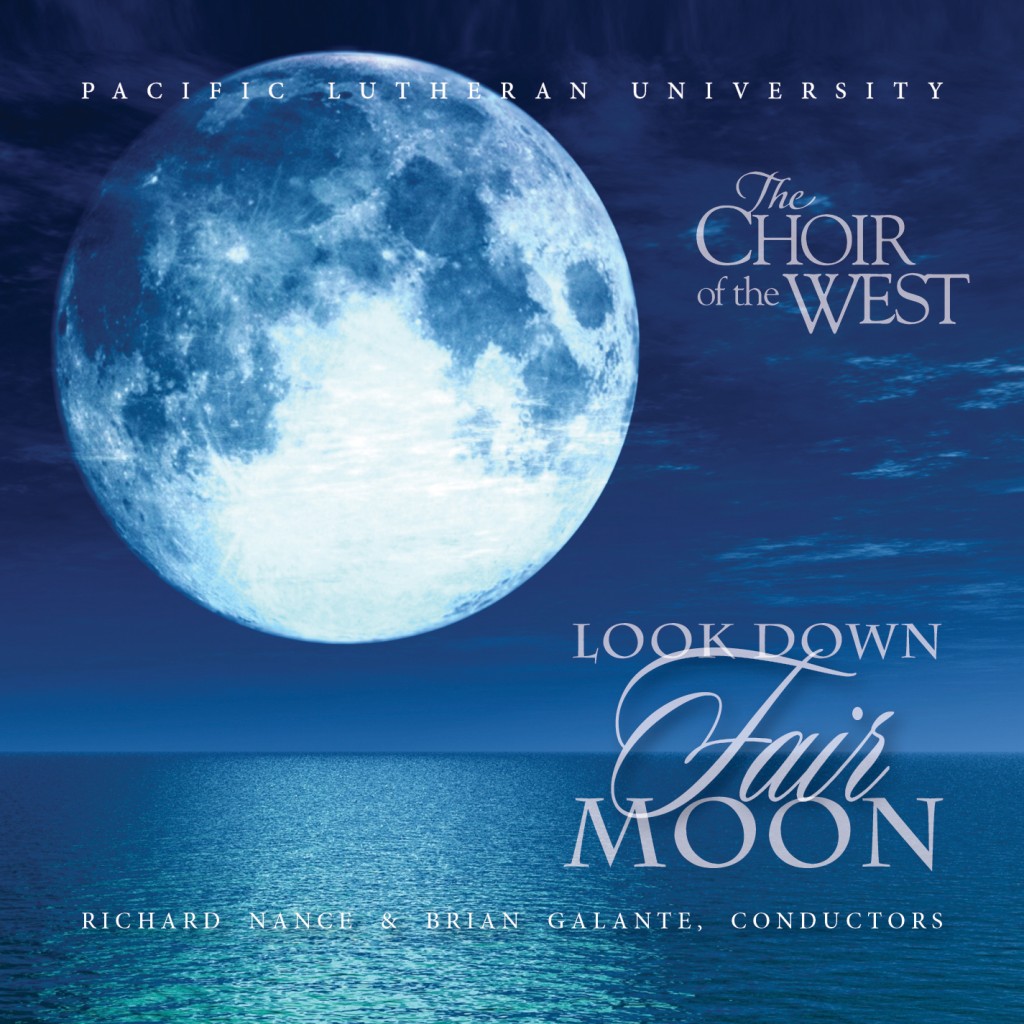 Look Down, Fair Moon
The disc features selections from the choir's 2013 and 2014 tours, including music from the choir's heralded performance at the 2013 American Choral Directors Association National Conference. Also included are the premiere of Northern Lights, by Latvian composer Ēriks Ešenvalds, selections accompanied by PLU faculty pianist Oksana Ejokina, works composed by PLU choral faculty Brian Galante, and Ubi Caritas Hebu Upendo! by Julian Reisenthel ('13).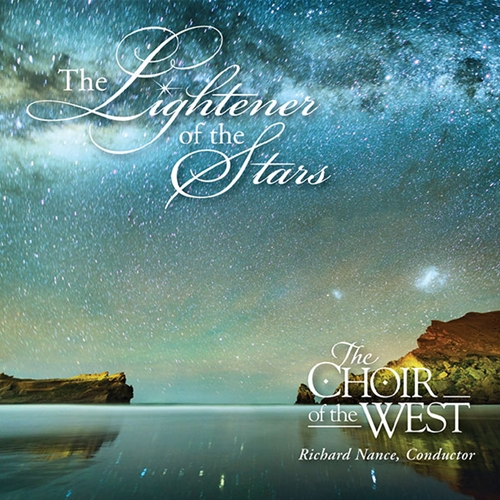 The Lightener of the Stars
The Lightener of the Stars is a collection of music from the Choir of the West's 2011 and 2012 tours. Included are selections from the choir's award-winning participation at the 2011 Harmonie Festival, held in Limburg-Lindenholzhausen, Germany, where Choir of the West competed with ensembles from over forty-seven nations. The album also features works from the choir's performance at the 2012 American Choral Directors Association Northwestern Division Conference. The title work of the album was composed by PLU student Jason Michael Saunders.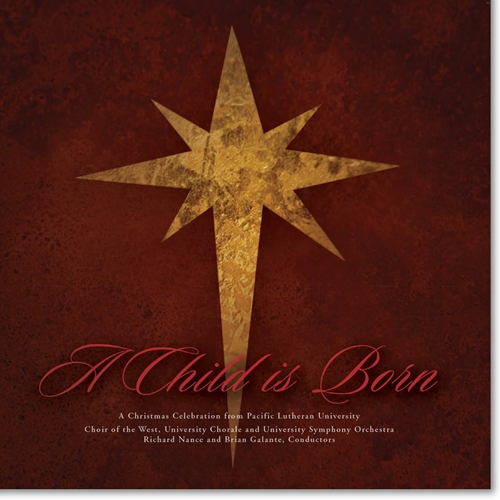 A Child is Born
The music on this disc represents works from the 2011 and 2012 Christmas concerts, and it features a new large work for choir and orchestra by Dr. David Deacon-Joyner, Professor of Music, Unto Us.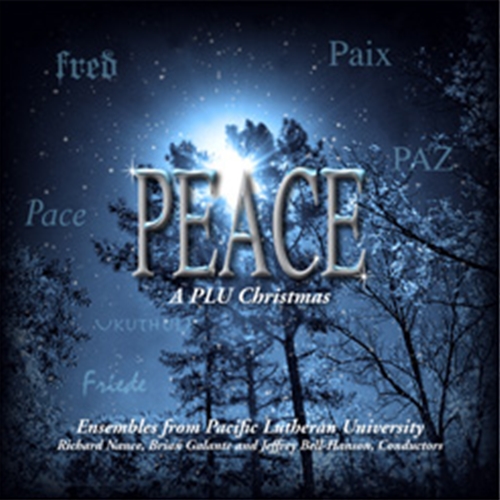 Peace - A PLU Christmas
Peace features music from the 2009 and 2010 Christmas concerts performed by the Choir of the West, University Chorale, the University Symphony Orchestra, and all the ensembles combined.
The repertoire on this disc is greatly varied. It includes traditional carols heard in Conrad Susa's A Christmas Garland medley; Ding Dong! Merrily on High, arranged by Mack Wilberg; Angels We Have Heard On High, arranged by Gabriel Dumitrescu; and the Swedish favorite, Wonderful Peace, by Gustav Nordqvist.
Important historical composers Sergei Rachmaninoff and Herbert Howells are represented, as is popular British composer John Rutter. The album features beautiful new works by PLU choral faculty member Brian Galante (Ave Maria and In The Bleak Midwinter), a jubilant Gloria by Randol Alan Bass, and Robert Kyr's exciting Pacific Sanctus.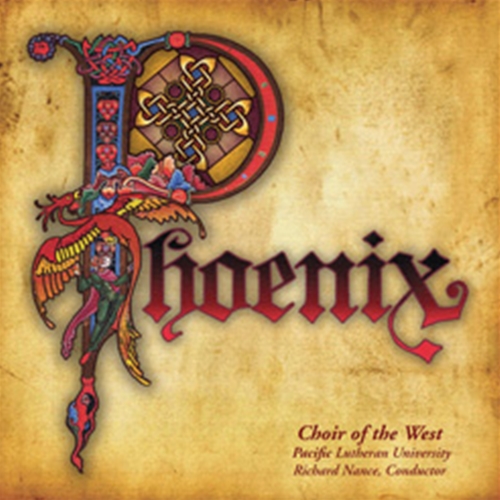 Phoenix
Phoenix is a compilation of works recorded by the Choir of the West over the course of four academic years, from 2006-2007 to 2009-2010.
A wide variety of repertoire is represented here, including both sacred and secular works from four stylistic eras—from Renaissance motets to Taiwanese Aboriginal Folk Songs.
In keeping with Pacific Lutheran University's focus on international studies, music in ten different languages appears in this collection, and there are works by composers from the USA, Italy, Germany, England, Ireland, Finland, China, Taiwan, Sweden and Latvia. PLU student composers Jason Saunders and Philip Serino present their work in this collection, as does PLU faculty member Richard Nance, conductor of the choir.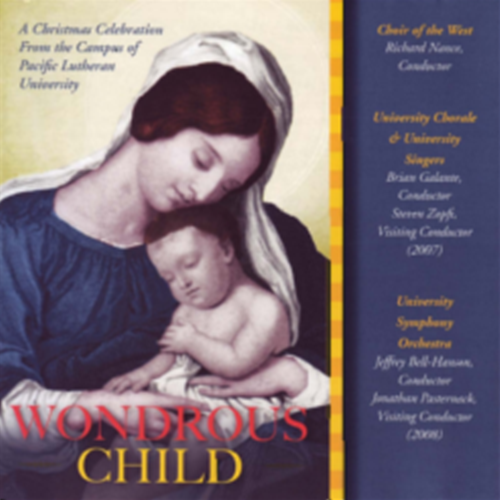 Wondrous Child
We are very pleased to release our first double disc Christmas CD, Wondrous Child. This new album contains highlights from the 2006, 2007 and 2008 Christmas concert seasons. Our musical theme calls to mind not only the mystery and paradox of Christ's incarnation and humble birth, but also describes the wonder of the Christ child himself, an innocent babe who would miraculously grow to save the world. The central work of this album is Welcome, All Wonders, written by Los Angeles composer J.A.C. Redford. This CD features works sung by the University Chorale (conducted by Steven Zopfi and Brian Galante) and it is the first recording of the Choir of the West under the direction of Richard Nance. The University Symphony Orchestra is represented as well, beautifully prepared by Jeffrey Bell-Hanson and Jonathan Pasternack, and all the ensembles combine forces to present several works.
From classical works such as Mendelssohn's Ave Maria, to the quasi-medieval Estampie Natalis by Vaclav Nehlybel, to familiar carols such as I Saw Three Ships and The First Noel, set for choir and orchestra by Mack Wilberg, this album is sure to include music that will warm your Christmas season.
Recorded in Lagerquist Concert Hall, Mary Baker Russell Music Center, Pacific Lutheran University Choir of the West & University Men's Chorus Richard Nance, Conductor University Chorale & University Singers Steven Zopfi, Visiting Conductor (2007) Brian Galante, Conductor (2008) University Symphony Orchestra Jeffrey Bell-Hanson, Conductor Jonathan Pasternak, Visiting Conductor (2008).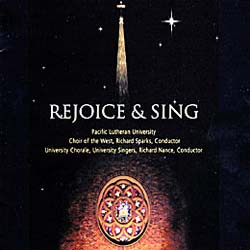 Rejoice & Sing
Featuring the Choir of the West, University Chorale and University Singers. Steeped in rich tradition, the PLU Christmas Festival Celebrations are held each year before enthusiastic crowds in Seattle, Portland and on the campus of PLU. We are proud of this new recording made to capture the seasonal beauty of PLU's choral excellence. We are honored to premiere the wonderful composition Hodie Christus natus est, composed by our own Dr. Richard Nance. Also featured are familiar seasonal favorites such as Angels We Have Heard on High, Herbert Howells' A Spotless Rose, John Rutter's Cradle Song, Ave Maria and Ding Dong Merrily on High.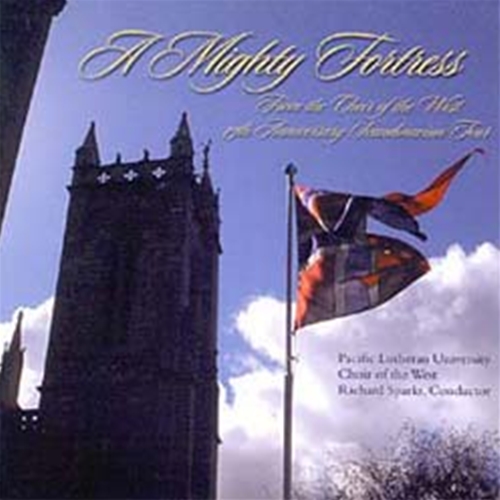 A Mighty Fortress
From the Choir of the West 75th Anniversary Scandinavian Tour; Richard Sparks, Conductor. Much of this music was recorded live in some of the great cathedrals and churches in Norway and Sweden. The glorious acoustics of these buildings, as well as the excitement of the live performance, are all part of this recording. A Mighty Fortress captures for you the best of these concerts including two motets by Felix Mendelssohn, a powerful setting of Psalm 90 by American composer Charles Ives, and Leonard Bernstein's dramatic Choruses from The Lark. Also included are three spirituals by Moses Hogan: I'm Gonna Sing 'til the Spirit Moves in My Heart, Give Me Jesus and Glory to the Newborn King. And three pieces most closely associated with the choir over the years: Old's arrangement of A Mighty Fortress and F. Melius Christiansen's two great hymn settings of O Day Full of Grace and Beautiful Savior.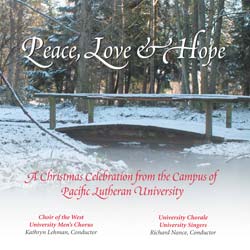 Peace, Love & Hope
The new album from the PLU Music department features Christmas-time selections from the Choir of the West, University Chorale, University Men's Chorus and University Singers. This recording is a special delight and includes our prayer for light everlasting in the times we live. It includes Dale Warland's arrangements of Of the Father's Love Begotten and What Child Is This?, Rachmaninoff's Glory to God in the Highest and our own Dr. Richard Nance's arrangement of Martin Luther's Savior of the Nations, Come. Also featured are John Paynter's wonderful composition The Rose and Tomorrow Shall be My Dancing Day by John Rutter. Conducted by Richard Nance and Kathryn Lehmann.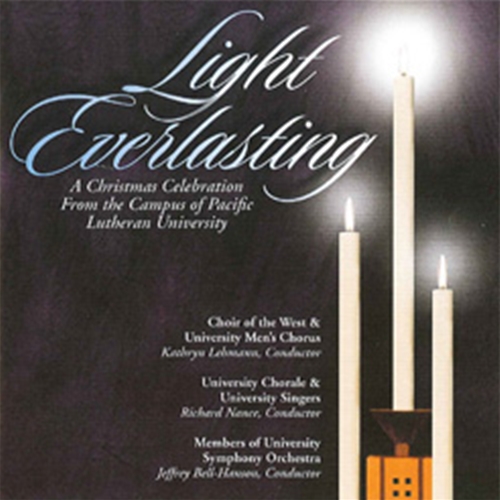 Light Everlasting
Light Everlasting features repertoire from the 2003, 2004 and 2005 Christmas Concerts, including favorites such as O Holy Night, Angels We Have Heard On High, and Cesar Carillo's beautiful Spanish setting of Silent Night, Noche de Paz. Also included are O Yule Full Of Gladness by Caroline Jennings, Eric Whitacre's Lux Aurumque, and the CD's title composition, Light Everlasting, by Olaf Christiansen. And we are especially pleased to present the premiere recording of PLU alumnus, Michael Dailey's, beautiful composition Ave Maria. Pacific Lutheran University Choir Of the West & Men's Chorus Conductor Kathryn Lehmann, University Chorale & University Singers Conductor Richard Nance, Members Of University Symphony Orchestra Conductor Jeffrey Bell-Hanson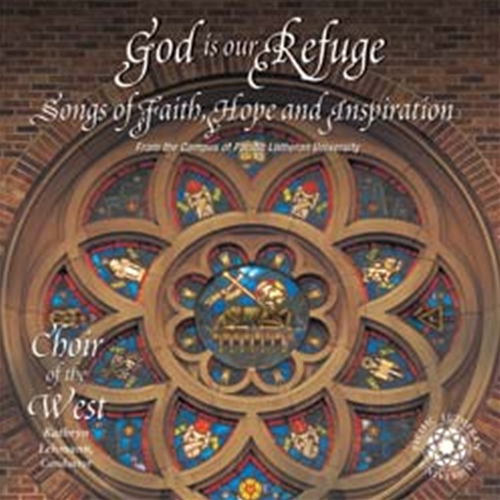 God is Our Refuge
Pacific Lutheran University's Choir of the West sings songs of faith, love, hope and inspiration in their newest CD, God Is Our Refuge. The title chosen from this album is from the text included in Dr. Richard Nance's setting of Psalm 36. Dr. Nance composed this Psalm setting in response to the tragic death of James Halloway, a beloved colleague in the PLU music department. Our campus community has encountered many challenges over the past four years, and we have tried to give strength and support to PLU extended family through our music making. In the wake of tragic events such as the 9/11 attacks and Hurricane Katrina, we offer this recording as a gift of support and faith. Conducted by Kathryn Lehmann.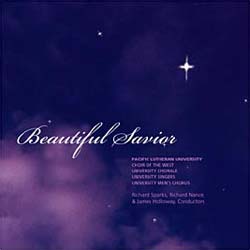 Beautiful Savior
The third CD made especially to capture the spirit and seasonal beauty of PLU's Christmas Festival Celebration Concerts. Recorded in the vibrant acoustics of Lagerquist Concert Hall. With The Choir of the West, University Chorale, University Singers and University Men's Chorus.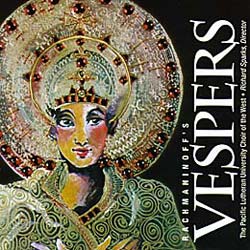 Vespers
Vespers is a masterpiece that combines Sergei Rachmaninoff's own deep faith, his talents as a composer and centuries-old traditions from the Russian Orthodox church. Experience this wonderful master work, not just for its purely musical virtues, but for its expression of the spiritual life of one of the world's great traditions. It was recorded in the richly reverberant acoustics of Lagerquist Concert Hall in the Mary Baker Russell Music Center at Pacific Lutheran University. Conducted by Richard Sparks.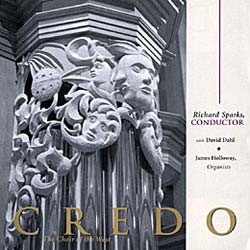 Credo
This is the premiere recording of the Gottfried and Mary Fuchs Organ, built by Paul Fritts, David Dahl performs classic organ works by Buxtehude, Krebs and Langlais, Richard Sparks directs the Choir of the West with organist James Holloway and guest musicians performing seven works, including Bruckner's Os Justi, Mendelssohn's Ave Maria, and Leonard Bernstein's dynamic and exciting Chichester Psalms. Also featured is the premier recording and title work, Credo, composed by PLU's own Richard Nance. Dr. Nance's worshipful approach to the text of the Creed, his lush harmonies and gorgeous melodies will make this work one of your favorites.