PLU professor pens definitive book on college debate
Posted by:
Todd
/ December 9, 2013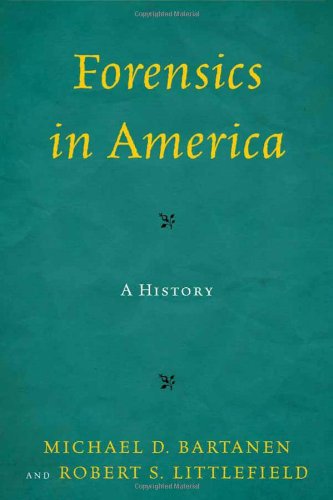 December 9, 2013
Forensics in higher-education phrasing means competitive debate, a spirited intellectual aerobics. PLU Professor and Communication and Theatre Department Chair, Michael Bartanen and Professor Robert Littlefield from North Dakota State University, have published the first comprehensive text on this educational sport titled "Forensics in America: A History".
The authors' findings closely link the changes in forensics to the changes that influenced all of secondary and higher education during the century. For seven years the team traced the intellectual and social factors that affected the craft, rather than simply listing relevant dates and events.
"The authors are the experts in the field. This is the first comprehensive history of American forensics and I predict that it will stand as the history of forensics for the next one hundred years," Professor of Rhetoric at the University of Oregon, David A. Frank said.
The text shows the major themes related to the education and practice of competitive forensics. The academic sport flourished in the twentieth century. Famous college debaters include: John F. Kennedy, Antonin Scalia and Jane Pauley.
The book was released on the centennial celebrations of the National Communication Association and Pi Kappa Delta (PKD), the largest collegiate speech and debate honorary society of which Bartanen is a hall of famer.
Bartanen has been a member of PKD since his college years and has been active in PKD on virtually every level for 40 years, from debate coach and Archivist/Historian to his current role as National Secretary Treasurer. A national council established the Pi Kappa Delta Hall of Fame in 1987, Bartanen happened to be one of those council members.