Student travels to NYC to speak on media convergence
Posted by:
Todd
/ March 23, 2016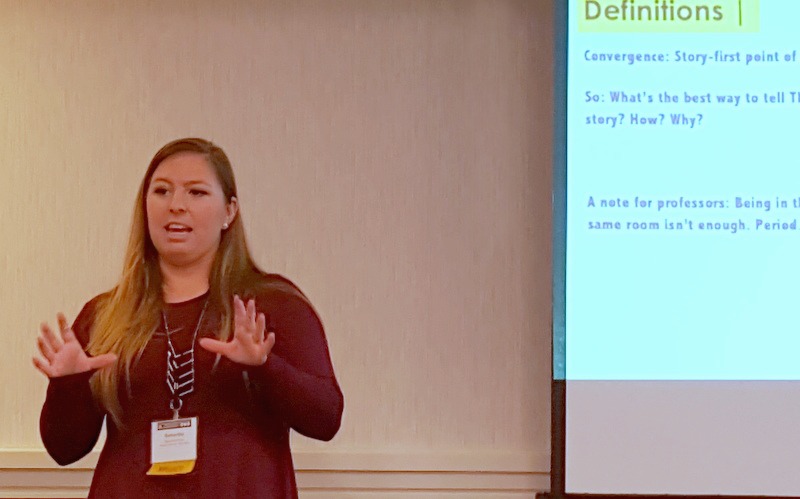 March 23, 2016
PLU is on the forefront of journalism standards
By Samantha Lund '16

Samantha Lund is a senior Communication major with an emphasis in Journalism. Her studies focus on multimedia journalism. In March, Lund gave a presentation in New York City regarding her capstone research on media convergence.
Every year, the College Media Association holds a national conference in New York City bringing students from across the country together to learn, mingle and share ideas. This year, I was lucky enough to be a speaker for the national convention alongside professionals, professors and select students.
The conference, which ran from March 12-15 in Times Square, drew about 2,500 people from schools nationwide. Attendees came to hear the research and scholarship presentations of 250 speakers.
In Fall 2015, I submitted a proposal to speak about convergence, the merging of media and technologies to tell stories in new and innovative ways. Having a converged newsroom usually means a single news outlet uses print, video, audio and graphics rather than having mutually exclusive companies or branches for each.
Convergence in the newsroom is a relatively new idea and I found, after talking to several professors and professionals throughout the year, that people were unsure how to do it and what convergence really looks like.
I am conducting an ongoing experiment within Pacific Lutheran University's student media center, working on merging our print, video and radio offices to create a multimedia newsroom where students can come and learn how to develop their skills as multimedia journalists. This is especially important because the journalism industry expects reporters to be "multimedia" reporters, knowing how to write, shoot and edit video, and post online.
Around 2 percent of student newsrooms around the world are converged, according to a study conducted by College Media Association. PLU's student media is in the forefront of journalism standards, and I was given the opportunity to stand in front of students and professors from around the country and talk about it.
I spoke to a full room and answered questions at the end for 30 minutes. That, as my advisor Joanne Lisosky said, is the mark of a successful speech. The audience was engaged, and I'd promised to stay in contact with several of them as they attempted to go home and converge their newsrooms.
Not only was the trip amazing because of the conference, but getting to spend time with other students in New York City is a memory I'll fondly remember. Something as simple as journalism and our desire to learn brought hundreds of students together in one of the most amazing cities in the world. I traveled with a group of five PLU students who all brought back memories and gained a lot from the experience.
PLU's Center for Media Studies funded my trip, while PLU Student Media funded other students. None of us could be more thankful for the opportunity we were given.
Now, we're returning to our classes, catching up on missed homework, getting ready for mid-terms and bringing new ideas and innovations into our student media sessions on campus. We're returning tired, but with brains full of new ideas and we're ready to make Mast Media, our newsroom, bigger and better than ever.
Mast Media is an award-winning student group consisting of The Mast (newspaper), Mast Magazine, Mast TV and Mast Radio. You can see their coverage of PLU events and life at mastmedia.plu.edu or follow them on Twitter @PLUMast