Helping one bowl at a time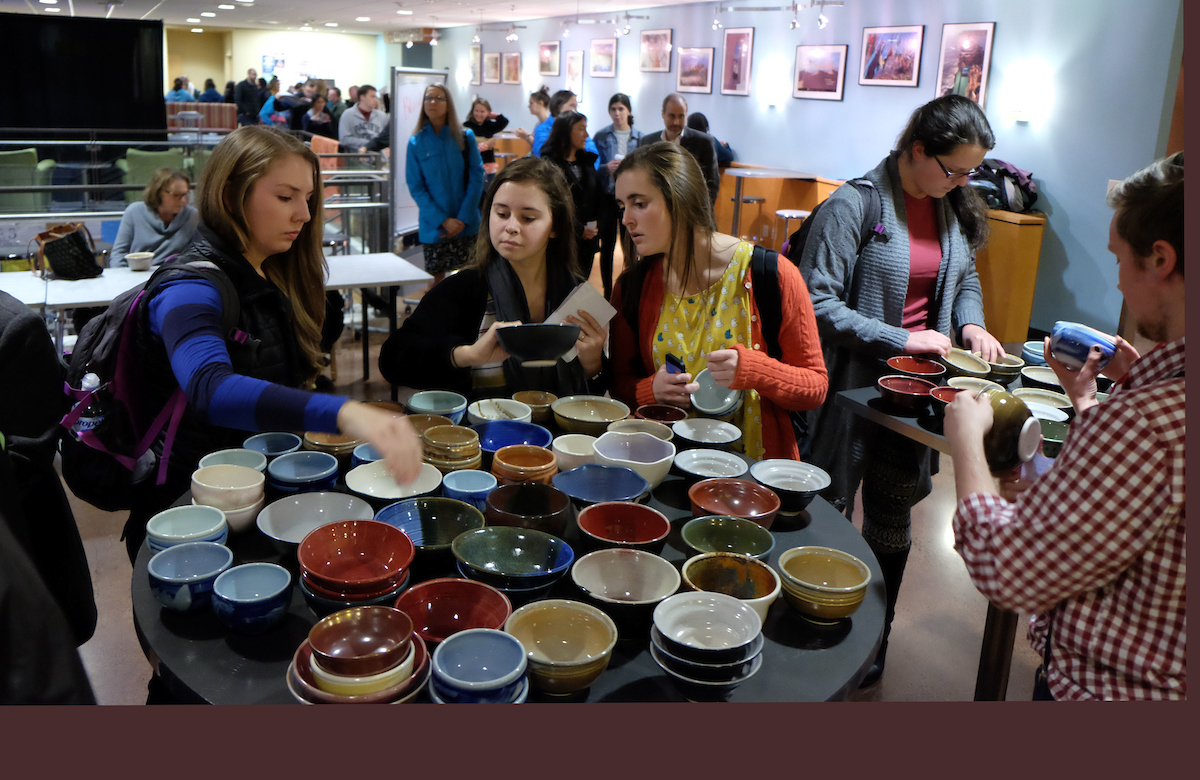 November 4, 2016
By Elizabeth Perkins '17
Student Coordinator
Pacific Lutheran University's Department of Art & Design and Hospitality Services & Campus Restaurants are helping raise money for the hungry, one bowl at a time. PLU's annual Empty Bowls event will be on Tuesday, November 15, from 4-6 p.m. in the Anderson University Center. The event, which is part of an international grassroots effort to fight hunger, will raise money for the hungry in Pierce County.
"This program helps both students and the community," Steve Sobeck, Empty Bowl's coordinator and resident instructor of art & design, said. "Students learn how big of an impact that art and ceramics can have, and the community is able to take pride that their bowl is hand made."
This year the ceramics program is planning on creating 150 to 200 bowls for the event. They hope to raise more money for the hunger and to bring a broader awareness to the ceramics program at PLU. Along with these student bowls there will be an additional three larger artist pieces available throughout the night.
"I am a firm believer that ceramics can be catalyst for social change," Delaney Hills '18, a ceramics student at PLU, said. "I'm doing what I love. Having the opportunity to give back to our community is a wonderful byproduct of ceramics."
The students can take pride in the fact that their work is going to a bigger cause. It is also a way for them to get their work out into the public, which will be important after graduation.
Hospitality Services & Campus Restaurants will donate ingredients for soup and their staff will be crafting two soup variations (one vegetarian) to occupy the bowls.
Tickets to Empty Bowls are $10 and include a bowl and bottomless soup. Tickets are now on sale at the PLU Concierge. One hundred percent of the ticket price is donated to the Trinity Lutheran Church Food Banks.
The School of Arts and Communication at Pacific Lutheran University houses the Departments of Art & Design, Communication & Theatre, and Music and presents more than 250 events each season. Pacific Lutheran University offers approximately 3,500 students a unique blend of academically rigorous liberal arts and professional programs. Students develop skills in decision-making, analysis, communication and reasoning that prepare them for a lifetime of success – both in their careers and in service to others.