Strength of Juried Exhibition shows strength in PLU Arts Program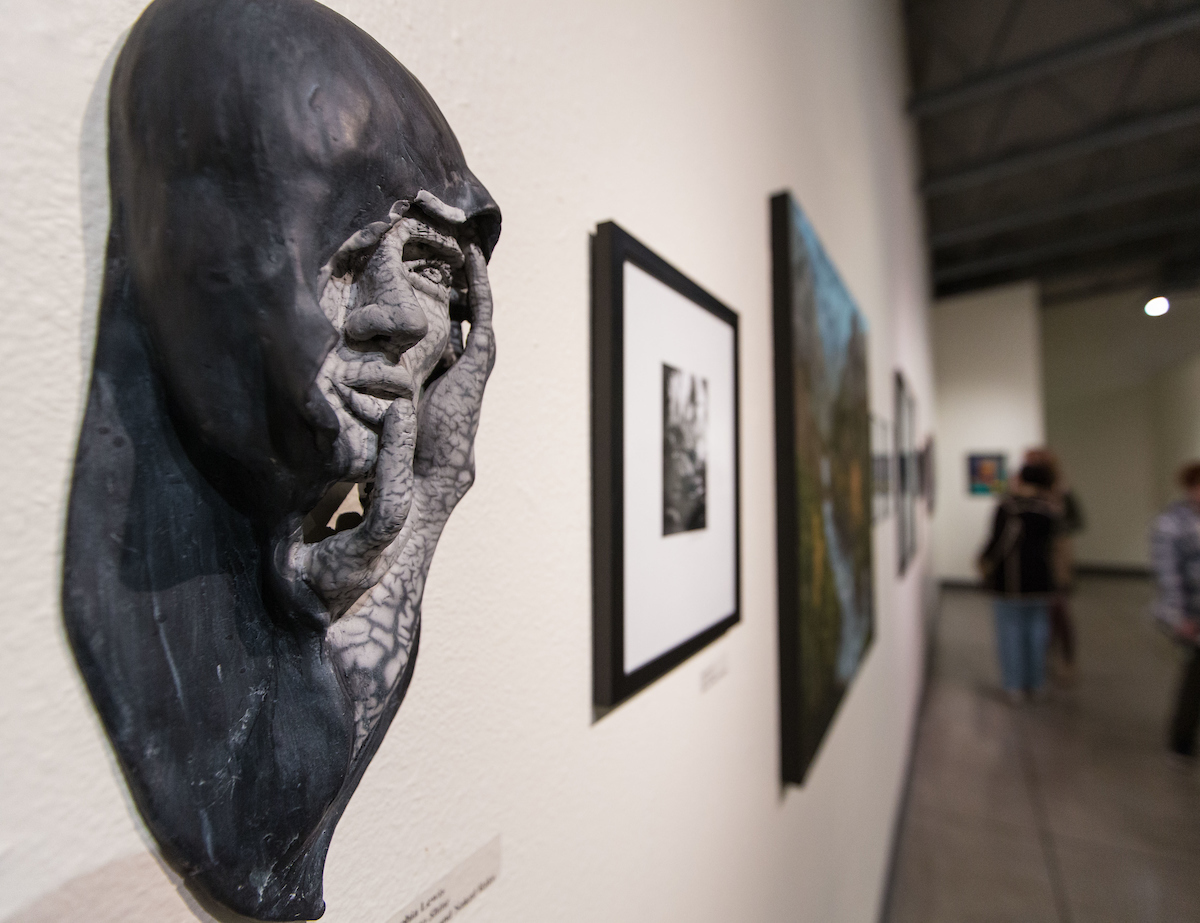 November 21, 2016
The University Gallery opened its fall semester's final show with the annual Juried Student Exhibition on November 16, 2016. Works will be on display until December 14, 2016. The exhibition is open to the university community, as well as the general public.
Students not only compete to be featured in the show but also for monetary prize.
MalPina Chan juried the 2016 show. Chan works as a printmaker and mixed-media artist; her portfolio includes works on paper, artist books and kiln-formed glass. She received her BFA from Earlham College in Richmond, Indiana, and has been featured in exhibitions at the Tacoma Art Museum, Wing Luke Asian Museum, Bullseye Glass Gallery, Seattle City Hall, Patricia Cameron Gallery, along with many more.
"There were many pieces that demonstrate artistic merit and skill," Chan said. "The overall strength and quality of the artwork submitted speaks to the dedication of their instructors, who have encouraged and guided their students to make compelling works of art."
The winning works were selected on the following criteria: a compelling narrative and vision, strength of concept and creativity, how the work engages the viewer, demonstration of technical skills and craftsmanship and overall presentation.
"One must commit to a journey where you continue to learn, to build your skills and to refine your craft," Chan said encouraging students. "Work every day. Maintain an open mind about opportunities that come your way. Go through that open door and see what's on the other side. Be ready. Be courageous. Take risks. Persevere. Make your own luck."
 Awards were presented on opening night, November 16, 2016, to the following:
1st place: Queens of Land and Sea
Artists: Jenny Kimura and Tahle Oestby
This diptych consists of an excellent concept and design. Outstanding craftsmanship and technical skills are evident.  The impressive scale and collaborative effort distinguishes this work.
2nd place: The Pose Juxtaposed (5 panels)
Artist: Jamie Dones
This multi-panel painting is ambitious and intriguing. The technical skills demonstrated in this work adds to the conceptual strength. The narrative is mysterious and engages the viewer.
3rd place (a tie): Surreal Beach Dreams
Artist: Lisa Moxcey
This captivating portrait engages the viewer with its strong composition and beautiful quality of light. Excellent use of a shallow depth of field creating a subject that is in focus with a background that is out of focus. Utilizing a mat treatment that creates a shadowbox effect contributes to an outstanding presentation.
3rd place (a tie): MK MMXVI
Artist: Bradford Lum
A powerful and unique portrait that captures characteristics of the subject without revealing the subject's eyes. Dramatic lighting, focus and depth of field, plus the excellent quality of the large scale print are components that make this photograph engaging and successful.
HONORABLE MENTIONS
Elements 4 Peace Building by Network for Peace Building and Conflict Management
This work represents excellent interactive community engagement on an important issue.
Naked Raku Vase by Reza Refaei
This piece illustrates superb integration of form and surface design.
Cuero y Cuervo by Danielle Twichel
Strong composition and demonstrates skill and craftsmanship in her usage of charcoal.
Chai Tea, Crème Brûlée, and Pumpkin Spice (3 sets) by Delaney Hills
Superior craftsmanship integrating form and function.
Exhibition Run: November 16, 2016- December 14, 2016
Location: Pacific Lutheran University, University Gallery. On the edge of north campus on the corner of 8th Ave. Ct St. and 121st St. S.
Suggested parking lot:  Wheeler at Wheeler and 121st, lot is open to the public after 4:30p.m.
Regular Hours: 8 a.m.–4 p.m., Mon.–Fri*