Upcoming Gallery Exhibition- "It's All in the Details"

September 17, 2018
By Kate Williams
Outreach Manager
This year's gallery season opens with Pacific Northwest ceramicists Cary Lane, The Bowlmaker; Kristin Nelson, kRIkRI studio; and Nicole Pepper, Modhome.ceramics. The show will highlight each artist under the common theme of unique home decor.
Mare Blocker, Visiting Assistant Professor of Art & Design, was in charge of curating the show.  Mare described her recent relationship with the artists as a moment for her to "fan-girl". Mare has collected work from all three artists over the years, and just recently reached out to them via Instagram for the show.
"I actually completed my undergrad with Kristin!," Mare remarked. "It wasn't until this show that I reconnected with her, but I have been collecting her artwork for years."
"Her work will include her VIT Ceramics white line series, interpreting modern styles in contemporary ways."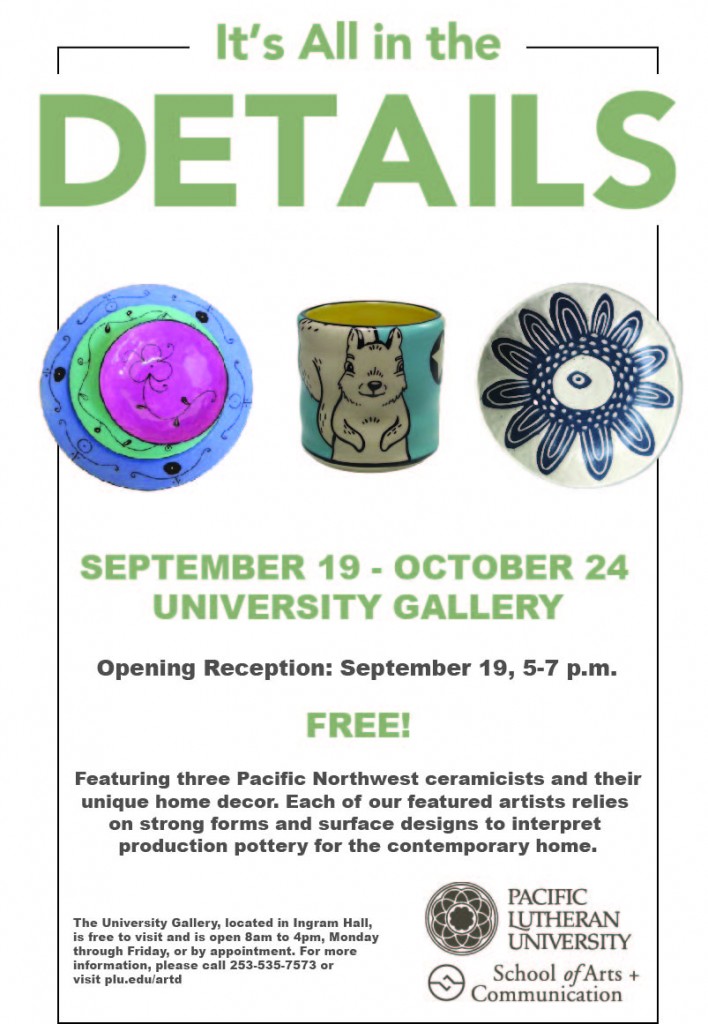 Even though all three artists have different styles and techniques, all three create production pottery and ceramics, in the line of home furnishing and production of collectables.
"I think the most fascinating piece about Cary Lane is the way she creates her artist books. She doesn't create a typical 2D book, but rather puts words and images together on 3D objects such as cups," Mare explained.
"A number of Cary's cups in her Bowl Maker line are designed and sent overseas to be mass produced. She sells this line in gift shops and toy stores at a lower price than the originals, which she also sells."
"The first time I saw her work was in a toy store in Ballard actually!"
Although Mare has communicated with all three artists, she has not yet to personally meet Nicole Pepper.
"I have yet to meet her, but her work reminds me of linoleum carving, with her bold graphic black and white designs. Of course, linoleums are my favorite, so I love her work."
Mare hopes that inviting the three artists will show current Art and Design students the more entrepreneurial route an artist can take. All three artists, while different, are great examples of strong women making a living as local artists.
"They all have characteristics of fun, whimsical ceramics which are uplifting in spirit, and relatable to the general public."
Most work will be on sale at the show. Those who are interested can also find the artists at local craft fairs and in the Seattle Art Museum gift shop.
The exhibition's opening reception will be held September 19th at 5pm. The show will run September 19 – October 24. The University Gallery is free and open to the public Monday – Friday, 8am – 4pm and by appointment.