Q&A with Kelly McLaughlin '14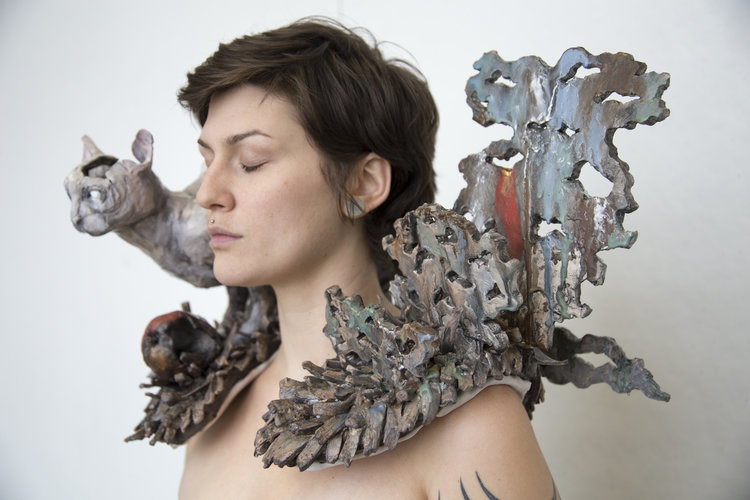 October 15, 2018
By Kate Williams '16
Outreach Manager
There's not much Kelly McLaughlin can't do, from rock climbing to cross country hiking trips to creating amazing sculptural pieces. Much of what Kelly has accomplished can be attributed to her growth and experience during her undergraduate years at PLU.
What year did you graduate and with what degree(s)?
I graduated from PLU in May 2014 with my BFA in Ceramics.
Where are you working now?
I'm currently working on getting my MFA (2017-2020) in Ceramics from Ohio University, the top ranked 3-year program of its type in the US. Before that, I did a Post Baccalaureate (2015-2017) for Ceramics at the University of Alaska, Anchorage with Alanna DeRocchi and Steve Godfrey.
What were you involved in while at PLU?
I was involved in the Women's Center, Stage Services, Ceramics, and Printmaking.
What are some of the biggest challenges you've faced since graduation?
What the next step was; whether academia or professional business. I didn't get into grad school my first round of applying in 2014, but didn't want to stop making. I ended up getting access to a print studio in Seattle and a ceramic studio in Tacoma, and working at a tattoo shop to make ends meet. I set up solo shows of my work around Tacoma and Seattle to give myself deadlines and a portfolio. A colleague told me about Post Bacc programs in ceramics, so I applied to a few programs to push my work toward grad school. I chose Alaska's program for its destination and unfamiliarity. And the faculty were absolutely stellar. I picked up my life and drove up the Alcan Highway to Anchorage 2 weeks later. While in Alaska, I was honored to win national awards for my work and was awarded a solo show in Anchorage. I fell in love with Alaska (I climb and mountaineer as well) but had to leave to pursue my degree further. I uprooted myself again, and drove across the country to Ohio where I am now. There's been a lot of change, struggle, and unknowns these past few years but all of it has been worth where I am now and what I've learned getting here.
How did PLU contribute to your success?
The Ceramics program at PLU was everything to me. I had even dropped out of school at one point because I didn't know which direction I wanted to take and some of the faculty there convinced me to come back and finish my degree. I've now shown pieces across the US and have my work in an international collection, and am in a top rated Ceramic masters program. Steve Sobeck, Spencer Ebbinga, and Craig Cornwall (Printmaking professor) went to bat for me. They taught me how to have a studio practice and pride in my work, as well as knowledge in my material background. And they gave me the encouragement (and challenge) that I needed to get out of a tough headspace and make a career for myself. I cannot say enough positive things about them.
You can find out more about Kelly McLaughlin and her work here.