PLU's Student-Radio Station Lute Air Student Radio Produces Monthly Concerts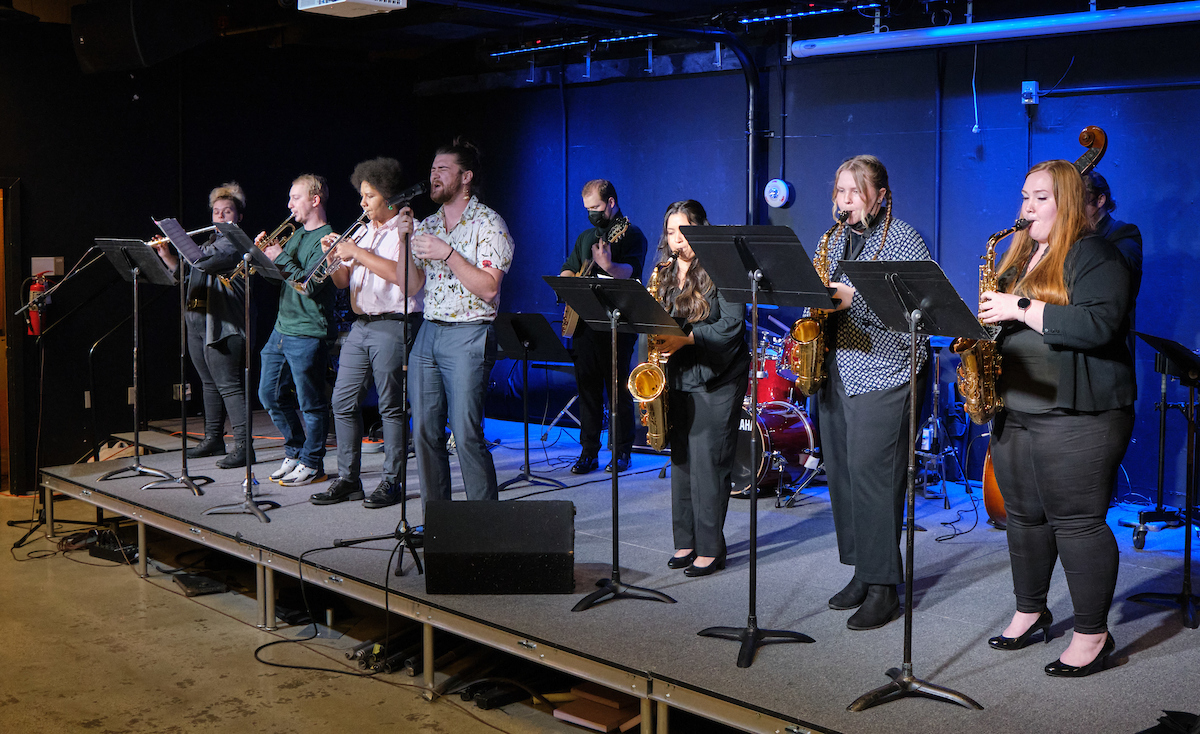 August 18, 2022
By Fulton Bryant-Anderson
General Manager, Lute Air Student Radio
Lute Air Student Radio (LASR) in collaboration with PLU Instructional Technologies (iTech) announces a run of free monthly concerts in The Cave at the Anderson University Center every third Thursday of the 2022 Fall Semester. Rock, jazz, pop, ska and other genres shows are held featuring local bands from the Pacific Northwest playing originals and covers.
Attendees are encouraged to donate during each band's set. iTech creates audio and video multimedia packages for the artists performing. Bands can set-up a booth for merchandise alongside the LASR information booth.
Thursday, September 8: Rainier Quartet, Dead Amy and Gabe Fobes
The Rainier Quartet plays original compositions and jazz standards with their signature lofi jazz fusion flair. After winning LASR's Battle of the Bands in Spring 2022, the group consistently plays all-over the South Sound. The quartet includes Felix Halvorson (guitar), Benjamin Martin (saxophone), Josh Hansel (drums) and Joshua Greene (bass).
Tacoma's Indie-Pop rising stars Dead Amy join the Rainier Quartet. Dead Amy busted onto the local indie scene last April after a headlining performance at Alma for 90.1 KUPS' KUPS Fest. The four piece consists of Audrey White (vocals, guitar), Tatiana Klein (vocals, guitar), Wendell Ratliff (drums) and Vance Holtzinger (bass).
Gabe Fobes (guitar, piano, vocals) rounds out the bill with everlasting solo music. His original compositions are not to be taken lightly.
instagram.com/gabe_creates_music
Thursday, September 22: Kemper Thornberry, J. Martin and Zari Alexandria
Kemper Thornberry's overdriven guitar displays vulnerability on stage. Known mostly as the frontman of Miss January, his solo work highlights his other skills.
Martin of Tacoma is a local singer-songwriter playing inspired tunes all over town. His most recent album Both of Those Things creates ethereal Jeff Buckley esque moments.
Zari Alexandria '25 plays folk punk. A PLU student-run, she is racking up gigs and making a name for herself. Her and her ukulele can't be missed.
Thursday, October 15: Titanic 2, Polly's Pocket and The New Sonics
Titanic 2 of Seattle released their debut album Cruise Control in June 2022 on Youth Riot Records. The three piece is known for heavy riffs, sly lyrics and groovy rhythms.
Polly's Pocket hails from North Tacoma and frequents the house show circuit. Composed of a horn section alongside bass, drums, vocals and guitar they play originals and covers.
Fresh on the scene, Tacoma's The New Sonics are a blend of punk, hip-hop and more. Pulling from classic Northwest iconography, their songs are all-about Washington.
Thursday, November 17: Spence Hood, T. Jay & Icarus Gray, Los Ocupados
Spence Hood blends the worlds of pop, jazz and R&B to create an exciting and fun soundscape. One of Seattle's finest, his recent releases reflect his greatest work yet.
Jay & Icarus Gray are performing a joint set at PLU. T. Jay is a rapper, producer, podcaster and entrepreneur. Icarus Gray follows the same path. Their collaborations can be found at the website below.
Thurston County Ska Band Los Ocupados brings international rhythms to PLU. Playing originals and covers, their work spans the history of Ska. Check out more on their Facebook.