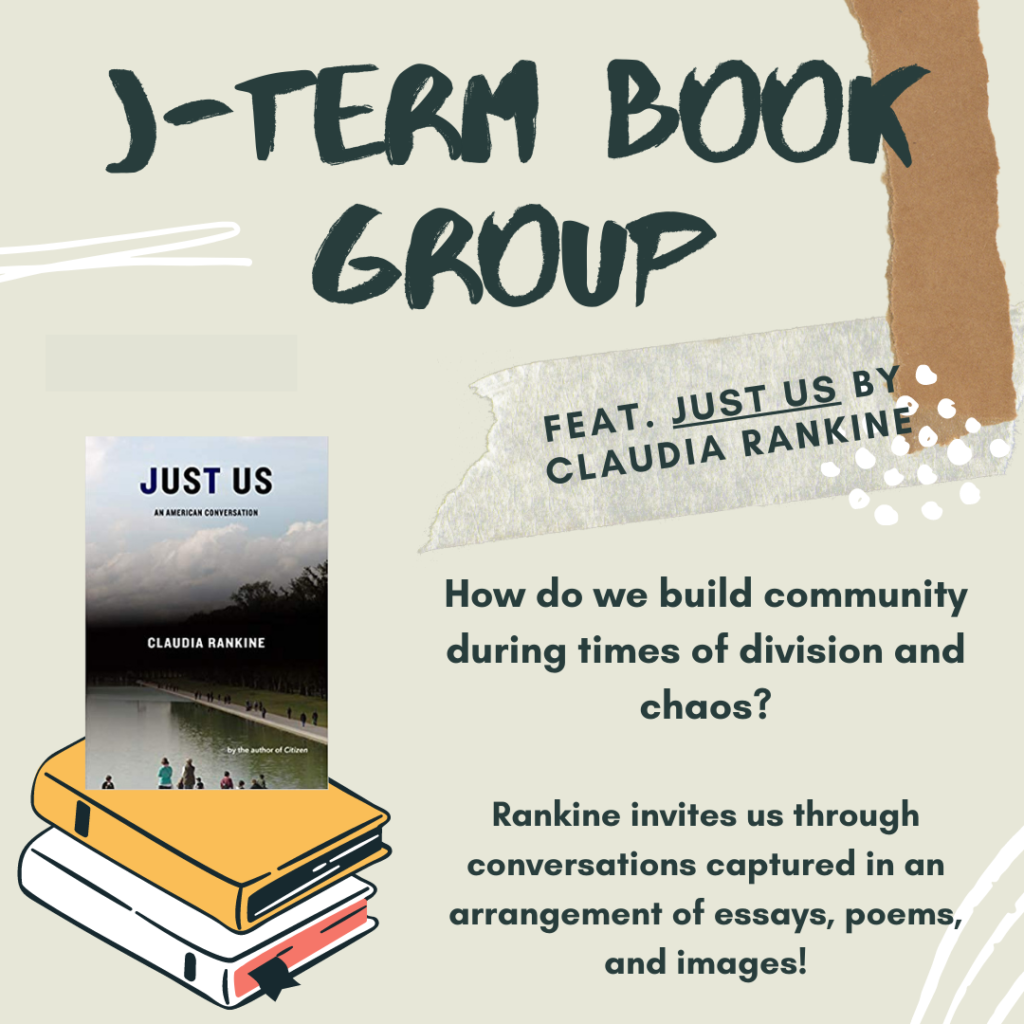 JTerm Book Group
Faculty, staff, students, and alumni are invited to join JTerm Book Group to dialogue about intersections of diversity, justice, and sustainability through a common text.  Groups online or in person to share, affirm, and challenge concepts, reflect how the book connects with our current social landscape, and dialogue about how they impact our Lute community.
Books we have read:
2021: Just Us: An American Conversation by Claudia Rankie
2020: THICK, and other essays by Tresie McMillan
2019 Dear America: Notes of an Undocumented Citizen by Antonio Vargas
2018: Radical Hope : Letters of Love and Dissent in Dangerous Times by Carolina De Robertis
2017: Black Girl Dangerous : On Race, Queerness, Class and Gender by Mia McKenzie
2016: Citizen : An American Lyric by Claudia Rankine
2015:The New Jim Crow : Mass Incarceration in the Age of Colorblindness by Michelle Alexander
What Harm I'm Taught, Exploring my whiteness
A 6-week workshop on whiteness for white people! Students and staff will have the opportunity to participate in dialogue and activities which will begin or further each individuals' lifelong process of unpacking the unwarranted privilege white folx are acculturated to receiving. Weekly dialogue will be based on readings, podcasts, and sharing personal experiences.  Meeting times will be determined by the small group cohorts and start the week of October 5th.
Week 1: Why are you here?
Week 2: Socialization
Week 3: Whiteness 
Week 4: White Supremacy Culture 
Week 5: Power & Relationships
Week 6:  Solidarity
Speak Out Youth Summit
Saturday October 3rd
We are excited to sponsor attendance for PLU students to the 2020 Speak Out Youth Summit.  This personal and professional development opportunity is a one day virtual summit calls students to collectively envision a just and equitable future through:
Learning from today's leading youth activists and change-makers.
Hearing from inspiring and iconic speakers and artists.
Connecting with peers around the country…and the world!
Getting tools to build your capacity to lead and make a difference.
Tickets for PLU Students are limited and will be distributed on a first come basis up until Oct 1st.  Students joining with PLU will commit to attending the whole summit and connecting in dialogue about what you learned and ways to move strategies forward in our community.
Funding for this opportunity is made available by The Diversity Center, Multicultural Engagement in Campus Ministry, and Black Student Union.