On Exhibit: LGBTQ+ Authors and their Works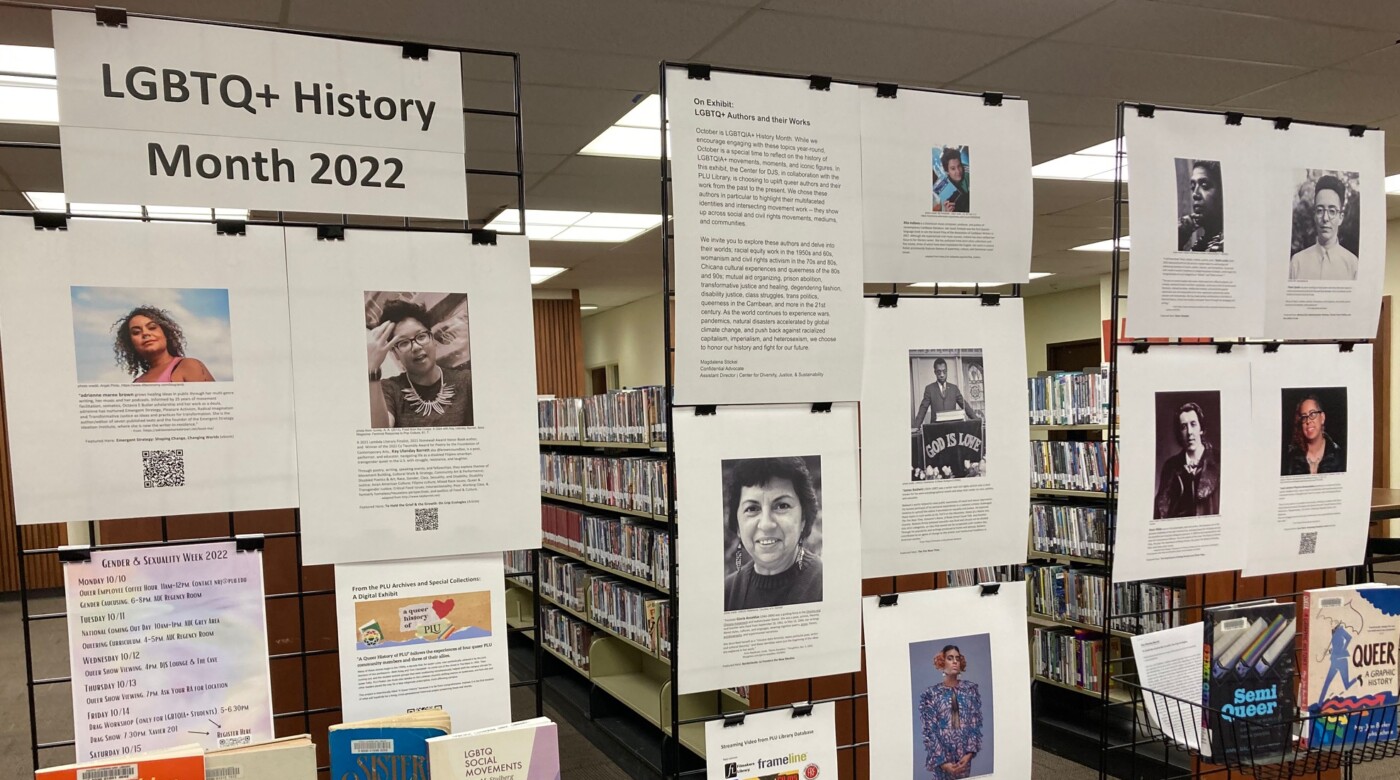 October 5, 2022
October is LGBTQIA+ History Month. While we encourage engaging with these topics year-round, October is a special time to reflect on the history of LGBTQIA+ movements, moments, and iconic figures. In this exhibit, the Center for DJS, in collaboration with the PLU Library, is choosing to uplift queer authors and their work from the past to the present. We chose these authors in particular to highlight their multifaceted identities and intersecting movement work — they show up across social and civil rights movements, mediums, and communities.
We invite you to explore these authors and delve into their worlds; racial equity work in the 1950s and 60s, womanism and civil rights activism in the 70s and 80s, Chicana cultural experiences and queerness of the 80s and 90s; mutual aid organizing, prison abolition, transformative justice and healing, degendering fashion, disability justice, class struggles, trans politics, queerness in the Carribean, and more in the 21st century. As the world continues to experience wars, pandemics, natural disasters accelerated by global climate change, and push back against racialized capitalism, imperialism, and heterosexism, we choose to honor our history and fight for our future.
Magdalena Stickel
Confidential Advocate
Assistant Director | Center for Diversity, Justice, & Sustainability
Authors featured in the exhibit: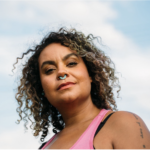 "adrienne maree brown grows healing ideas in public through her multi-genre writing, her music and her podcasts. Informed by 25 years of movement facilitation, somatics, Octavia E Butler scholarship and her work as a doula, adrienne has nurtured Emergent Strategy, Pleasure Activism, Radical Imagination and Transformative Justice as ideas and practices for transformation. She is the author/editor of seven published texts and the founder of the Emergent Strategy Ideation Institute, where she is now the writer-in-residence."
– from https://adriennemareebrown.net/book-me/
Featured Here: Emergent Strategy: Shaping Change, Changing Worlds (ebook)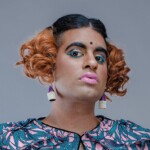 ALOK (they/them) is an internationally acclaimed author, poet, comedian, and public speaker. As a mixed-media artist their work explores themes of trauma, belonging, and the human condition. They have shown up on paper, on stage, on social media, on runways, and on screen to promote and delve into these themes.
– adapted from adapted from https://www.alokvmenon.com/about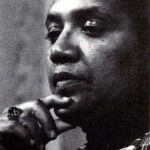 "A self-described "black, lesbian, mother, warrior, poet," Audre Lorde [1934-1992] dedicated both her life and her creative talent to confronting and addressing injustices of racism, sexism, classism, and homophobia. Concerned with modern society's tendency to categorize groups of people, Lorde fought the marginalization of such categories as "lesbian" and "black woman.""
"She was an activist-author who never shied away from difficult subjects, but instead, embraced them in all their complexity. Lorde was a critic of second-wave feminism, helmed by white, middle-class women, and wrote that gender oppression was not inseparable from other oppressive systems like racism, classism and homophobia. She has made lasting contributions in the fields of feminist theory, critical race studies and queer theory through her pedagogy and writing."
– from https://www.nbcnews.com/feature/nbc-out/pride-50-audre-lorde-activist-author-n1007551
Featured Here: Sister Outsider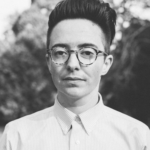 "Dean Spade has been working to build queer and trans liberation based in racial and economic justice for the past two decades. He is a professor at the Seattle University School of Law.
Many of Dean's videos, articles, interviews, book chapters, and syllabi can be found on his website, deanspade.net."
– from deanspade.net/about
Featured Here: Normal Life: Administrative Violence, Critical Trans Politics and the Limits of Law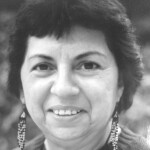 "Feminist Gloria Anzaldúa [1942-2004] was a guiding force in the Chicano and Chicana movement and lesbian/queer theory. She was a poet, activist, theorist, and teacher who lived from September 26, 1942, to May 15, 2004. Her writings blend styles, cultures, and languages, weaving together poetry, prose, theory, autobiography, and experimental narratives.
She described herself as a "chicana dyke-feminist, tejana patlache poet, writer and cultural theorist," and these identities were just the beginning of the ideas she explored in her work."
– from Napikoski, Linda. "Gloria Anzaldua." ThoughtCo, Dec. 5, 2020, thoughtco.com/gloria-anzaldua-3529033
Featured Here: Borderlands: La Frontera the New Mestiza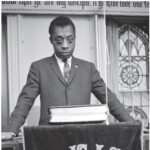 "James Baldwin (1924–1987) was a writer and civil rights activist who is best known for his semi-autobiographical novels and plays that center on race, politics, and sexuality.
Baldwin's works helped to raise public awareness of racial and sexual oppression. His honest portrayal of his personal experiences in a national context challenged America to uphold the values it promised on equality and justice. He explored these topics in such works as Go Tell It on the Mountain, Notes of a Native Son, The Fire Next Time, Giovanni's Room, If Beale Street Could Talk, and Another Country. Baldwin firmly believed sexuality was fluid and should not be divided into strict categories, an idea that would not be acceptable until modern day. Through his popularity and writings produced at home and abroad, Baldwin contributed as an agent of change to the artistic and intellectual traditions in American society."
– from https://nmaahc.si.edu/james-baldwin
Featured Here: The Fire Next Time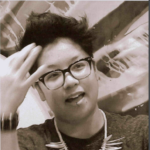 A 2021 Lambda Literary Finalist, 2021 Stonewall Award Honor Book author, and Winner of the 2022 Cy Twombly Award for Poetry by the Foundation of Contemporary Arts., Kay Ulanday Barrett aka @brownroundboi, is a poet, performer, and educator, navigating life as a disabled Filipinx-amerikan transgender queer in the U.S. with struggle, resistance, and laughter.
Through poetry, writing, speaking events, and fellowships, they explore themes of Movement Building, Cultural Work & Strategy, Community Art & Performance; Disabled Poetics & Art; Race, Gender, Class, Sexuality, and Disability; Disability Justice; Asian American Culture; Filipinx culture; Mixed Race issues; Queer & Transgender Justice; Critical Food Issues; Intersectionality; Poor, Working Class, & formerly homeless/Houseless perspectives; and politics of Food & Culture.
– adapted from http://www.kaybarrett.net/
Featured Here: To Hold the Grief & the Growth: On Crip Ecologies (Article)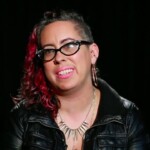 "Leah Lakshmi Piepzna-Samarasinha (she/they) is a nonbinary femme autistic disabled writer, space creator and disability and transformative justice movement worker of Burgher and Tamil Sri Lankan, Irish and Galician/Roma ascent.
They are the author or co-editor of ten books, including (co-edited with Ejeris Dixon) Beyond Survival; Strategies and Stories from the Transformative Justice Movement, Tonguebreaker, Care Work: Dreaming Disability Justice, and Bodymap.
They are a haggard porch and couch witch and a very unprofessional adaptive trike rider."
– from https://brownstargirl.org/about/
Featured Here: Care Work: Dreaming Disability Justice (ebook)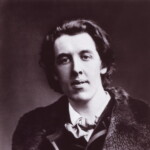 Oscar Wilde was an Irish playwright, poet and author, who became one of the greatest celebrities of the late Victorian era, and was known for his biting wit and his dandified and sexually ambiguous persona. In 1895 he was imprisoned for two years for homosexual offences. He is the author of the novel The Picture of Dorian Gray, the play The Importance of Being Earnest, the poem The Ballad of Reading Gaol, and many other works.
– adapted from Brewer's Dictionary of Phrase & Fable and The Hutchinson Unabridged Encyclopedia with Atlas and Weather Guide, both available on CREDO
Featured Here: The Importance of being Earnest and Other Plays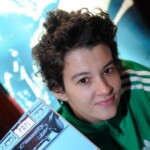 Rita Indiana is a Dominican music composer, producer, and author of contemporary Caribbean literature. Her novel Tentacle was the first Spanish-language book to win the Grand Prize of the Association of Caribbean Writers in 2017. Although she experienced viral music success, Indiana has since shifted her focus to her literary career. She has authored three short story collections and five novels, three of which have been translated into English. Her work in science fiction prominently features themes of queerness, culture, and Dominican social issues.
– adapted from https://en.wikipedia.org/wiki/Rita_Indiana