First MSK Graduate Class: Delaney Salter

November 16, 2021
Delaney Salter, a graduate of both PLU's bachelor's and master's degree in kinesiology, shared about what she has learned about improving the lives of others through applied kinesiology.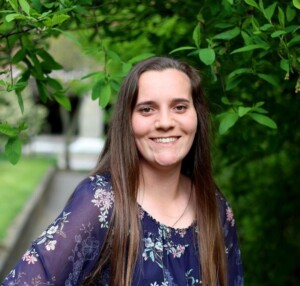 Reflection from Delaney Salter, '21
My name is Delaney Salter. I graduated with my bachelor's at PLU in 2019. My major was kinesiology with a concentration in exercise science.
I remember completing an interest survey in my kinesiology classes of my senior year. I was interested in the program from that moment forward. I became more familiar with the program by searching the kinesiology website to discover information about the program and how to apply.
Eye-opening or valuable aspect of the program
I think the most valuable aspect of the program was the applied nature of the program. This applied aspect was implemented throughout the program in courses (e.g., projects, delivering sessions to undergraduate students, etc.) as well as in the applied project.
This aspect was very eye-opening and valuable because it helped to ensure the transition from theory to practice.
Achieving long-term career goals
I believe that the entire kinesiology department as well as the bachelor's and master's in kinesiology prepared me to achieve my long term career goals.
Throughout my time at PLU, I have learned the importance of making a difference and helping people in any way that I can to help them live healthier and happier lives in the moment and over time.
The importance of service is enhanced by the importance of ensuring the transition of theory to practice by always staying current with literature and striving to be the best professional I can be for those I am working with and helping in their lives.
I believe that PLU's program has prepared me for the job hunt process as well as for my future career by developing my ability to research seminal and current research as well as emphasizing theory to practice in an individualized approach unique to each individual and situation.
PLU's program has helped me to be the best professional I can be moving forward.
Impactful faculty member
Dr. Mallory Mann was a wonderful and impactful faculty member in my time in grad school at PLU. Dr. Mann was my faculty mentor for my applied project and inspired me throughout the program.
I learned a tremendous amount about myself and who I aspire to be moving forward in my mentor-mentee relationship with Dr. Mann as well as my time in the MSK program.
Advice for future MSK students
One piece of advice I would give to someone considering PLU for the master's degree in kinesiology is to apply and commit to the program. The BSK and MSK programs at PLU were the best decisions I have ever made for myself personally as well as professionally.
If I were considering the program, I would not hesitate to do it again. I would also advise to take time to reflect on the personal and professional growth being made throughout the program.
This program is challenging every step of the way, and it is important to acknowledge growth in succeeding every challenge. The MSK program was absolutely amazing!
Ready to take the plunge? Obtain a master's in kinesiology at PLU!
Ranked by Niche as the top Kinesiology department in Washington state and the Pacific Northwest, the Master of Science in Kinesiology at Pacific Lutheran University brings a tradition of excellence into the Master of Science degree.
The program combines a rigorous academic experience with real-world, relevant and impactful applications designed to intentionally address critical gaps in Kinesiology training and practice. Unique features of the program include a commitment to diversity and inclusion, along with intentional mentorship and leadership development opportunities.
Through coursework, mentoring support, and an applied project, M.S. candidates develop the knowledge and skills they need to become effective evidence-based practitioners who can enhance their own career while positively impacting those they serve.
You can request more information or start your application today. We look forward to helping you achieve your career goals.