Faculty Feature: Meet Amanda Sweger, Associate Professor of Theatre

April 9, 2020
The PLU Theatre & Dance Department is lucky to have Amanda Sweger as a faculty member. Amanda has taught at PLU since fall 2012. She focuses on lighting and scenic design and has a professional practice outside the classroom. Continue reading to get to know Professor Sweger and learn more!
What is your educational background?
I graduated with a BFA in Design and Technology from the Webster University Conservatory of Theatre Arts in 2004. In 2011 I graduated with an MFA in Stage Design from Northwestern University with a double primary emphasis in lighting and scenic design.
Why did you decide to study theatre? What sparked your interest in theatre and how did your academic path and career develop from there?
I have worked towards a profession in stage design with a single-minded passion since I was 17. I was the volunteer of the year at my local community theatre and I worked on nearly every show, doing a variety of onstage and offstage work. I discovered that I am good with my hands, a great problem solver, and have an excellent artistic eye.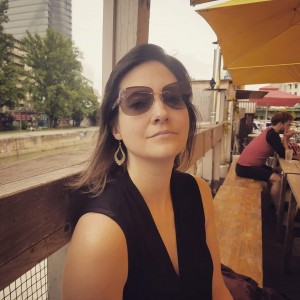 I chose a respected conservatory in St. Louis to continue my training and there I discovered scenic design. After working in summer stock and designing in Philadelphia, I was accepted at Northwestern as a Lighting/Scenic Hybrid. I graduated with a primary emphasis in both disciplines, the first person to do so in 12 years.
With a robust freelance career in Chicago, I was immediately hired as a sabbatical replacement at Vanderbilt University, and transitioned to a tenure line at PLU the next year. I now have tenure, promotion and a thriving design career in Seattle.
After taking PLUTO (PLU teaching online) training I discovered a new passion for the pedagogy of teaching. I spent my sabbatical voraciously learning state of the art teaching methods and adapting my courses to inclusive pedagogy practices. Like any skill, I have a long way to go and many more things to learn, but I am enjoying it immensely.
Why did you want to teach at PLU?
First, the job description perfectly fit my skill set. Second—as corny as this sounds—I read about PLU's commitment to Lutheran Higher Education and I was blown away. I had no idea that the values of teaching and learning I held dear were so foundational to Lutheran Education. Further, the theatre spaces were under renovation and it seemed exciting to be on the ground floor of a transition period for a growing theatre program.
What is your favorite class to teach and why?
Introduction to Theatre. I love taking 40+ first year students under my wing. I not only love exploring why theatre is an essential component of democratic discourse, but I also love teaching students the essentials they are going to need to be successful students at PLU.
What do you hope your students take away from your classes?
That learning requires constant, imperfect practice. You need to build practices which allow you to challenge yourself and do better the next time, not simply doing what is easy to ensure it will be perfect.
I hope students understand that the most important thing when creating art is to MAKE ART constantly and fearlessly. So many students are so fixated on making something perfect that their anxiety gets in the way of making anything at all. They wait until the last minute and have learned little. When I make them do a series of projects one after the other, quickly, I teach them to swallow their fear and "just make theatre happen." Theatre is scary. If I am not preparing them to face that fear and vault over it, then I am not doing my job. The best learning happens just outside of your comfort zone.
In your time at PLU, what have you learned from your students?
So many things, but funnily enough it was a student who convinced me to use Google Calendar and now I practically proselytize the incredible utility of it. It seems silly but my life is so much more organized now and I teach it to all my students. I'm pretty tech savvy and I try to learn whatever new platform students talk about to stay current. Theatre is a collaborative art after all!
Just for fun!
Cats or dogs? 
Both, but I am a crazy cat lady to the max!
Coffee or chocolate? 
Coffee is life.
French fries or hash browns?
French fries dipped in mayo. If you think that is gross, don't forget that garlic aioli is also mayo!
Mac or PC? 
Mac but I love my Android Phone.
Instagram or Twitter? 
Instagram. I love pretty pictures.
What should potential PLU theatre students know before they apply to PLU or declare the major?
The skills we learn in theatre are valuable across disciplines. Collaboration, communication, analysis, empathy, time management, and expression, problem solving, etc. Theatre inherently teaches all the skills listed on the NACE (National Association of Colleges and Employers) career readiness competency list.
One of the things I love about PLU is that you can be involved in theatre as much or as little as you want. You don't need to be a major or a minor to audition or participate backstage. You can easily just take a few classes or do a few shows, minor, take the BA and graduate early, double major, or earn a BFA. You can learn so many transferable skills without eventually making your primary income in theatre.
If students are considering majoring only in theatre, I generally give a piece of advice I was given when I was 18: "If there is anything else you can do and be happy, other than theatre, do that." Sounds dark, right? Sounds like I am sabotaging my own program. And students often respond the way I did with, "It IS the only thing that will make me happy!" But hear me out and really think about that question. When I tell people what I do, the most common thing they say to me is, "Oh that's fun!" It drives me crazy. Show business is just that, a business. You work hard your entire life for very little monetary compensation unless you are very, very lucky and have worked tirelessly, often at the expense of most of the other things in your life. Most people, even incredibly successful people, get out of theatre by the time they are 30 because it is so difficult to balance a day job, rehearsal, and your family. Theatre makes for a hard, uncertain, and unstable life. And yes, I love it. And yes, I am one of the fortunate ones. But before you major in theatre alone, you need to take off the rose colored glasses and take a really good hard look at your dedication to the craft. Are you ready to work, HARD? Twelve hour days, for weeks on end including weekends, most of your career, hard? Are you ready to smile when then someone well-intentioned says, "Oh Theatre, that's FUN!" but you haven't had a single day off in three weeks?
At 18 you are so full of energy, I remember. However, a  life in theatre is a marathon, not a sprint; a marriage not a tryst. A bohemian lifestyle seems romantic at 18, but the romance fades. If you can really look at that reality and still opt in to this life, I will pull out a chair for you at the table and teach you the resilience you will need to make it. Most importantly, I will be there to support you if you change your mind. I care about you as a human being, not just as a major on my spreadsheet.
Does PLU feel different than other universities that you've studied or taught at?
Yes. I chose to go to a conservatory for undergrad because I was filled with conviction and I wanted to get the most intensive training in theatre I could get. It worked out for me, but a full third of my peers were cut from the program or quit and had almost nothing which could count towards graduation outside of the program. After two years of education, many of them had to start from scratch.
PLU is nothing like that. Because of our robust general education requirements within our liberal arts framework, students who change their major are often still able to graduate on time. I find that extremely comforting and liberating and our students do too. We're able to give excellent theatre education without trapping or abandoning our students.
Tell us a few fun experiences, professional or personal, that you've had since you began teaching at PLU.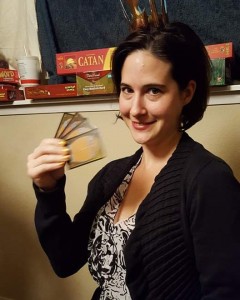 One of my students came to observe me while I was doing a lighting design at the Moore Theatre in Seattle. I loved hearing her perspective on the collaboration she witnessed.
Recently I did lighting designs at Taproot Theatre Company and the Seattle Public Theatre and both times the electrician crew was almost exclusively graduates of the PLU theatre program. It was a blast to do the work together and see how much they have grown.
One of my former students has started teaching at Pierce College and it is so great to discuss pedagogy with him!
Favorite way to unwind after a long week of teaching and grading?
I am a huge nerd and I play a variety of tabletop games including a monthly Dungeons and Dragons campaign. Usually I'm a cleric but right now I'm playing a Paladin.