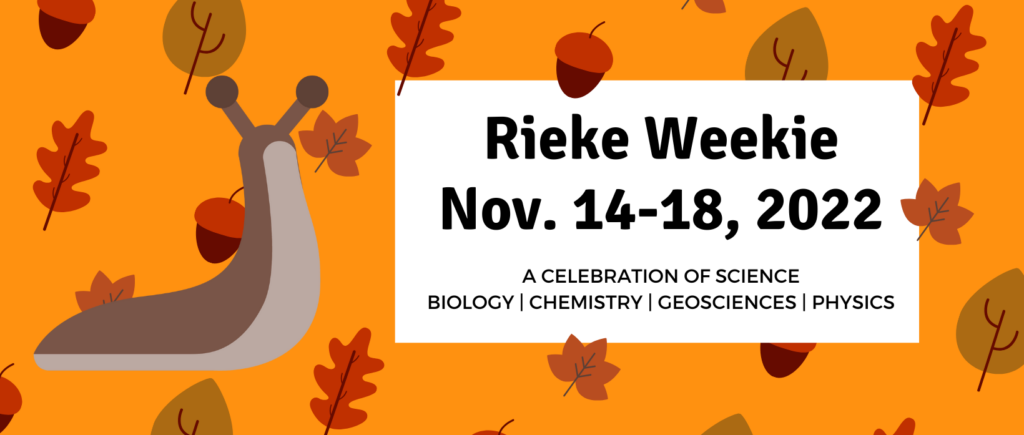 Rieke Weekie - November 14th - 18th
It's time for the fourth annual Rieke Weekie! Join us November 14-18th, as the College of Natural Sciences hosts special events in celebration of the disciplines represented in the Rieke Science Center (Biology, Chemistry, Geosciences, and Physics). In the lead-up to Rieke Weekie, we'll be asking the PLU community to vote on the photographs submitted as part of our Rieke Photo Contest. The top three photos in each category will receive LuteBucks and be displayed in the glass cases across from Enrieké.  All of the PLU community is invited to attend and participate!
Schedule of Events
———————————
October 25th – November 5th
Voting for the Rieke Photo Contest. The winners will be revealed on the last day of Rieke Weekie.
Monday, November 14th
10:30-11am, Rieke Lobby
Casual gathering for coffee and cookies with other Natural Sciences students and faculty in the Rieke Lobby.
NatSci Fellows mixer and unveiling of the leaderboard of students who have completed the most eligible activities in their NatSci Fellows passport. Plus there will be prizes!
Participate in a Find Enrieké scavenger hunt.
10:30-11:30am, Rieke 112
Cope Scholars meeting with interested students
Wednesday, November 16th
10:30-11am, Rieke Lobby
Student-researcher poster session.
Participate in a Find Enrieké scavenger hunt.
Visit with the Alumni & Student Connections staff to learn about finding internships, research opportunities, and the other resources their office provides.
Meet with the Associate Director of and current students in the University of Oregon Graduate Internship Program and learn how to get a Master's Degree and a job.
Friday, November 18th
10:30-11am, Rieke Lobby & Rieke 123
The Rieke Photo Contest winners will be announced and the winning photos revealed.
Participate in a Find Enrieké scavenger hunt.
Stop by the museum table in the Rieke Lobby to check out selected specimens, or visit the Museum Open House in Rieke 123 to peruse the collections and chat with Dr. Jacob Egge.
We look forward to celebrating with you! If you have any questions, please contact Christine Nicolai, NatSci Admin Asst. at nicolacs@plu.edu