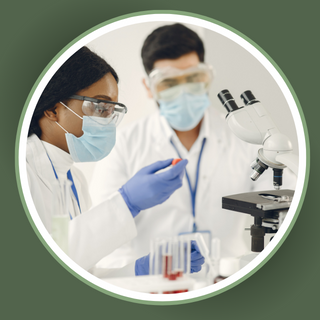 Diversity & Equity Resources
In recent years, it has become clear that in order to achieve equity in healthcare access and outcomes, the U.S. needs to intentionally increase the diversity of its healthcare providers.  The American Association of Medical Colleges (AAMC) defines underrepresented in medicine (URiM) as those racial and ethnic populations that are underrepresented in the medical profession relative to their numbers in the general population at a regional level.  Here we provide a list of resources, including both organizations and summer opportunities, that support efforts to diversify the cohort of undergraduate students pursuing the health professions.  We will continue to add to this list as we learn of additional resources.  
Opportunities in the PNW
Organizations
Northwest Health Career Path (formerly Pipeline Mapping Project)– Are you a student pursuing a career in the health professions? Do you come from a background that might place barriers in your way? There's something for every student in healthcare.
Center for Health Equity, Diversity, and Inclusion (CEDI)- CEDI promotes diversity and inclusiveness throughout the School of Medicine including the WWAMI region.
Chicanos/Latinos for Community Medicine (CCM)- A pre-health Registered Student Organization striving to increase the number of under-represented minorities in healthcare.
Health Sciences Center Minority Students Program (HSCMSP)- Supports underrepresented minority and disadvantaged students interested in health science, biomedical, or behavioral graduate or professional opportunities at every stage of their university career.
Kaiser Permanente Washington (KPWA) Healthcare Careers Pathway Program (HCCP)- This program aims to provide students with the space to build meaningful connections with other pre-health students and gain exposure to the medical field. The main goal is to support the increase, growth, and development of healthcare leaders from historically under-represented and minoritized communities. 
Summer Opportunities
Neurological Surgery Summer Student Program (NSSSP)– The mission of NSSSP is to recruit and educate a wide spectrum of students from diverse backgrounds, focusing on those under-represented in STEM (Science, Technology, Engineering and Math), and broaden their knowledge base in the field of biomedical research, including translational, clinical and basic research; and to inspire students to pursue a career in research, medicine or allied fields, especially in Neuroscience.
OHSU Summer Equity Internship Program– The OccHealthSci Summer Internship program is designed to introduce undergraduate students to biomedical and occupational health research.
SCRI Summer Scholars Program– The goal of the program is to provide undergraduate students with a background that is historically underrepresented in the biomedical and health sciences an opportunity to engage in basic, clinical and/or translational research projects during the summer at Seattle Children's Research Institute under the mentorship of experienced researchers and principal investigators.
Summer Health Professions Education Program (SHPEP)– The Summer Health Professions Education Program (SHPEP) is a free summer program for students to explore their interests in medicine, dentistry, nursing, optometry, pharmacy, physical therapy, public health, and more.
Reimagine Indians Into Medicine (RISE) Summer Academy- Through grant funding from the Indian Health Service's Indians Into Medicine Program (INMED) and the Empire Health Foundation, the WSU Elson S. Floyd College of Medicine has opportunities for American Indian and Alaska Native (AIAN) to participate in pathway programs. The RISE Summer Academy, a 6-week program, open to American Indian Alaska Native (AIAN) aspiring physicians.
Opportunities Outside the PNW
Organizations
Minority Association of Pre-Health Students (MAPS)– A national association dedicated to helping undergraduate students from under-represented backgrounds realize their potential in healthcare fields.
Allied Health Career Exploration– AHCE participants receive the necessary information to pursue a College of Health Professions application process.
UCLA Pre-Medical/Pre-Dental Enrichment Program- PREP is designed to support students who have experienced social, economic, or educational disadvantage in their journey to medical education. The program prepares students through academic enrichment, personal development, MCAT review sessions, longitudinal application support, focus on health disparities, interview skills and practice, and longitudinal mentorship.
GUSOM Academy for Research, Clinical, and Health Equity Scholarship (ARCHES)- GUSOM ARCHES aims to strengthen the research and clinical skills of promising undergraduate students and prepare them for successful matriculation into medical school.
Association of State Public Health Nutritionists (ASPHN) (Multiple locations) – ASPHN's Health Equity Internship Program is a 12-week paid internship created to support the diversification of the public health and health related workforce. The program offers students a unique opportunity to apply academic and problem-solving skills to real-life work experiences. Equally important, the public health programs in which they intern gain fresh perspectives and vitality from future leaders.
Harvard School of Public Health (Massachusetts) – The Multidisciplinary International Research Training Program (MIRT) is a national program developed to encourage underrepresented students to pursue biomedical and behavioral science research careers. Providing support for students to conduct research overseas, students will spend 8-12 weeks at a foreign research site.
Summer Opportunities
Summer Academic Enrichment Program– AEP participants attend learning skills and test-taking workshops, mock interviews, professionalism seminars, current health care topics, coaching and community service activities in an interprofessional framework.
Premedical Urban Leaders Summer Enrichment Program (PULSE)– The primary goal of PULSE is to provide students from underrepresented and/or educationally and financially disadvantaged backgrounds exposure to medical professions.
Health Professions Advanced Summer Scholars Program (Health PASS)– Des Moines University's Health Professions Advanced Summer Scholars Program – Health P.A.S.S. – is a great way to prepare for and enhance your chances of getting into medical or health professions school. Health P.A.S.S. provides you with key insights and hands-on experience in a variety of health professions.
The Four Directions Summer Research Program (FDSRP)– An 8-week research experience that provides an opportunity for undergraduates to explore careers in the medical profession under the guidance and supervision of staff from Harvard Medical School and Brigham and Women's Hospital. The program prepares students through mentoring, networking, and hands-on research experience. The program encourages all interested students to apply to this program but requires a demonstrated interest and commitment to Native American communities.) and another one that sounded good at the University of Utah.