Pre-Med Coursework and Experience
The following coursework satisfies the required and recommended courses for admission to medical school. Note this represents general guidelines and requirements vary from one school to the next. It is your responsibility to verify each institution's requirements by visiting their websites.
The prerequisites for the University of Washington School of Medicine can be found here.
If you are a student currently enrolled at a community college and are considering transferring to PLU, we recommend that you consult the following  interactive equivalency guide to ensure that you are taking the correct courses for your intended major. For example, BIOL 211, 212 and 213 at Pierce College in Puyallup is equivalent to BIOL 225 and 226 at PLU.
Biology Courses
Take the following two required introductory biology courses:
BIOL 225: Molecules, Cells and Organisms
BIOL 226: Genes, Evolution, Diversity and Ecology
You might also consider some of the following upper division courses:
BIOL 330: Genetics
BIOL 341: Developmental Biology
BIOL 342: Microbiology
BIOL 352: Comparative Anatomy
BIOL 357: Histology
BIOL 442: Cell Biology
BIOL 453: Mammalian Physiology
Check the websites of those institutions you plan on applying and determine whether there are particular upper division courses that they require or recommend.
Physics Courses
PLU has two introductory physics series. Students interested in medical school should take the sequence that is required for their intended major. Students majoring in biology usually take the PHYS 125/126 series with accompanying labs, while those majoring in chemistry or physics must take the PHYS 153/154 series with accompanying labs.
In general, most medical school admission committees note that when two course sequences are available, you should take the more academically challenging of the two.
English Courses
Most medical schools require applicants to take two English courses prior to matriculation. The English requirement is intended to demonstrate competency in grammar and composition as well as comprehension and analysis of written work. In general, the English requirement is met by taking courses that medical schools would recognize as writing or literature courses.
Chemistry Courses
Take the following two-course sequence in general chemistry:
CHEM 115 (General Chemistry I)*
CHEM 116 (General Chemistry II)
Take the following two-course sequence in organic chemistry:
CHEM 331/333 (Organic Chemistry I + laboratory)
CHEM 332/334 or 336 (Organic Chemistry II + laboratory)
Some medical schools require a semester of biochemistry so check the requirements for each school carefully.
Regardless, we recommend that you take CHEM 403 (Biochemistry I) given this subject matter is covered on the new version of the MCAT.
*Note the MATH 140 is a pre-requisite or co-requisite for CHEM 115.
Courses in the Behavioral and Social Sciences
Only a handful of medical schools have formal requirements for courses in social and behavioral sciences; however, virtually all recommend some coursework in these disciplines in order to develop an understanding of human behavior and society.  As of 2015, the revised MCAT exam will test concepts from psychology and sociology in the Psychological, Social and Biological Foundations of Behavior section of the exam. In addition, the Critical Analysis and Reasoning Skills section of the revised MCAT may include passages from cross-cultural studies (anthropology, communication and culture, etc.) and population health.
We recommend you take the following courses:
PSYC 101: Introduction to Psychology
SOCI 101: Introduction to Sociology
Mathematics Courses
Most medical schools require math and/or statistics. Most medical schools do NOT require Calculus. We recommend that you take at least one math course and one course in statistics.
Experience
Clinical experience is paramount to a successful medical school application. If you apply to medical school with little to no direct exposure to the practice, your case will not be very compelling to an admissions committee. You must get relevant experience in order to make an informed decision to pursue a career in medicine. It is important to note that medical schools evaluate each of your experiences by length/time of commitment; depth of experience and lessons learned from the experience. So just don't go through the motions; consider long-term commitments.
Physician Shadowing
Shadowing a physician is probably one of the best means to get direct exposure to the medical field and learn what it really is like to be a doctor. Many students are able to arrange shadowing experiences initially through a family physician. Ask your own doctor about other opportunities. Maybe your doctor has a colleague from medical school who practices in the Seattle/Tacoma area. Alternatively, if you do not have any personal contacts with physicians you may wish to send a letter and resume to a number of physicians asking for the opportunity to observe them in their practices.
Shadowing is more than "following a doctor around," but instead provides an opportunity to begin the learning process that will extend throughout your education as a medical student and your career as a physician. It is  also important that you consider what you've learned from them. When you complete your application, you will need to be prepared to discuss your experiences with medicine in detail as well as communicate that information during your medical school interviews. Thus we recommend that you keep a journal throughout your undergraduate years in which you record your experiences as this will help you prepare for this crucial stage of the application process.
The University of Washington Medical School recommends that applicants shadow for at least 40 hours in the U.S.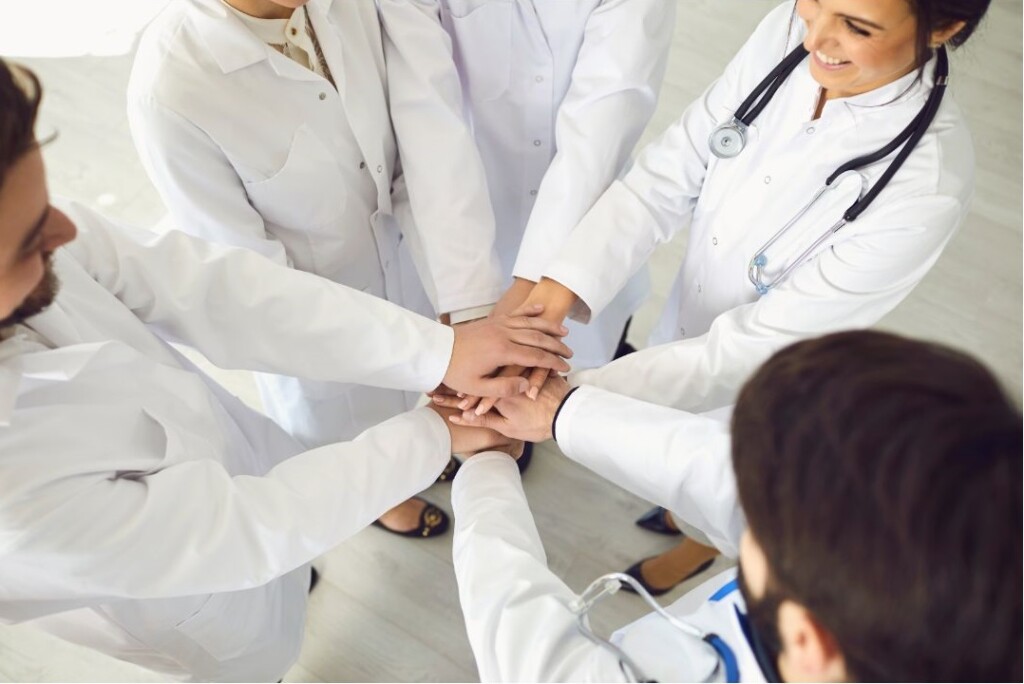 Looking for shadowing or clinical experiences? Area Health Education Center programs can be a good resource.
Medical Mission Trips
Many students are also interested in participating in medical missions trips.  These are trips that are taken by medical professionals to areas of the world where access to medical care is severely limited.  While these trips are a wonderful experience, it is not recommended that this be your only type of clinical experience.  Because you will primarily be practicing medicine in the US, it is important that you gain exposure to the US medical system as well.  Medical missions trips are usually considered a wonderful way to supplement your clinical experience.
Volunteer in a Medical Setting
If you are able to volunteer your time in a medical setting, you will gain both volunteer and clinical experience, which is a big advantage. Contact the volunteer department of your local hospitals.  In addition, a number of hospitals (normally the teaching hospitals) offer volunteer premed programs which can be excellent opportunities.  These programs are specifically targeted for you, the premed, and are great in gaining volunteer and clinical experience, exploring your personal interests, and making valuable connections in the field.
General Community and Volunteer Involvement
As a physician, you will serve the needs of others, and community and volunteer involvement indicate that you are devoted to that cause. Consider some type of volunteer experience, such as helping out at a food bank or soup kitchen, as required. There are endless opportunities for you to volunteer your time, many of which you can find out about through your college, local churches, community newspaper/bulletin, or personal acquaintances.
Other examples of volunteer work done outside the healthcare field include judging science projects at a local science fair; volunteering for diabetes awareness week; helping Habitat for Humanity construct a house; tutoring middle school students; and working for a fundraiser walk such as Relay for Life.
Academic Research
Academic research experience is not required by most medical schools, but it is certainly valued. Undergraduate research will undoubtedly enhance critical skills in communication, independent thinking, creativity and problem-solving.