Creating a culture of sustainable and responsible citizenship
By President Thomas W. Krise
Sept. 8, 2014
We are delighted to welcome you all to the 2014 University Convocation! Whether you are a part of the entering class of 2018, a student joining us with some college experience already behind you, or an exchange student here for a more brief time…we are pleased to see you this morning.
We are joined in this year's class by 80 international students from Cambodia, China, Denmark, France, Germany, Hong Kong, Iran, Malaysia, Mexico, Morocco, Norway, Saudi Arabia, South Korea, Sweden, Taiwan and Viet Nam. I want to thank each of you for being here and for helping us all to understand more directly the global nature of our human community.
We are also welcoming this year a gifted cohort of new faculty members whose depth of expertise is matched only by the great variety of their fields – philosophy, religion, English, geosciences, psychology, history, anthropology, music, accounting and nursing, among others. Like the students they will mentor and teach, our new faculty members were selected from a competitive pool of candidates. We look forward to the momentum and energy each of you will add to this community. Welcome to you all!
Convocation is intended in many ways to be the culmination of the Welcome Weekend and the orientation sessions that occurred earlier in the summer.
By now, you've probably met your roommates and made some new friends, you've registered for classes, and gotten to know the PLU campus a bit. Now it is time, in this convocation, this calling together of the community, for you to be formally inducted into our academic community of learners. This ceremony, with its ritual elements recalling the medieval ceremonies of the first European universities, welcomes you as worthy colleagues.
It is a rite of passage inviting you to subscribe to the mission and common values of this place: Thoughtful inquiry, service, leadership and care – for other people, for their communities and for the Earth. The values that have shaped this university – and this region – are vitally present in PLU today. I hope you will reflect on these values in the months ahead and incorporate their principles into your action and learning.
We define diversity and sustainability broadly; we engage diversity of race, gender, ethnicity, sexual orientation, but also diversity of world-view, religion, national origin, age, learning style, and even political philosophy. We see sustainability as environmental stewardship but also as a commitment to ecological, social and economic justice aimed at creating a culture of sustainable and responsible citizenship on campus and in our surrounding communities. We pursue Diversity, Justice and Sustainability as a means to inclusion and equity.
PLU also holds educational excellence among its core values, and we recognize that our progress as a community toward such excellence is predicated on our ability to embrace both the diversity of our members and the vigorous exchange of their ideas.
It is this capacity to value difference, to learn from each other through respectful and attentive debate, that nurtures and sustains us as an educational community.
The desire for a richly diverse learning community committed to justice and sustainability is rooted in our mission and Lutheran heritage. In fact, the ideas of Diversity, Justice and Sustainability almost magically align with the latter part of our mission statement "…care for other people, for their communities and for the Earth."
The great reformer Martin Luther led the theological revolution in the 16th century which reversed the notion that Christianity is dedicated to getting people out of this world and argued that it is just the opposite: leading people INTO the world through leadership, service and care for others with merciful and thoughtful action grounded in study.
Luther also argued persuasively that gender, race, ethnicity, socio-economic status or education gain a human being nothing in the eyes of God, and thus argued for a community of spiritual equals brought into right or "just" relationship with God and all others simply out of God's love and mercy for each and every human being.
Over the past decade, PLU has sought and experienced a significant change in the demographic composition of our student body – a trend that will continue next decade and beyond. Similarly, the University has worked to diversify its faculty and staff. For the year 2020, we envision a campus community that is even more broadly and deeply diverse, just and sustainable.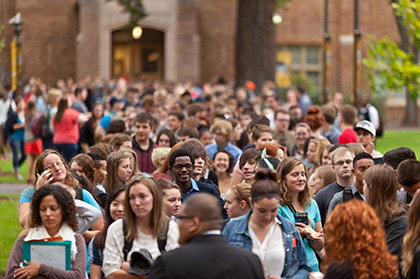 While we have a thoughtful strategic plan guiding us – I believe these three concepts are critical to our future. I'd like to share some progress we've made thus far on these three priorities and talk about what our efforts to date say about our collective will and the promise of our future.
Let's start with sustainability. In 2007 PLU became a charter signatory of the President's Climate Commitment, a nationwide consortium of colleges and universities committed to sustainability. At that point, in 2007, we had no metrics or benchmarks to assess our environmental impact, and no real energy efficiency program.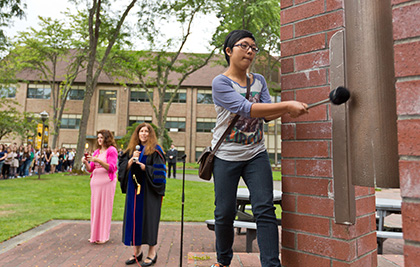 Today, seven years later, we have completed two comprehensive greenhouse gas inventories and publicly reported on our emissions levels; we have cut energy consumption by over 10%; we now have a robust recycling program that diverts nearly two tons of garbage from the landfill each week – that's the equivalent of a mid-sized car; and we increased our recycling rate to 71% last year earning PLU the Recycler of the Year award.
We've been named one of the top 50 greenest universities in the nation; we won the gold award from the Association for the Advancement of Sustainability in Higher Education; and PLU was named the Northwest Conference Champion in the EPA Green Power Challenge. All of this toward our ambitious goal of becoming carbon neutral by 2020. This recognition reflects the grassroots efforts of our students, combined with the conviction and leadership of faculty and staff and the engagement of literally everyone on this campus.
In the fall of 2012, our Provost convened a DJS task force of staff, faculty and students to articulate a clear understanding of PLU's aspirations as a diverse, just and sustainable learning community, and to consider ways to deepen our efforts in making inclusive excellence a core value of PLU. We seek to foster a community that goes beyond tolerance of difference to one that is guided by the principles of equity, social justice, cultural competence and engaged citizenship.
This comes through in our academic work including our annual Holocaust Education Conference, and this fall will also mark the beginning of a Minor in Holocaust and Genocide Studies, one of only a few in the nation. It comes through in our commitment to studying abroad: PLU is a national top 10 university in the percentage of undergraduates who study away, nearly 50% last year alone compared to 3% nationally. In fact, PLU was the first American university to have study away classes on all seven continents at the same time.
But it's not just THAT we study away, it's HOW we study away that makes PLU distinctive. These are not quasi-vacation trips to museums and scenic destinations. These are purposeful, immersive learning opportunities where students are deeply woven into the fabric of a culture, where service learning is integrated with cultural competence. It also comes through in our admissions outreach to disadvantaged, yet promising students of color and undocumented students.
I am grateful for the efforts of so many students, faculty and staff who work daily to ensure that we are creating an educational environment that integrates diversity and educational quality.
And finally one of the hallmarks of PLU is the deeply ingrained sense of service among our faculty and staff, and the programs we offer that encourage our students to be active in community service during their four years here. Over the past year, nearly 58% of students volunteered 64,710 hours to community service projects. In fact, 71% of our students volunteer in the community at some point during their time at PLU.
Because of this we were named to President Obama's Higher Education Community Service Honor Roll, and we rank third in the nation among small universities in the number of Peace Corps volunteers we produce. Caring for others is so much a part of what PLU is about that it's even reflected in our university seal…notice how the L lifts up the U?! So what do these updates mean? Does it mean that we are finished? Of course not. We are far too ambitious in our drive for excellence and far too committed to these values. While we are proud of our sustainability efforts, we know that more work remains to achieve our goal of a carbon neutral campus by 2020. While we see progress in the work of our DJS Task Force, we know more work remains for us to fully embody the inclusive community that we aspire to be. But what all of this DOES say – is that with focus and determination and the hard work of students, faculty, staff and our Board of Regents working together, we can advance the University in notable ways. That is why I am challenging myself, and the entire PLU community, to ask WHAT YOU CAN DO.
ASK what you can do to increase our sustainability efforts.
Ask WHAT you can do to foster a more inclusive and welcoming community.
Ask what YOU can do to be of service in the Parkland and Tacoma communities.
Ask what you can DO to spark the kinds of ideas, research and intellectual agility that inspire us all to new levels of excellence and accomplishment. As you travel through this great place, look around you and seek out people who are different from you. Seek to understand their views, their backgrounds, their religion. Be open, avoid arrogance and stubbornness, always, always exercise respect for those around you.
Most importantly, ask what you can do to LIVE a life that matters.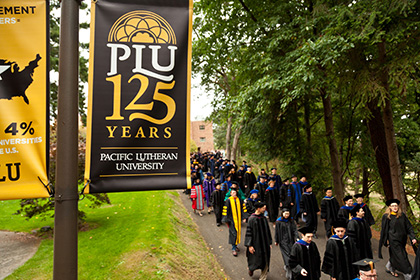 I hope that each of you will commit yourselves to being actively engaged in this community. I hope that you will make each place you inhabit a better place because of you.
As community builders, there may be times when we really need to mind our own business, but our mission calls on us to provide service, leadership and care for others and for their communities, and that requires us to be involved with other people and make their business ours.
We need to get to know people, find out what they're up against, and support them in their struggles. That's what Lutes do—we get involved and support people, instead of staying on the sidelines.
If we want people to stand up for our concerns and interests, we need to understand and stand up for theirs. If we want to make changes in society so that oppression is not acceptable, we need to learn how to work together as each other's allies.
I am confident that as new members of the PLU community you will stand up for each other throughout the coming semester, the entire academic year and, I hope, for as long as you remain part of the PLU community. And remember, now that you are a Lute, you will forever have a tie to this place.
Finally, let me express once again the great sense of anticipation and pleasure my colleagues and I feel at the beginning of the academic year. We are confident in you, and we are here because we want to work with bright, talented people like yourselves. Welcome to this community, and may we all enjoy the delights of what Martin Luther King Jr. called for: "an invigorating autumn of freedom and equality." Thank you for being here and best wishes for the year ahead!