2015 Convocation
[livestream video_id="4303471″]
2015 CONVOCATION
President's Remarks
Good morning!  I'm delighted to welcome you all to the 2015 University Convocation!   Whether you are a part of the entering class of 2019, a student joining us with some college experience already behind you, or an exchange student here for a shorter time … we are pleased to welcome you to this community of Lutes.
Now it is time, in this convocation, this calling together of the community, for you to be formally inducted into our academic community. This ceremony, with its ritual elements recalling the medieval ceremonies of the first European universities, welcomes you as worthy colleagues.  In addition to your fellow students, seated around you are the faculty, staff, administrators, and regents of PLU, together with elected representatives of the 581 congregations of the Evangelical Lutheran Church in America in the Pacific Northwest who serve in a body called the PLU Corporation, which confirms the members of our governing body, the Board of Regents.  We assemble this distinguished company to welcome you to the serious and noble work of this University—and to pledge our commitment to your success.
It is a rite of passage inviting you to subscribe to the mission and common values of this place:  Thoughtful inquiry, service, leadership and care – for other people, for their communities and for the Earth.  The values that have shaped this university – and this region – are vitally present in PLU today.  I hope you will reflect on these values in the months ahead and incorporate their principles into your learning—and your actions.
Today, I'd like to delve a bit deeper into what we mean by "care for other people and their communities."  Last month, I was invited to deliver a sermon at St. Marks by the Narrows on the first anniversary of the shooting death of 18-year-old Michael Brown in Ferguson, Missouri.  I'd like to share parts of that sermon with you, as I think the message is very relevant to the challenges we face as a community and as a country.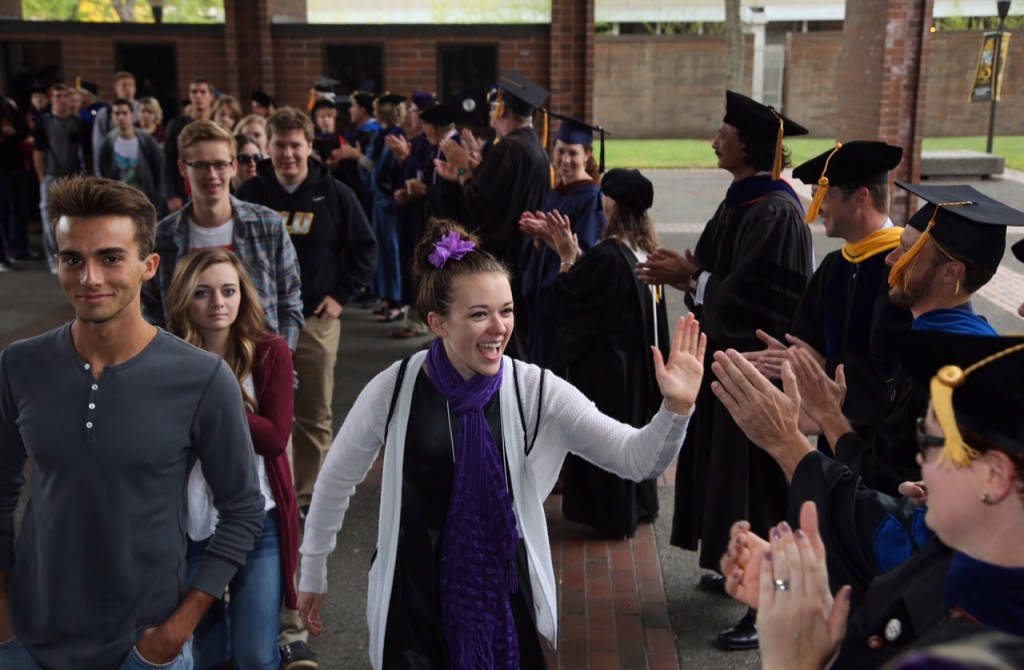 Some of you may have seen billboards on the highways or posters on campus bulletin boards in the past year that reference the "My Language, My Choice" campaign, which started in PLU's Diversity Center as a way to call attention to words and expressions that are hurtful to other people.  It started with a poster campaign featuring pictures of students—many of them student-athletes—holding large pieces of paper with a hurtful word or phrase on them.  They are tearing the papers to indicated their disapproval of the expressions.  Examples include "Retard," "That's So Gay," "You're Too White," "You're Too Black," "Homo," and questions like "No, where are you REALLY from?" and "What Are You?"—and even one that left me nonplussed, because I hadn't thought about how it might be offensive to someone who is disabled: "Lame" or "That's So Lame."
We then approached Clear Channel Communications, owners of billboards across the country, to propose that they turn it into a pro bono public service campaign.  The success of the billboard campaign then inspired a graduate of the class of 2015, Nicole Jordan, to take the campaign to students at neighboring Keithley Middle School.  And once again, Clear Channel created special billboards featuring Keithley students tearing up their own words, such as "Stupid," "Go back to your own country," "Poor Ghetto Kids," and "You're such a girl." In fact, the middle schoolers managed to propose a few mean-spirited words that were new even to college students: one of which was the word "Ratchet."
I'm proud of our students for this campaign, and while we might pat ourselves on the back for such efforts, the fact that they are needed is an indication that our work as a community, and as an educational institution, is nowhere near complete.  While the My Language, My Choice campaign seemed like a pretty robust response to issues of diversity in our campus community, it paled in comparison to the upwelling of concern and anger over racial issues that have arisen in the past year. I needn't remind you of all the racial violence that has ensued since 18-year-old Michael Brown was shot dead by a police officer in Ferguson, Missouri, on August 9, 2014.  Since that day, our society has struggled to come to grips with our collective failure to right the wrongs we thought we were well on our way to righting.  Since Ferguson, we've seen racially motivated incidents in Baltimore, Staten Island, Charleston, Cleveland, Tulsa, and Charleston again.  This sad series elevated the campaign for "Black Lives Matter" that had its beginnings in 2013 with the shooting death of Trayvon Martin in Florida.
One of the many ways that PLU students and faculty have responded to this renewed concern with racism has been a series of conversations about race in America.  One of the rules of these meetings has been "no solutions, just stories."  The idea is that we—especially those in the traditionally privileged white community—need to hear and understand stories about the experience of racism long before we can sit down and think effectively about what to do about it.
I started one such race chat with a story from a conference I attended last winter.  I was sitting with a small group of college presidents, discussing these issues, when one woman told the story about being at a weekend workshop for college presidents.  Her seatmate was a black male college president, and they complained to each other that the agenda for the day was too full—it started too early and ended too late.  The man said he was annoyed not to be able to get a chance for a run.  Well, the workshop wound up ending earlier than scheduled that evening; so the woman said to the man, "Maybe you can get your run in now?"  And the man said, "Black men do not run at night in America."  The woman said that comment gave her a chill up and down her spine—not just due to what it means for black men in this country, but also because that had never occurred to her, and she felt herself to be a sensitive, forward-looking, compassionate person.
Our campus race chats have yielded many such stories.  Black women and men have remarked on how often white people will touch their hair or skin.  Or how often police cars slow down whenever they pass by them.  Or even how emotionally draining it is for faculty of color to be the de facto advisors for virtually every student of color on campus—because they naturally seek out people whose life experiences might mirror their own.  And, I've teared up with a room full of tears as a young black female student told us, "Because of all this, I don't know if I want to have children."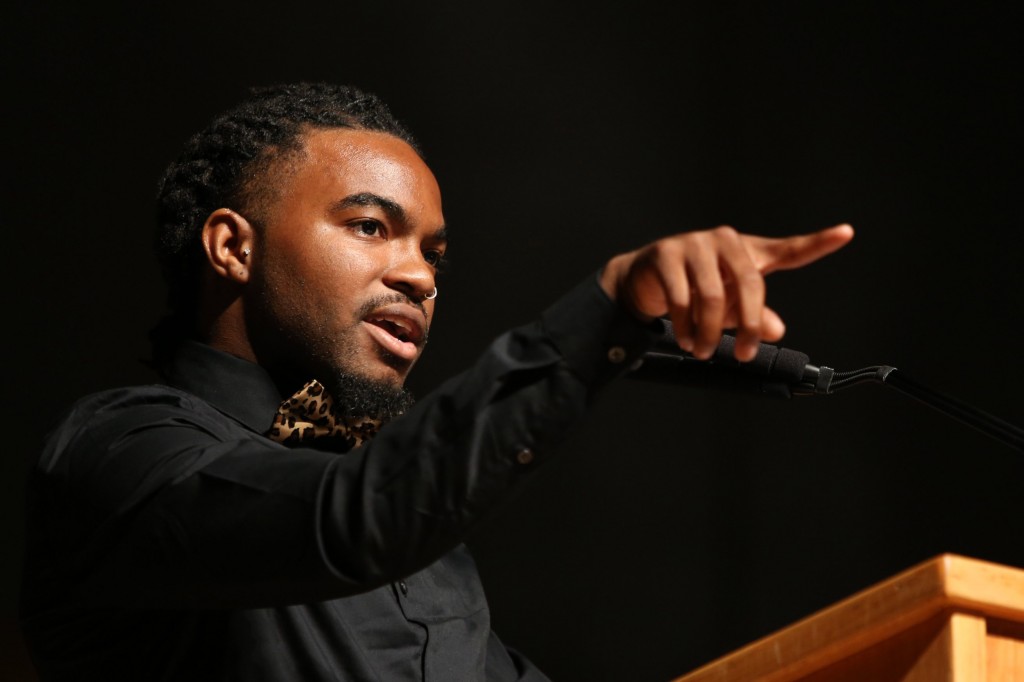 The most recent story of racist tragedy is this summer's mass murder of the Charleston Nine at Emmanuel AME Church in Charleston, South Carolina.  You'll all remember that the murder of the Charleston Nine led to the debate in the South Carolina legislature about the official flying of the Confederate battle flag on the grounds of the State Capitol.  This series of events had particular resonance with me, as my wife, Patty, and I were in South Carolina at the time, caring for my mother.
It wasn't just the coincidence that I happened to be in South Carolina while these events took place, but it mattered to me because my parents had devoted many years of effort to eradicating racism in the U.S. Armed Forces.  My father had helped found the Army Community Service, which included many resources for combating racism and helping the Armed Forces become the first major American institution to desegregate.
And my father, with my mother's important help, founded the Defense Race Relations Institute to train professionals to deal with racism and bias.  As a child, I remember protesters waving the Confederate flag and spitting invective at my parents and their coworkers.
The murders in Charleston happened on the day that my mother entered hospice care for her final illness, an illness which had come on very suddenly and shockingly to us.  She had been at PLU just a couple of weeks earlier, attending the Commencement events and the visit of the King of Norway.  As I stayed by mother's side through her final days, she and I had a number of conversations about these race relations issues.
As it turned out, the South Carolina legislature ordered that the flag be taken down on Friday, the 10th of July, which happened to be the day that my mother died.  So, it seemed somehow personal to me, and to my family, that the flag came down on the day of my mother's death.
The personal connection to these issues in Charleston touched me again closer to home.  Some of you may be aware of the "Hate Won't Win" campaign launched by two granddaughters of the murdered pastor of Charleston's Mother Emmanuel AME Church, the Rev. Daniel Simmons.  I think the whole country was astounded when the relatives of the murder victims declared their forgiveness of the murderer at his arraignment in court.  Alana Simmons said to the murderer: "Hate won't win. … My grandfather and the other victims died at the hands of hate. Everyone's plea for your soul is proof that they lived in love and their legacies live in love."
The "Hate Won't Win" campaign started as a social media effort to extend that spirit of forgiveness and love.  Alana Simmons called on people to "show an act of love to someone who is different from you. Someone of a different race, someone of a different religion, gender, even generation, just someone different from you, who you may even hold a bias toward, show an act of love to them …" as Alana said, "we want to change people's hearts, and that's how we intend on doing it, by getting the masses to participate in love."
Thanks to the help and sponsorship of PLU, Bethlehem Baptist Church, St Marks's by the Narrows Lutheran Church, and a host of others, Tacoma became the first city in the country to host an in-person event to promote the "Hate Won't Win" campaign just a few weeks ago.  So once again, I was reminded that issues of racial equity are all around us.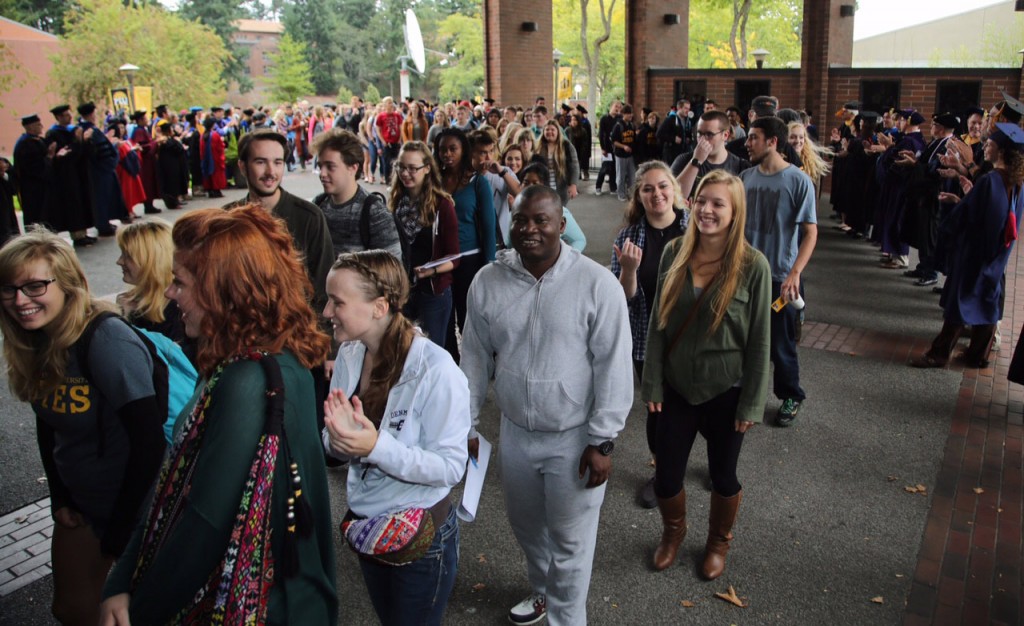 I started out these remarks by quoting our PLU mission statement.  I like to point out that the word "care" is an unusual one in a university mission statement, and we emphasize it unusually strongly by repeating "care for other people, care for their communities, and care for the earth."  This triple repetition of care aligns perfectly with the principles of diversity, justice, and sustainability.  And one other way we remind ourselves of our mission to care is in our distinctive University Seal: note here on the lectern and on the inside front cover of your program, how the "L" in "Lutheran" reaches out under the "U," suggesting the mission to care for you.
I hope that as you make your way through this place and become a worthy member of our Lute community that you, too, will find ways to contribute to the culture of care.  As you do so in this particular time in our society's life, please focus on ways to overcome our racial divisions, and help heal our communities, large and small, and to be kind and compassionate to one another.  I hope that you will find caring faculty members and fellow students who are committed to doing the important work of  — once and for all – righting the wrongs of our society and paving the way to a world where all are treated with respect and dignity.  I wish you great success at PLU, and I look forward to hearing how your stories will unfold with us.