PLU Blue Friday: Lutes Fired Up & Ready for the Super Bowl

January 29, 2015
Super Bowl Sunday is nearly here, and the PLU community is abuzz about this weekend's big game!
I invite the entire campus to participate in PLU Blue Friday on Jan. 30!  Students, faculty and staff are encouraged to dress in your favorite Seahawks attire. Post your photos/tweets under #Lute12s and #PLUBlueFriday, and we may feature them on PLU social media.
Also, for the first time ever, PLU's website will temporarily swap out its traditional black-and-gold trim for Seahawks blue and green.
Our Seahawks pride isn't contained to campus. In fact, PLU students have boldly displayed their super-fandom on multiple continents – for examples,
visit our "12's Representing Around the World" Facebook photo album!
Finally, please enjoy the stories below about Lutes and Seahawks!
Lute's Company Sets the Stage for Seahawks Super Bowl Rally in Arizona

New PLU Kinesiology Club Uses Some Muscle to Meet Seahawks Head Coach Pete Carroll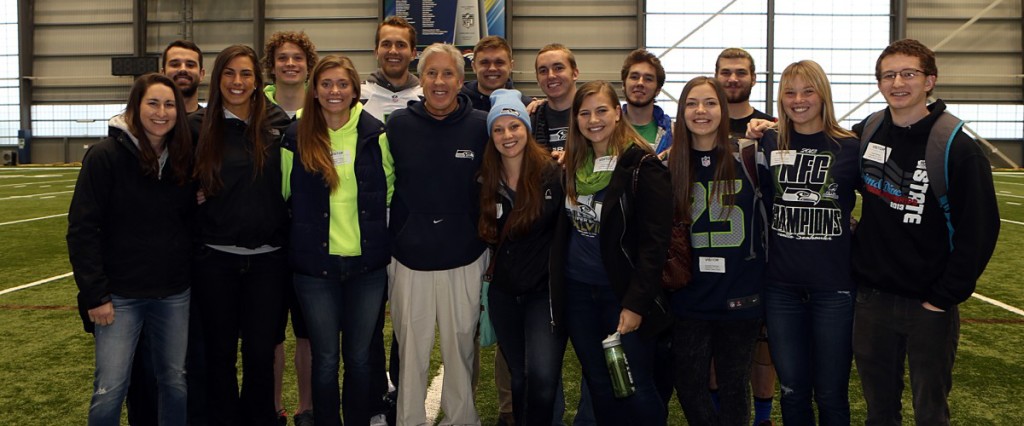 Saved by the Ball: How Football Led Jahleel Barnes to PLU—and to the Seahawks

*Note: All comments are moderated