Nicole Jordan '15 discusses her new role at PLU's Center for Gender Equity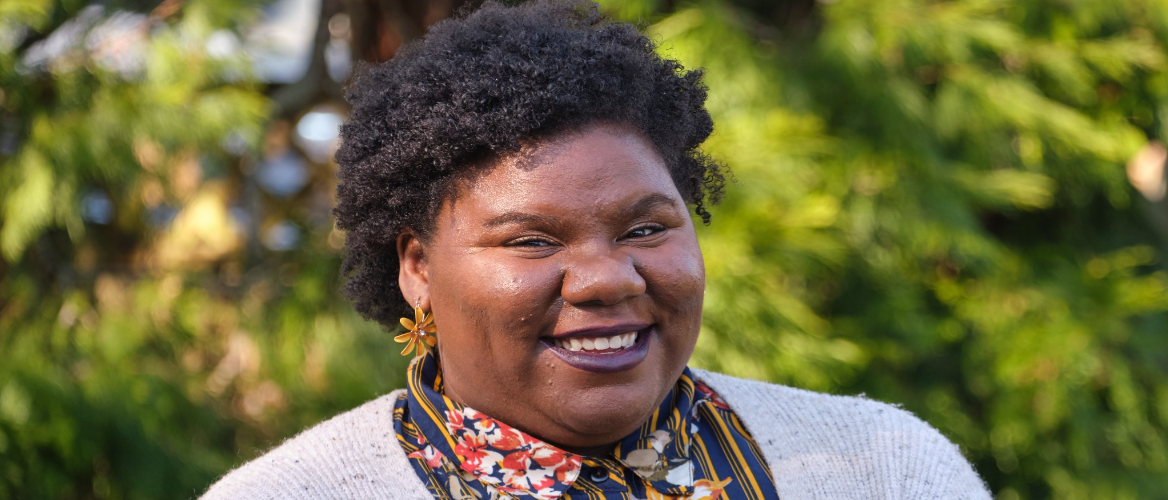 March 16, 2020
By Lisa Patterson '98
PLU Marketing & Communications guest writer
TACOMA, WASH. (March. 10, 2020) — Nicole Jordan '15 is back on campus, this time using the degree she earned in social work to help educate and lead others in her new position as coordinator for PLU's Center for Gender Equity.
The center began as the Women's Center and is celebrating 30 years in March. Its new name better represents the plethora of services and programs offered.
"As the CGE coordinator, I do bystander trainings, Sista Circle, queer programming, and support advocacy," Jordan said. "Bystander training brings awareness to concerning behaviors and encourages students/faculty/staff to step in when they see potentially harmful situations arise. Sista Circle strives to be a safe space for womxn, nonbinary, femme and trans people of color by providing opportunities to discuss self-love, colorism, growth, and the challenges and joys of being us."
We talked to Jordan more about her path through PLU and how it feels to be back on campus and in a job that is close to both her heart and her home.
When you attended PLU, what did you study and why did you choose PLU?
I attended PLU from 2011-2015. I studied social work. I chose PLU because of their competitive programming and rigorous coursework. As a Tacoma native, it was important for me to stay local so that I could continue serving in my community. I decided ultimately on social work because I believe wholeheartedly in the core values and I wanted them to guide my work throughout my life.
Since graduation, you have worked with young people and have accomplished so much. How do you think those experiences prepared you for your new job at PLU?
I have worked with youth and young adults in many different ways. Youth in foster care, youth who were incarcerated, youth exploring their spirituality, etc. Youth teach you how to stay humble, integrous and courageous. We have had to have some difficult conversations. They have challenged me to create meaningful and engaging curriculum. They ask you who your authentic self is, and that you bring your truth forward. They also come with a diverse support team that I worked alongside to help them succeed.
I am still working with young adults here who are also working to discover themselves, make connections, and strengthen their independence and interdependence. This job also requires that I collaborate across departments to bring forth rich and intersectional programming, and more work has prepared me to do that.
Tell us more about your role at PLU as the coordinator of the Center for Gender Equity.
I also support Queer programming for students across campus by partnering with various student leaders. Advocacy services are centered around encouraging the empowerment of victim-survivors during their healing process, supporting friends and family, and providing education about the issues surrounding sexual assault and abuse.
What are some goals you have for your role?
I hope to continue the legacy of those set before me. I hope to also encourage the CGE to be a more utilized place, especially for people of color.
Tell us about your current graduate studies.
I will graduate with my master's in public administration from The Evergreen State College in June. It has been quite the journey. I am excited for my capstone, for which my team will be writing self-empowerment curriculum in both Spanish and English.
What do you see as the most challenging part of your job?
Vicarious trauma is real; while supporting people through crisis is a passion and skill of mine, it is important to maintain healthy boundaries and self-care.
What do you like to do when you aren't working?

Outside of school, I like to do pottery. I am still quite the beginner, but I really enjoy taking classes. I go to karaoke every week with some friends and that's always a good time to sing fun throwbacks. I also enjoy bingo and dancing with friends.
What do you wish more students knew about the Center for Gender Equity and its mission?

I hope people know that the CGE truly is a place for all people to come, feel welcomed, to do work, chill and participate in programs. Also, our books are free! Please come and take them.
What else would you like to add?
I decided to come back to PLU after much recruitment, but also I missed the community, my tribe and the work. There are so many opportunities for collaboration and connection here. I decided to come back to the CGE because I was an intern in the space. I worked in collaboration with the center to launch a really cool project with Keithley Middle School. I am truly grateful to be a part of this community, and I am so excited to partner with different departments across campus.