Seventh Annual: PLU Honor Orchestra for Strings
Open to High School String Players from throughout the Northwest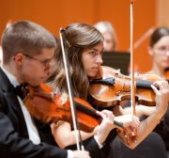 Following the success of another annual event here at PLU, the Northwest Honor Band, we have created a similar opportunity just for string players with the PLU Honor Orchestra for Strings. It is a two-day festival held annually over a weekend in January, offering individual high school string players from throughout the region the opportunity to perform excellent literature for string orchestra with a nationally recognized guest conductor.
The Guest Conductor for 2019 is Robert Gillespie.
Robert Gillespie, violinist and professor of music, is Chair of Music Education at Ohio State University where he is responsible for string teacher training. Ohio State has one of the largest and most extensive string pedagogy degree programs in the nation. Under Dr. Gillespie's leadership, Ohio State University received the 2015 Institutional String Education Award as the premier string education university in the country.
Dr. Gillespie is a past national President of the American String Teachers Association. He is a frequent guest conductor of All-State, region, and festival orchestras. Dr. Gillespie has appeared in 47 states, Canada, Asia, and throughout Europe. He is co-author of the Hal Leonard string method book series, Essential Elements for Strings, the leading string instrument teaching series in the country with sales of over nine million copies. Also he is co-author of the college text Strategies for Teaching Strings: Building A Successful School Orchestra Program, the String Clinics to Go DVD series, and the Teaching Music Through Performance in Orchestra texts for GIA publications. He received the Distinguished Scholar award for 2002-2003 in the School of Music at Ohio State University.
In summers, Gillespie directs the OSU String Teacher Workshop, the largest string/orchestra teacher-training workshop in the country. In Columbus, he conducts the Columbus Symphony Chamber Strings Youth Orchestra. He is a performing violinist in the Pro Musica Chamber Orchestra.
During the 2017-2018 academic year, Gillespie gave string pedagogy and research presentations, and conducted orchestra performances in Ohio, Maine, Louisiana, Virginia, Georgia, Maryland, Alabama, Missouri, Wyoming, Pennsylvania, Massachusetts, Florida, and Oregon. In the 2018-2019 he once again will be working with students and teachers throughout the United States, including a weeklong professional residency in Switzerland. In addition, he will be conducting concerts in LA's Walt Disney Concert Hall and Chicago's Orchestra Hall.
Nominate your Students before November 1, 2018!
Visit the PLU Honor Orchestra for Strings page.
The 2019 PLU Honor Orchestra for Strings will be held on Saturday and Sunday, January 19 & 20.