Fifth Annual: PLU Honor Orchestra for Strings
Open to High School String Players from throughout the Northwest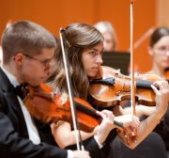 Following the success of another annual event here at PLU, the Northwest Honor Band, we have created a similar opportunity just for string players with the PLU Honor Orchestra for Strings. It is a two-day festival held annually over a weekend in January, offering individual high school string players from throughout the region the opportunity to perform excellent literature for string orchestra with a nationally recognized guest conductor.
The Guest Conductor for 2017 is Richard Meyers.
Born in 1957, Richard Meyer is a full-time teacher in the public schools and has taught string students at the elementary, middle school, and high school levels for over 30 years. Currently, he directs the orchestras at Oak Avenue Intermediate School in Temple City and is in charge of the city's elementary string program.
He was the music director of the Pasadena Youth Symphony Orchestra for 16 years, conducting them in performances in New York, Washington D.C., Vienna, Australia, and Canada. He is a much sought-after clinician throughout the United States, and has been a featured clinician at the A.S.T.A. National Conference, and String Teachers' Workshops at Ohio State University and Birch Bay, Washington. He has also guest-conducted All-State Orchestras in several states.
Richard is a nationally recognized, best-selling composer with over 130 compositions and arrangements in print, and is the string editor for Alfred Music. He is the co-author of several string method books, including the popular String Explorer series, and, most recently "Sight-Read It for Strings." He and his wife, Rose, live in Arcadia, California and have three daughters.
Nominate your Students before November 1, 2016!
Visit the PLU Honor Orchestra for Strings page.
The 2017 PLU Honor Orchestra for Strings will be held on Saturday and Sunday, January 28 & 29.
(Watch here for a link to more information and our online application form.)