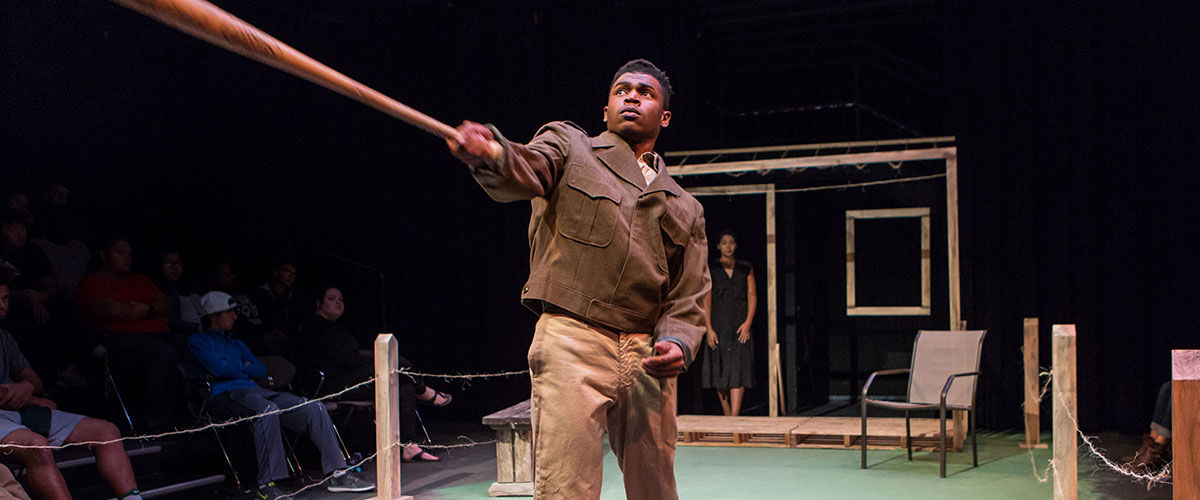 April 2, 2018
By Thomas Kyle-Milward
PLU Marketing & Communications
PLU junior's first production fields university's first all-black cast
Josh Wallace '19 wanted to do something different for his directing debut with PLU Theatre.
A creative who also dabbles in acting, music and art, the junior figured the time was right to take on a challenge ― put together the university's first all-black cast for a production of "Fences," a play that recently was made into an award-winning movie.
"At the time I was actually thinking of doing a different show called 'Over the River and Through the Woods,'" Wallace said. "But 'Fences' came out, and I was like, I think this is something I can do that's feasible, I think it's the right time. When I was reading it and when I watched the movie, it just really hit home."
Creating an all-black production brought with it a certain amount of pressure and outside interest, Wallace said. He sat down with his cast members and emphasized the importance of such a production being carried out successfully ― with this much riding on the show, it couldn't afford to flop.
"Casting was interesting because I thought that was going to be a problem," Wallace said. "When setting up auditions, I was nervous that I wasn't going to have enough people come in, and I ended up having more. It was absolutely gratifying, it kind of warmed my heart a bit."
Set in the 1950s, the play centers on an African-American father and his relationship with his son. Troy, a Negro League baseball player who never got a legitimate shot at the segregated major leagues and instead became a sanitation worker, tries to quash the football dreams of his son, Cory. The ensuing family tension struck a chord with Wallace.
"It was definitely personal. For me and my dad … It was strict, it was tough, it was supposed to be what most people consider tough love," he said. "I think that sometimes we forget that tough love isn't always the answer. But the way that Troy shows and expresses his love to his son, with that tough love, was very similar to how my dad expressed his love to me."
Race is an underlying theme throughout the play, as "Fences" illustrates the struggle people of color faced to get ahead in a system stacked against them ― a struggle that still rings true today. Wallace experimented with that theme of institutionalized racism in his own version of the play, drawing on his own experiences as a minority in theater.
"When I was thinking about what's going on in our country, all the ridiculousness we see today ― how can this not be important?" Wallace said. "I wanted people to be able to see a different life, a different community that they might not understand. And showing people that, you can kind of start to understand what people are feeling."
The poignant performances of his rendition of the play brought tears to the eyes of audience members ― and sparked some healthy dialogue between the cast and the predominantly white audiences in post-show question-and-answer sessions. The message he wanted to leave his viewers, Wallace said, was one of unity.
"Everyone's got their own struggle, and I wanted people to realize that we often take for granted what other people are going through," he said. "I wanted people to see that, 'this is the other side of the coin, and it doesn't look too different from yours.' Family is family, and we're all family. Why can't we just get along?"