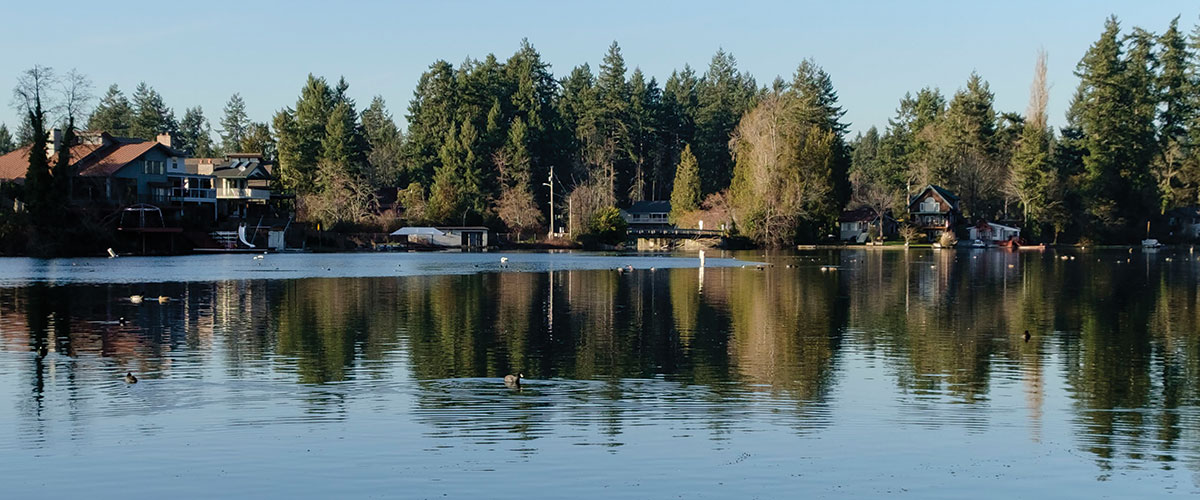 April 3, 2018
By Thomas Kyle-Milward
PLU Marketing & Communications
Mention Parkland, and Washingtonians tend to conjure up a slew of stereotypes and misconceptions. But to Antonio Sablan '18 and other Pacific Lutheran University students who grew up in and around Pierce County, the area represents something much greater: home.
"Parkland is resourceful. Parkland's gritty, it's dirty, it's messy. But the people who live here, including myself, love it for that," Sablan said. "We see the good things that are happening here, and we celebrate it, and we don't necessary need anyone else's validation. Parkland is a really beautiful place if you look in the right places."
Sablan, a stocky, bespectacled man who burns with a quiet eloquence when discussing his beloved community, was born and raised in Parkland. With his roots already firmly entrenched in the neighborhood, the Franklin Pierce High School graduate chose to attend the university operating in his backyard partly because he has no plans on leaving ― but also out of what amounts to almost a personal obligation to serve and give back to the place that raised him.
"There are so many people that I went to high school with, so many kids in our community that don't feel empowered to stay here because they're not satisfied with their situation," he said. "It's super important to me that no matter where you're from, you try to find what's beautiful in that place and make it a better community."
Part of that effort to give back is giving himself a public voice capable of effecting change. Sablan ran for elected office for the first time in November, challenging the incumbent for Franklin Pierce School District's Director 5 position. While Sablan didn't win, he drew in a little more than a third of the vote in an impressive effort.
"I was motivated to run, I think, on the shoulders of the energy of other folks that were really excited about having a young face running for office, challenging somebody who in their 16-year school board history had never been challenged," he said. "I think more young people in this community need to feel empowered to run for office. I don't necessarily always feel like my voice is being represented, or that the voice of my community is being represented."
Sablan is determined to be one such voice in his neighborhood, and upon earning his degree he'll continue working to make Parkland a better place. He also wants to be an example of collegiate success, a representation of the possibilities offered by the close proximity of PLU and Parkland ― and the possibilities of partnership.
"PLU offers something that's pretty unique in this community," he said. "It's really interesting that this large institution has sort of been in my backyard since I was a kid, but I'd never really seen it before. I know for a fact that a disconnect exists, but it could really easily be broken if folks that live in Parkland are getting educated here at PLU and bringing those resources back into the community. And I think more folks are doing that now."
Parkland is a sprawling unincorporated area south of Tacoma that blends urban with rural, home to roughly 36,000 people, according to U.S. Census data. What it lacks in infrastructure, however, it more than makes up for in diversity. A multicultural melting pot, Franklin Pierce School District is ranked the 13th most diverse of the state's 236 districts, according to Niche. That mix of people from all walks of life is just another foundational element of the community's complex identity.
"I have been extremely fortunate to have grown up in an area where I was able to learn about a variety of cultures, appreciate different perspectives and see the beauty of Mount Rainier," said Kristi Floyd '19, who graduated from Franklin Pierce and grew up less than two miles from PLU's campus. "Parkland is an amazingly diverse community that is full of incredibly generous people."
With a 55 percent transiency rate and Joint Base Lewis-McChord a stone's throw to the west, it's a high-turnover population dominated by rental homes that somehow still boasts deep community roots. And it's that connection between citizen and community that's become Parkland's calling card ― and a bond that PLU students looking to serve have come to respect and emulate.
PLU's Center for Community Engagement and Service (CCES) acts as a conduit and resource for Lutes looking to work for the common good in Parkland, recognizing that it's mutually beneficial for the university and the neighborhoods that surround it to strike up partnerships and bridging the gap between campus and community.
"I think that there's a gap. I think it's really easy for us as college students to just come here and be in our little bubble here at PLU," said Marisa Etzell '20, who works as a student volunteer at Perry G Keithley Middle School in Parkland. "We have the opportunity to serve, and I think that it's our job as students here at PLU to recognize our privilege and use that privilege as leaders. (We're in) a rich, diverse community with plenty of opportunities for experiential learning."
The university is working hard to eliminate that gap. CCES is an integral tool to that end, mobilizing students and faculty to volunteer their time in schools, food banks, community gardens and Habitat for Humanity, to name a few.
"I think PLU does a great job at reaching out to the local community, especially in recent years, Floyd said. "There has been more of an effort to incorporate with Parkland."
There couldn't be a more perfect visualization of the connection between PLU and Parkland than the Parkland Community Mural on Garfield Street. The work of art stretches across the back side of the post office, vivid scenes forming the block letters P-A-R-K-L-A-N-D set over a royal blue background. A testament to the power of a community coming together, the project involved more than 600 residents providing input and over 150 people showing up to paint it. It stands now both as an area landmark and a symbol of togetherness ― and perhaps hints at a closer partnership to come.
"You can't have PLU without Parkland," said Hannah Middlebrook, the university's associate director of admission. "This is not a place where we want to be our own miniature world, isolated within this community. We actively as a university work at breaking those walls down and being a part of Parkland, being partners in this neighborhood and calling this place home."