Find out how Bailey Hamilton '22 balances athletic involvement with academic excellence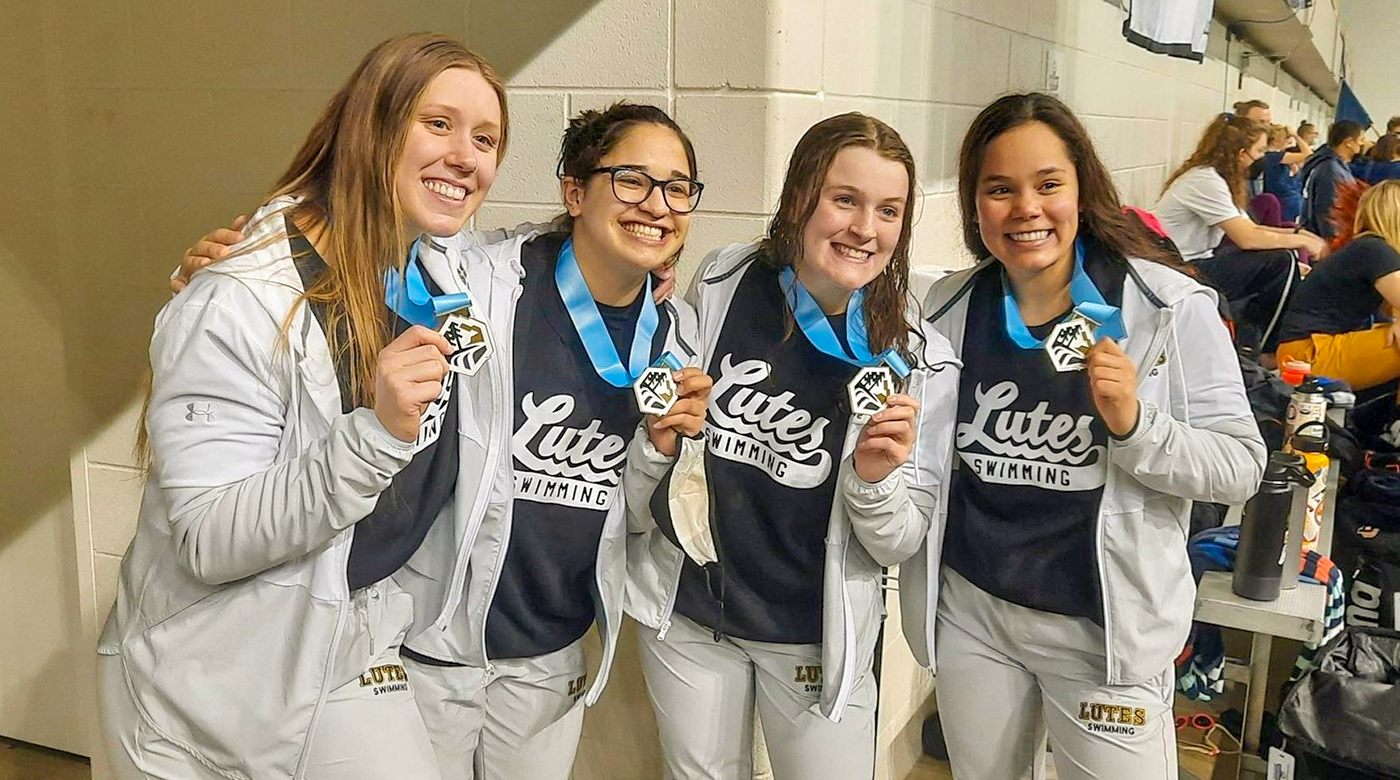 May 3, 2022
Bailey Hamilton is a senior nursing student at PLU. She is also a member of PLU's swim team. Recently, she was a member of the winning four-member relay team at this year's Northwest Conference Championships —one of which set a new PLU record for the 200 medley relay. We spoke with Hamilton about her success in the pool, and how she finds time for her sport as a senior nursing student.
When did you start swimming? How did you know it was something you wanted to do in college?
I started competitive swimming when I was 11 years old. I didn't know at the time how important the sport would become in my life. I knew it was something I wanted to do at the collegiate level when I wasn't ready for my senior year of high school to be my last year swimming. When I learned I could achieve my Bachelor of Science in Nursing and swim at a collegiate level by attending PLU, it solidified my decision to swim as a college student.
Why did you choose nursing at PLU?
I chose nursing at PLU because I was conditionally accepted. This seemed like a great opportunity to ensure I could complete my degree in four years. I also loved the atmosphere of a smaller school and I knew I could get a more holistic education here compared to other schools.
How are you able to create time for both athletics and academics in your schedule?
Learning adequate time management skills was the number one thing that helped me find time for everything. While this meant early mornings and late nights, it helped me grow in my abilities to manage my priorities and get everything done.
Do you see any connections between the work you do as a nursing major and your athletic involvement?
Yes, I do see a connection between the two! Athletics has taught me skills such as time management, teamwork, and persistence, all of which have shaped how I conduct my nursing practice.
How did it feel to be on a record-setting relay team this year?
It's hard for me to even express what it means to be part of the winning relay teams from this year's NWC Championships. I am so grateful I got to swim with some of the most amazing people I've ever met, and that goes beyond just the other three swimmers that were on each relay.
Our whole team is full of hardworking, dedicated women who I consider to be like family. Winning meant so much because I got to do it with the people who mean the most to me! As for holding a relay record, I still can't believe this. I have been on relay teams for the last four years, all of which were trying to break the 200 medley relay record. To finally achieve this goal feels incredible. I could not imagine ending my swimming career on a better note, and I am so amazed by the other swimmers who made this possible.
What are your plans and goals for the future?
I am planning to begin a nursing residency in an emergency room. I have decided to stay in the area so I will be applying to many of the local hospitals. My ultimate goal is to get into flight nursing after I gain enough experience.