Giving Back Through Graphics
Posted by:
shortea
/ April 17, 2019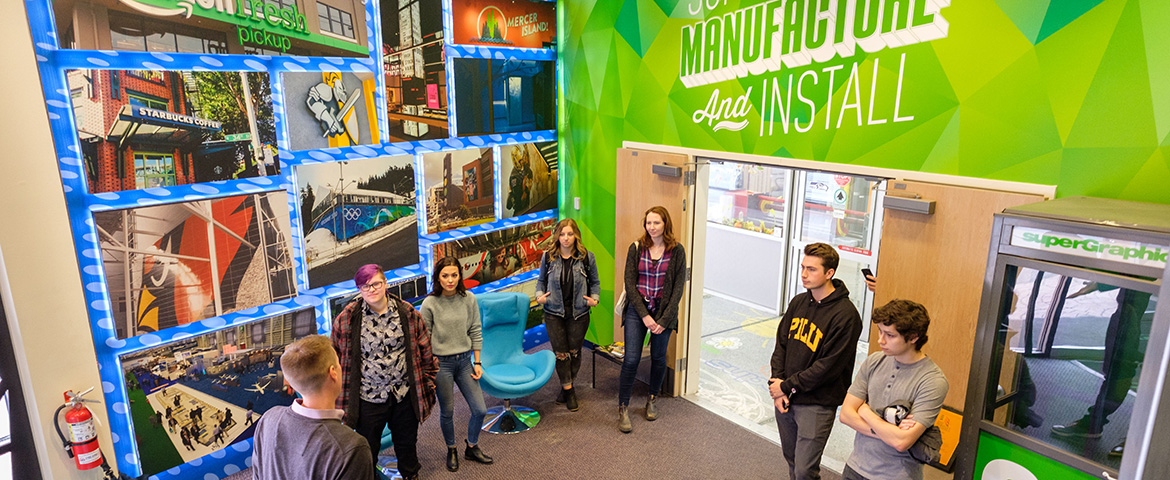 April 17, 2019
By Thomas Kyle-Milward
Marketing & Communications
Staying connected with the university you graduated from isn't exactly new. But for Zac Thorpe '01, that alum connection has blossomed into a working partnership with PLU — and it's been a labor of love.
Today, Thorpe is a Vice President and Senior Sales Executive for SuperGraphics, an innovative Seattle-based company that specializes in retail and environmental print solutions with a diverse client base that ranges from small local businesses to Boeing and the Seattle Seahawks. Thanks to Thorpe, that client list also includes PLU.
"It's extremely rewarding to know that I can help out my alma mater," he said. "It's been a great partnership and relationship. The reason I loved PLU in the first place is that PLU is full of great people — and it's still that way today."
With Thorpe's help, SuperGraphics has contracted with the university on multiple projects across campus such as the transformation of the lobbies of Olson and Hauge, the Welcome Center, Lute Locker plus three iconic signs installed in late May. But his work with the university doesn't end there.
Thorpe, a business major who was on the PLU golf team all four years, has also taken on a mentoring role with current students by giving talks on campus and connecting with other student-athletes and upperclassmen in small group settings.
"When I was graduating from college, I didn't really have a direct focus on an industry I wanted to pursue or an exact job title or role I was looking for," Thorpe said. "And so I wasn't very concentrated in my job search."
Being unprepared for that next step after earning his degree has motivated Thorpe to help others figure out their post-college paths. He's sharing his career story with students in the hopes that they too realize that discovering your vocation isn't always a linear process — there are setbacks, false starts and plenty of learning opportunities along the way.
His hopes set on running a business, Thorpe's first job after graduating was with Enterprise Rent-A-Car as part of its management training program. Not his dream job by any means, it nevertheless paved the way for his eventual transition to SuperGraphics.
"I'm definitely not passionate about renting cars," Thorpe said. "But I was always passionate about human interaction, working hard and doing a great job at whatever I'm doing to the best of my ability. (Enterprise) exposed me to all different sides of running a business: the customer service, sales, marketing, operations, accounting and managing employees as well."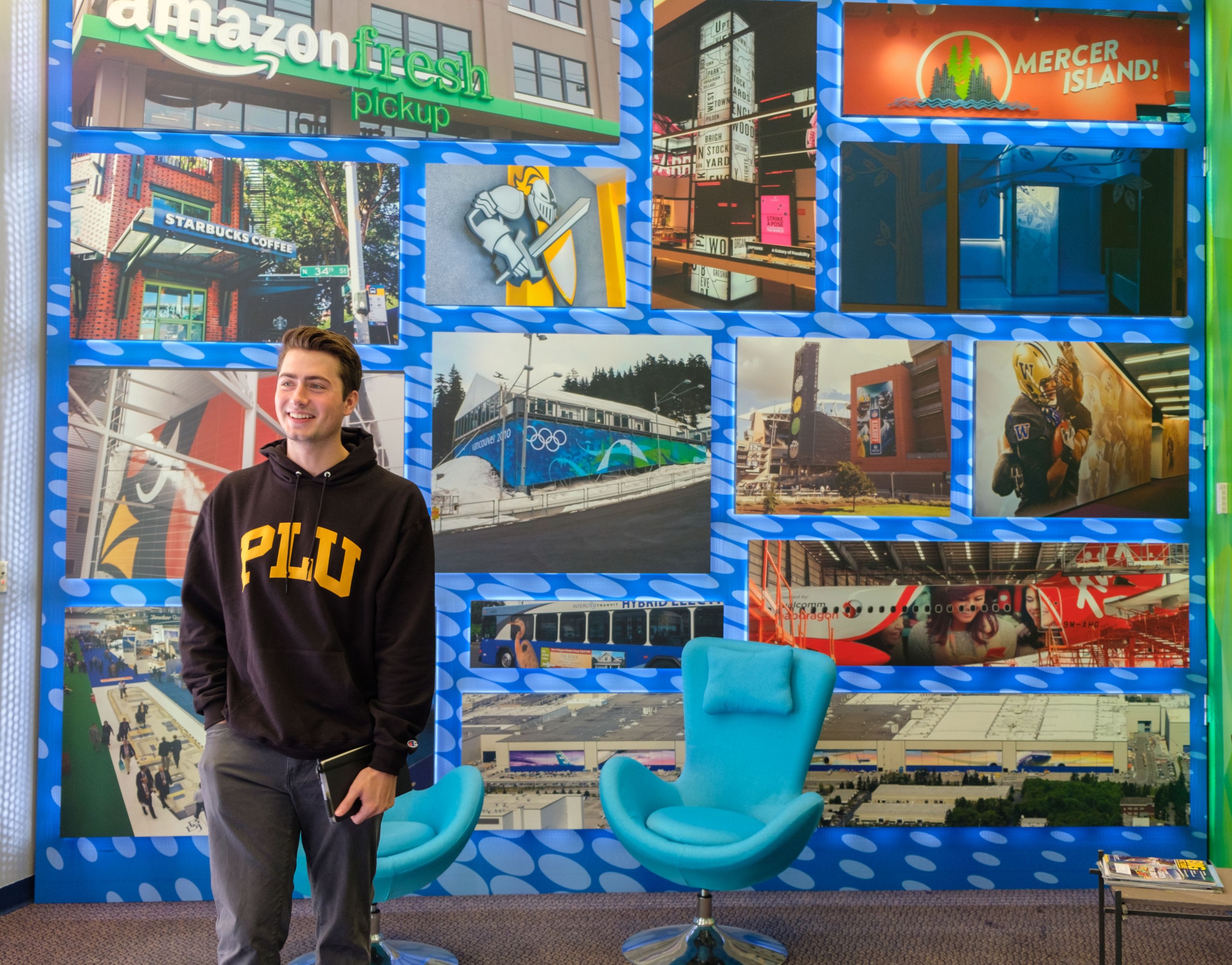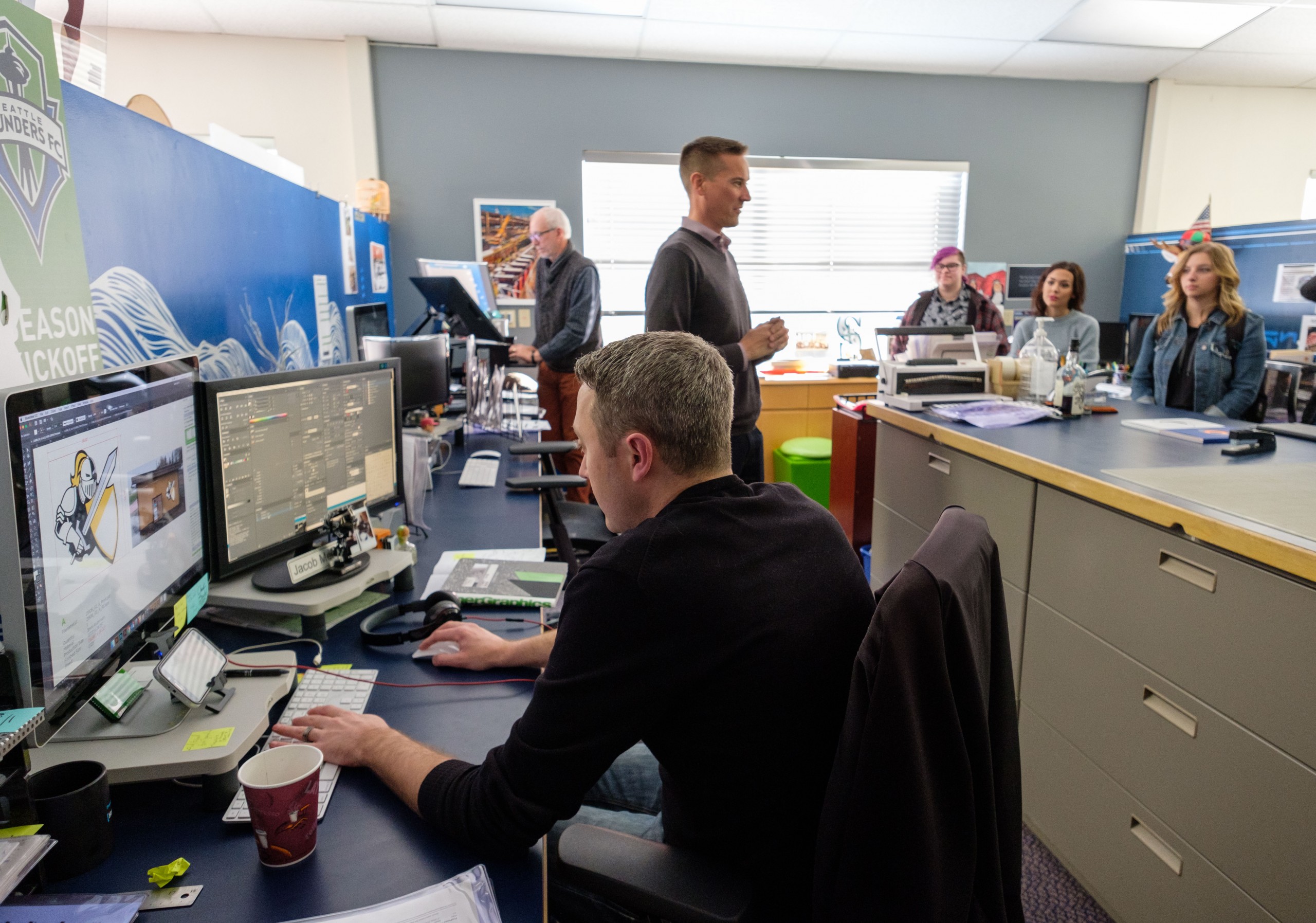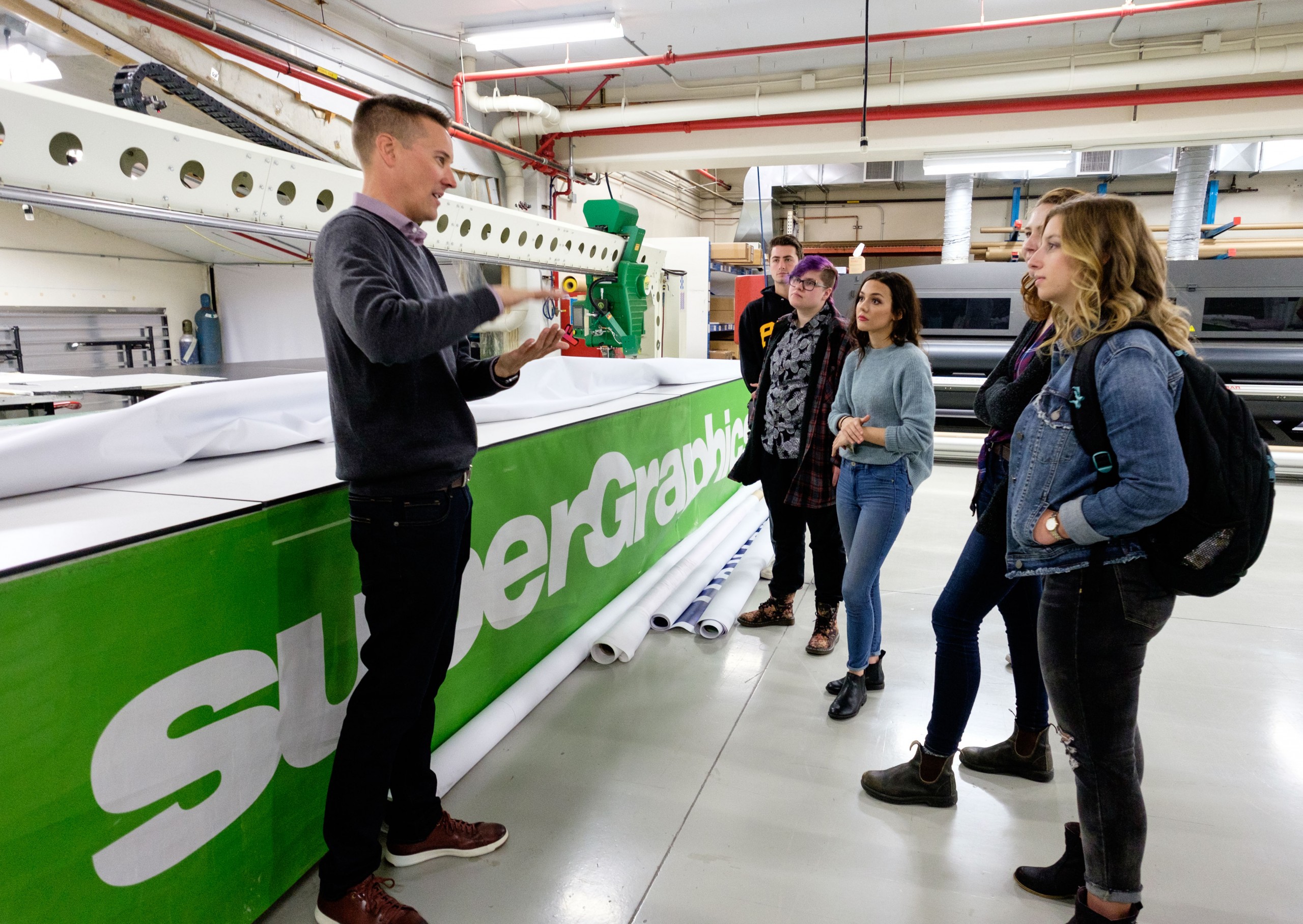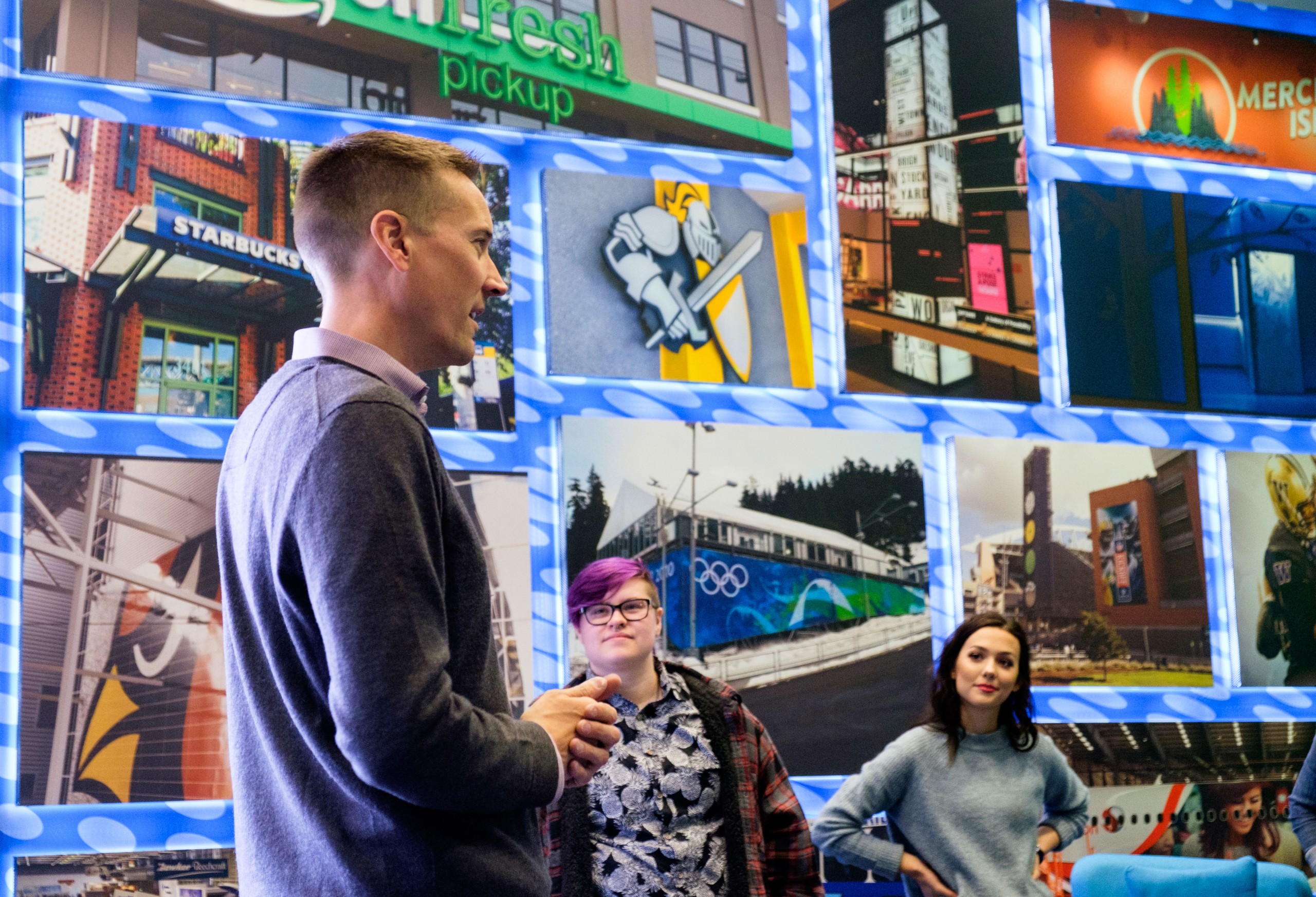 Those skills were invaluable when Thorpe began as a project manager at SuperGraphics, managing the workflow of new projects through the design and production phases and coordinating shipping and install logistics.
Then he transitioned into a sales role, working directly with clients. Now he's in a VP role after SuperGraphics was sold to a group of employees by its parent company — and Thorpe has a stake in the business now after working there for 13 years. An indirect path, perhaps, but the achievement of the goal he set upon graduation to run a business.
Recently a group of design students from Impact, PLU's student-managed design and advertising campus group, traveled up to SuperGraphics for a tour. Thorpe lead the group throughout the facility, explaining all the different elements and department collaborations that go into design and production, introducing them to the company's designers and letting them pick the brains of some of the industry's top creatives.
"It's a great opportunity and experience, just to get to see it in action," said Kenn Anderson '19, a double-major in graphic design and Chinese Studies. "I thought it was really interesting, too, seeing the different layouts that the designers had, their equipment. I like that it's not set in stone, one way to do things."
"My favorite part of the tour was seeing how little pieces of PLU fit in with how Zac interacted with us," said Colton Walter '19, a communications major. "I think Zac was very knowledgeable of us as students, and I think having that sort of connection made it much personable."
For Thorpe, it was another chance for his past — he was director of Impact during his senior year at PLU — to connect to his present.
"Having the responsibility of running that department definitely helps you prepare for moving into the professional world," Thorpe said of his time at Impact. "you learn accountability, you learn a little bit of managing a budget, you learn a lot about managing people. I'm glad to hear it's still around."
Thorpe plans on continuing to be involved with students seeking guidance, just like he plans on keeping SuperGraphics' business relationship with PLU going strong. Because ultimately, the message Thorpe strives to deliver is that dreams can always be achieved, just not always in the manner in which you thought.
"I didn't expect to be in the world of graphics and signage," he said. "But I am a huge sports fan, and I now do work with a lot of sports-related accounts. So I can't really imagine a better scenario for myself, with my client base being the sports teams that I love to root for. It makes me excited to go to work every day — in that respect, it's my dream job."