How the PLU School of Business is adapting with the times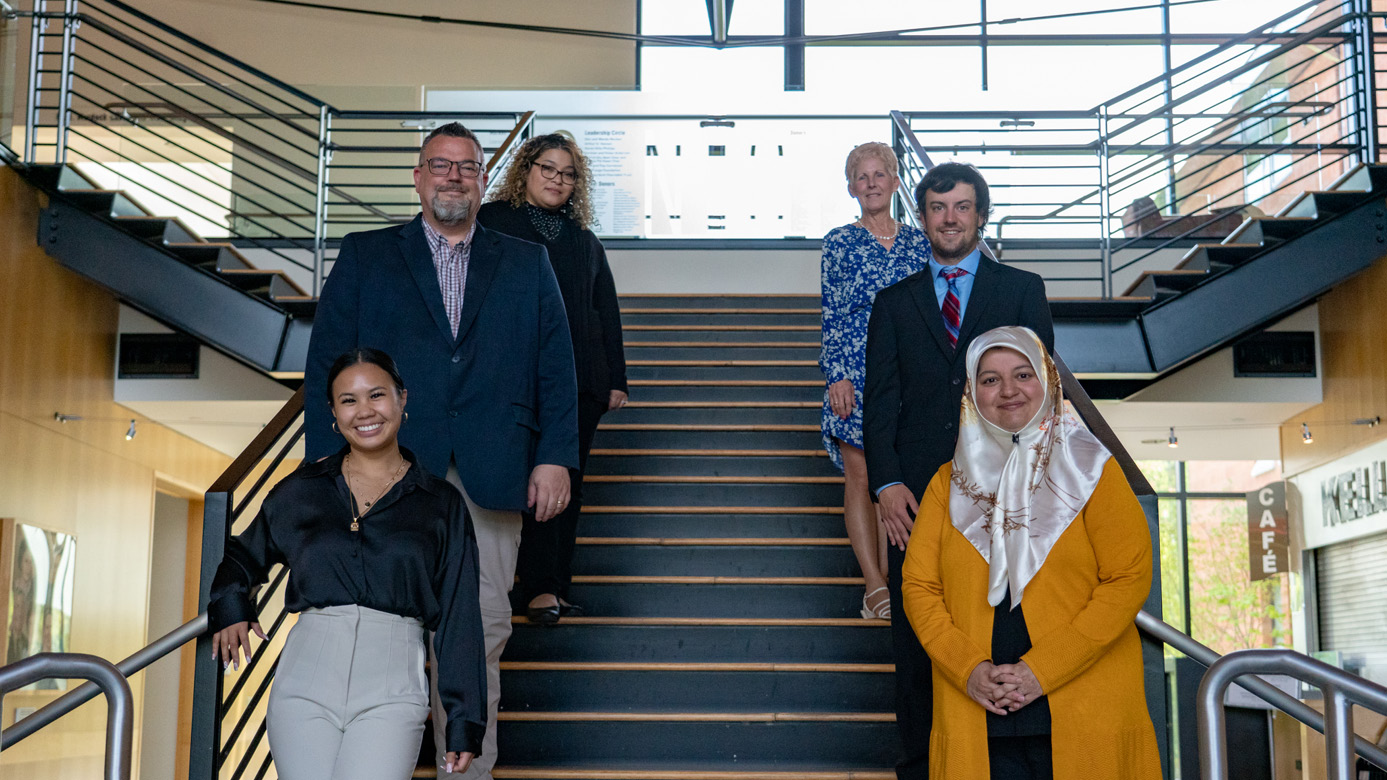 May 28, 2021
By By Zach Powers '10
PLU Marketing and Communications
Somaye Nargesi, a second-year business professor, came to PLU from a large research institution. She immediately noticed a stark difference in how her new institution approached the field.
"At PLU, the business curriculum is mostly designed around soft skills, meaning how you build insightful inquiries, how you're able to connect the dots, connect the concepts that you're learning across your business and general courses."
"All companies can have their own set of desired skills and they can train their employees. Here, we're not just doing that," Nargesi continues. "We're not training people to go be successful workers. We are trying to raise a generation of business people that care, who see the big picture and who are able to be problem solvers at an integrated level. Not just workers who repeat quantitative techniques."
That perspective rings true to business and sociology double major Allisa Ouanesisouk '21. "My classes have the perfect balance of learning about how businesses are run and how to make the most ethical decision-making," she says.
"With my core business classes, I am able to learn how the systems are implemented in order to make a successful business. In other classes, I am able to have discussions on how to come up with the best decision method or how to be a supportive leader or manager."
A critical foundation to this balance is a nuanced understanding of business ethics. A welcome emphasis for Melanie Brisbane '21, a working student who has been with Boeing for 15 years.
"I feel like there has been a strong focus on ethics in all of my classes and a lot of learning about management styles," Brisbane says. "As a student with a career within a large company I feel like what I learn at PLU is very aligned with the way business is run where I work and also a good example of how things should be run."
Collaborative projects and problem solving are a hallmark of working in business, which is why they are also a hallmark of the PLU business curriculum.
"Very rarely do people work completely independently," says Mark Mulder, who was named dean of the PLU School of Business last summer. "Much of the business ecosystem is fueled by collaboration with colleagues, customers, and our communities. Team collaboration, and opportunities for team leadership, abound in business classes. It's a critical foundation in our curriculum and one that sets a PLU graduate apart from others."
Business major and Men's Golf standout Ryan Pearson '21 says that team projects have helped bring principles he's read about to life—dating all the way back to his first business course.
"In 'Intro to Business' we had to actually create a product idea that we wanted to bring to market and we had to do all the marketing, production, and selling behind our product," Pearson remembers. "It was a great introduction to see how much work goes into making a product successful."
"I also really benefited from a stock market project that was part of a finance course," he continues. "We had to select stocks that we wanted to invest in. We were given a beginning balance and we could allocate that money however we wanted to in the stock market. We then went through the semester seeing if we were going to make or lose money from our investments."
Ouanesisouk, who was offered a job by Amazon Web Services months before graduation, says team projects that connected business lessons with the needs of local businesses have been a highlight of her years in the program.
"In a business marketing class we had to reach out to local or PLU organizations in improving their marketing strategies," she says. "This meant we took over their social media, created a plan of what kind of content we needed to post, and evaluated where they needed improvements and how the changes can be long-term."
Learn More About PLU School of Business Programs