Makaela Whalen '23 pursues newly launched pre-law minor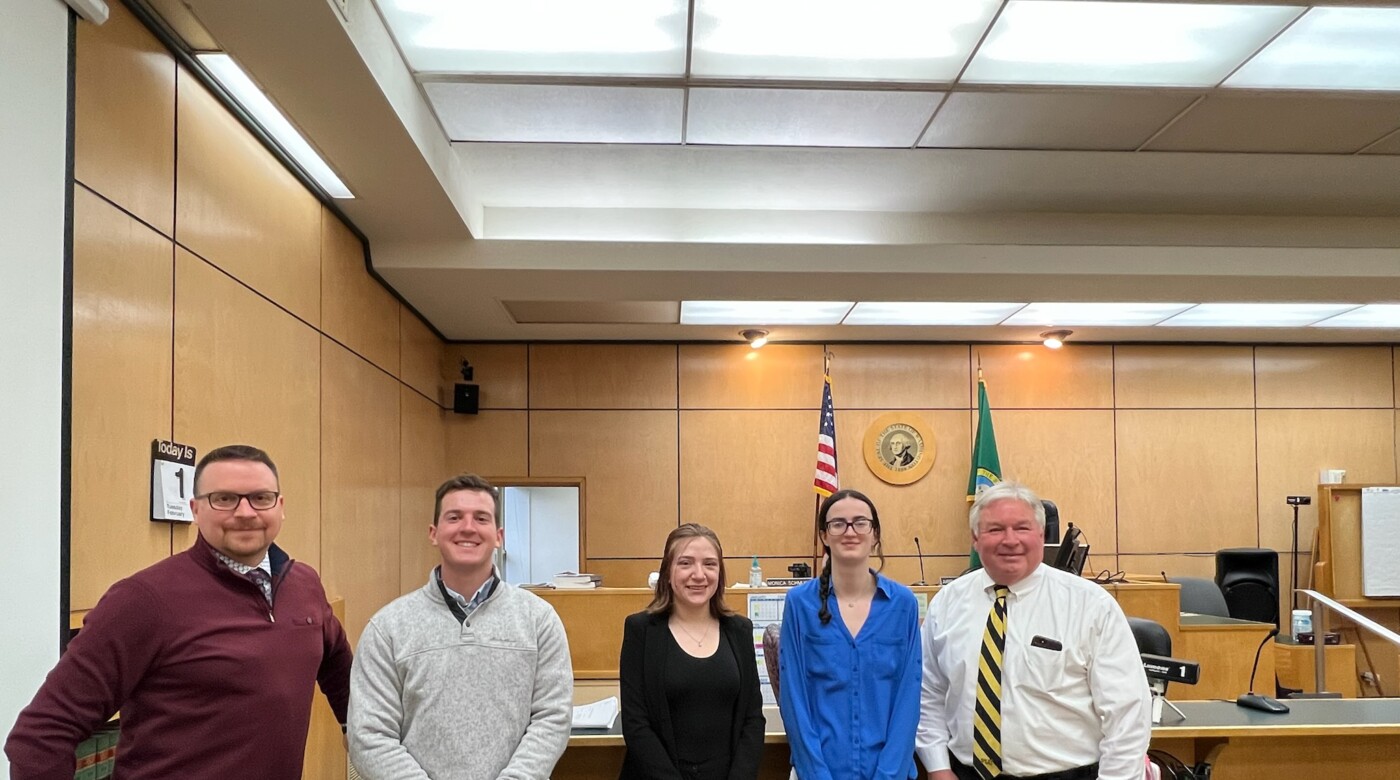 June 7, 2022
Makaela Whalen '23 has a passion for the environment and animals. Her desire to find a meaningful vocation that feeds those passions resulted in her pursuing a degree in either environmental or animal law.
"As long as I can remember, I knew I wanted to do something to protect animals and work with them," Whalen said. "I liked animal law, not only because of the great protection that the law and lawyers can give animals, but I like that sort of work. I like reading, I like writing, and I like problem-solving and dealing with places where animals or the environment face troubles, and finding protections for them."
Whalen is an environmental studies major and political science minor with plans to add the newly launched pre-law minor to her workload. The pre-law minor complements Pacific Lutheran University's pre-law advising program, which is designed to help students interested in attending law school, including assisting students in selecting a law school.
The pre-law minor will offer courses from several disciplines to develop student's skills in understanding the law, developing a sense of professional ethics, practicing analytical reasoning, growing in their written and oral communication skills, and the ability to read and discern meaning from complex texts.
"I'm really excited about the pre-law minor because it will bring more pre-law students to PLU," she said. "I'm an environmental studies major, which is interdisciplinary, and the pre-law minor is set up to be like that too."
Whalen's passion for nature stems from an early age when her parents gifted her a book on animal law. Around that time, she decided she wanted a career that would allow her to advocate for the animals.
Whalen has been very active at PLU, finding opportunities to learn more about the justice system. She recently served as the president of Scales of Justitia. Whalen and club members hosted a couple of events, including a virtual law school panel with representatives from the University of Oregon, University of Washington, Lewis & Clark College, Willamette University, Gonzaga University and Seattle University.
"That event was so cool, and it went quite smoothly," Whalen said. "A lot of the representatives were like, 'yeah, we'll definitely do this in the future,' and one of the law schools even offered to come down and do one in-person."
Whalen also participated in the 2022 J-term job shadow program hosted by the Alumni and Student Connections Office. She joined Presiding Judge of Pierce County Superior Court Phil Sorensen and two other PLU students to learn about the local judicial system.
"I arranged for 18 guest speakers to appear in my courtroom throughout the day," Sorensen said. "I hope [the students] gained an awareness that a law degree can be used in a variety of ways. That there is no one way to be a lawyer. I hope they also learned that alumni from PLU are willing to help them achieve their goals."
Whalen and her fellow Lutes spent the day learning from Sorensen and his guest speakers. She says she is grateful for the opportunity.
"It was super helpful getting to talk to so many different people," Whalen said. "We got to hear what they liked about the job and what they didn't –it was a really helpful and a neat opportunity."