Sarah Saavedra '22 shares her experience as a first-gen college student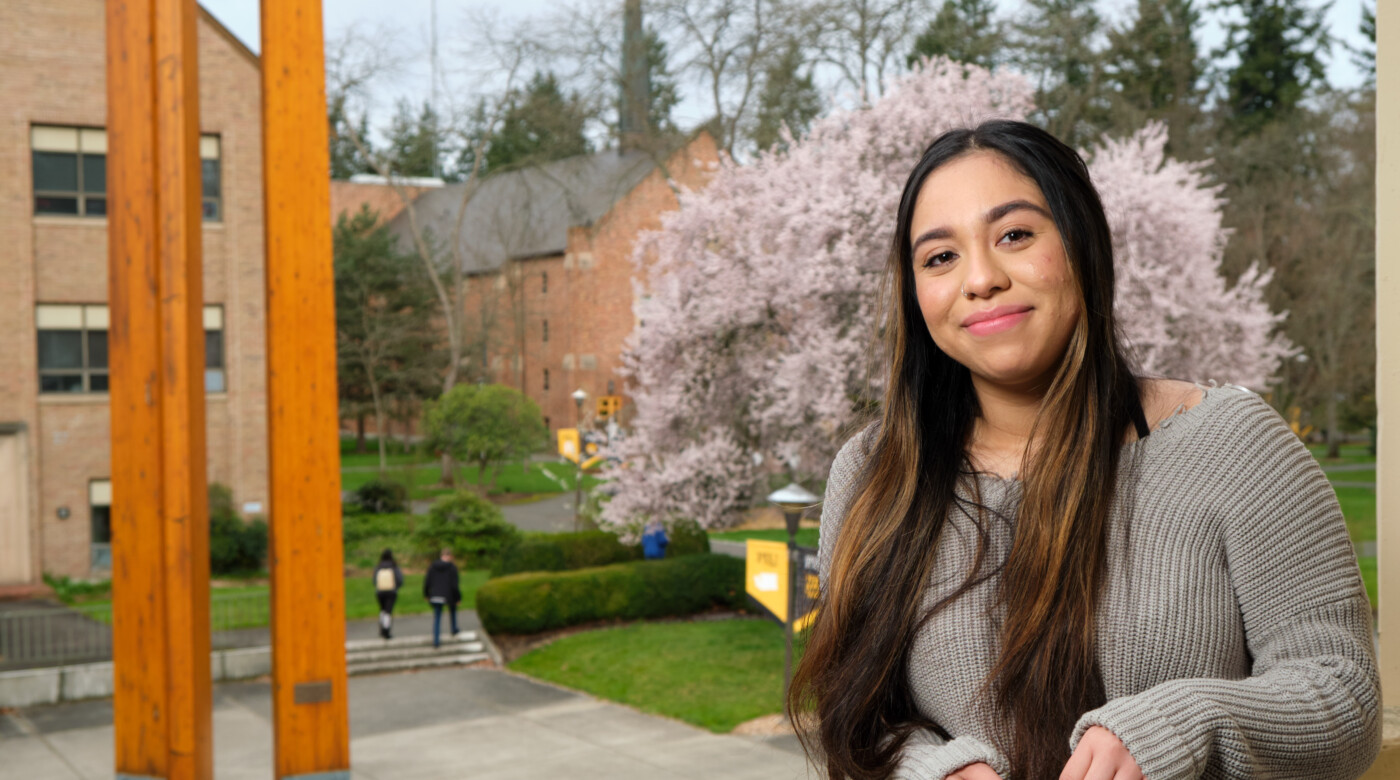 June 8, 2022
Sarah Saavedra '22 is a social work major with a minor in psychology and a certificate in Peace Corps Prep. The Auburn resident is the first in her family to go to college. She credits her many scholarships for navigating college as a first-year student.
While at PLU, Saavedra received an academic scholarship, College Bound scholarship, Anderson-Van Beek Service Scholarship, Keller, Joseph & Guycelle Scholarship and a residential assistant stipend.
Saavedra spoke with us about why she chose PLU and how she believes her vocation can support marginalized groups.
1. How did you hear about PLU, and why did you choose to go here?
I heard about PLU from a previous teacher/mentor that graduated from PLU in the early or late 2000s. I also was part of a program in high school called College Success Foundation. They gave us a tour and set up a panel for almost every school in Washington to make sure we knew that college was a choice for us. I chose PLU because I got offered the most financial aid here, in addition to the small class sizes and many opportunities to study away. It was also the closest to my family.
4. As a first-generation student, what barriers did you see as you embarked on your college journey?
Money was a major issue for me due to being very low-income and having little financial support from my family. I probably will not get over those barriers until I get a real-world job, but I lessened my barrier by working three jobs to support myself and helped out my parents by taking out loans so that the out-of-pocket cost would be manageable.
5. Why did you want to study social work?
I always knew I wanted to be a resource and help out others –it was just a manner of which profession to do that in. I was originally a psychology major and switched to social work after my first social work course. The class was FYEP (First Year Experience) Social Work 101. I have no idea what made me switch, but I just loved the work we read about and the people we got to talk to about their careers.
6. What are your plans after graduation?
I plan to get a Master of Social Work down the line, and hopefully work in macro practice, maybe creating or advocating for legislation to better support the marginalized groups of the U.S.
7. I understand you have a passion for supporting undocumented individuals. Where did you get that drive?
I have to say it came from my parents. I grew up with an undocumented parent and seeing what they had to endure to survive really opened my eyes to the reality of treatment of undocumented immigrants and how little to no support they receive. It really motivated me to do what I could to help. I hope to work or advocate for this marginalized group in the future.
8. How do you see your degree helping in that endeavor?
I see my degree supporting this population because it is a helping profession. It is ingrained in us by the values and principles of the National Association of Social Workers (NASW) code of ethics, which includes challenging injustice and help people in need and address social problems. How it will directly support, I have no idea. But I do know that the broadness of this profession will lead and has led to the creation of programs and advocacy groups to lessen certain barriers, and my hope is to do the same from a macro level.
9. As you look back on your time at PLU, what have you enjoyed most?
I truly enjoyed creating a professional relationship with the professors and other faculty. It definitely was an amazing experience to have, and it will be something I miss as I progress through life!
10. When you hear the phrase "Lutes Open Doors," what does that mean to you?
Figuratively, it means that we are kind and inclusive to all individuals!
Literally, I believe it means that we are open to helping each other and how important alumni are to our students. Our alumni network is very powerful and open to helping other Lutes, and it is amazing to know that other Lutes are looking out for us.