Office Hours: Your professors are here to help
Posted by:
shortea
/ November 28, 2018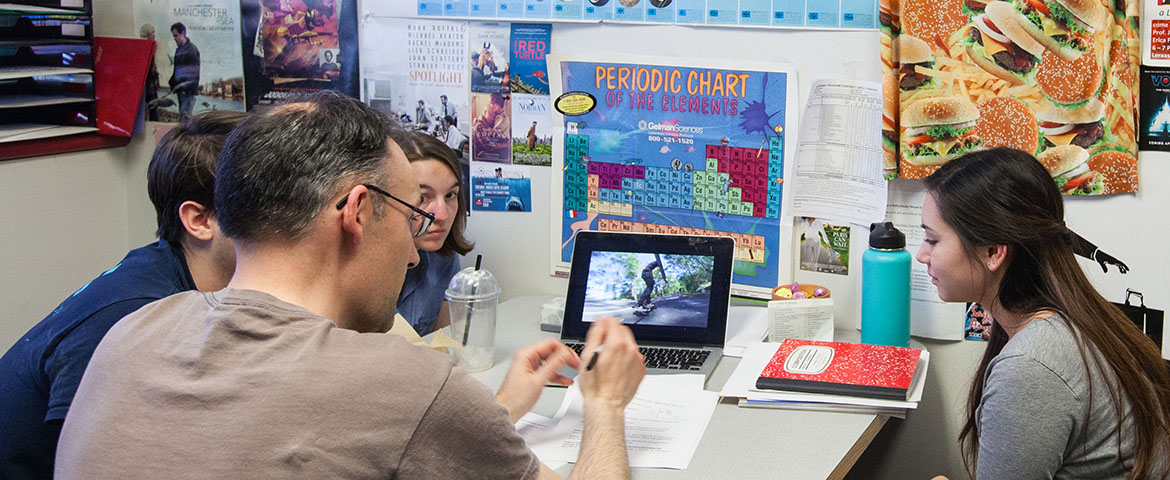 November 28, 2018
By Thomas Kyle-Milward
Marketing & Communication
Struggling to understand a concept from last week's class? Stressing about that end-of-the-year project? All hope is not lost: Try stopping by your professor's office hours and talking it out with them.
While the idea of approaching a faculty member for some one-on-one time can be intimidating, the benefits of forming those relationships make it worth getting outside your comfort zone. Pacific Lutheran University's professors know students may feel uncomfortable about dropping by their offices, so many of them go out of their way to make those spaces as welcoming as possible to help put those students at ease.
Jan Lewis, an education professor and the associate provost for undergrad programs, has a large assortment of stuffed animals and other plush toys scattered throughout her office to give it warm, inviting feel.
"When students come in, their attention always go to (the toys) and what they remember and how they remember," Lewis said. "It's the TV shows and the books. It's a very nice way to make it comfortable for people."
The first thing you notice when entering the office of Ann Auman, Dean of Natural Sciences, is her impressive Pez dispenser collection.
"That started when I was in college as an undergraduate at Penn State," Auman said. "Whenever I was out and about, I would buy Pez when I could. Then people started giving them to me."
"I have this giant (one) that my brother had given me. (Students) sit here when we're talking and they're like, "What is that? What does that give out?" And I'm like, "Well, why don't you open it and find out?" … Then it plays the (Charlie Brown) song and they just chuckle."
Putting students at ease when they're stopping by doesn't just allow for positive interactions between student and professor — it also makes office hours a space for student interaction and collaboration with their peers.
"I kind of think of it as a free-for-all. They can show up whenever they want," chemistry professor Justin Lytle said about his office hours availability. "They don't have to ask me: 'Can I stop by?' And I like to do it as a group because there's a really good chance that the person sitting here will need to know what the person over there is asking, because they all could benefit from it and it's a lot of the same material."