PLU alum takes leadership role as Tacoma's chief equity officer
Posted by:
vcraker
/ August 4, 2022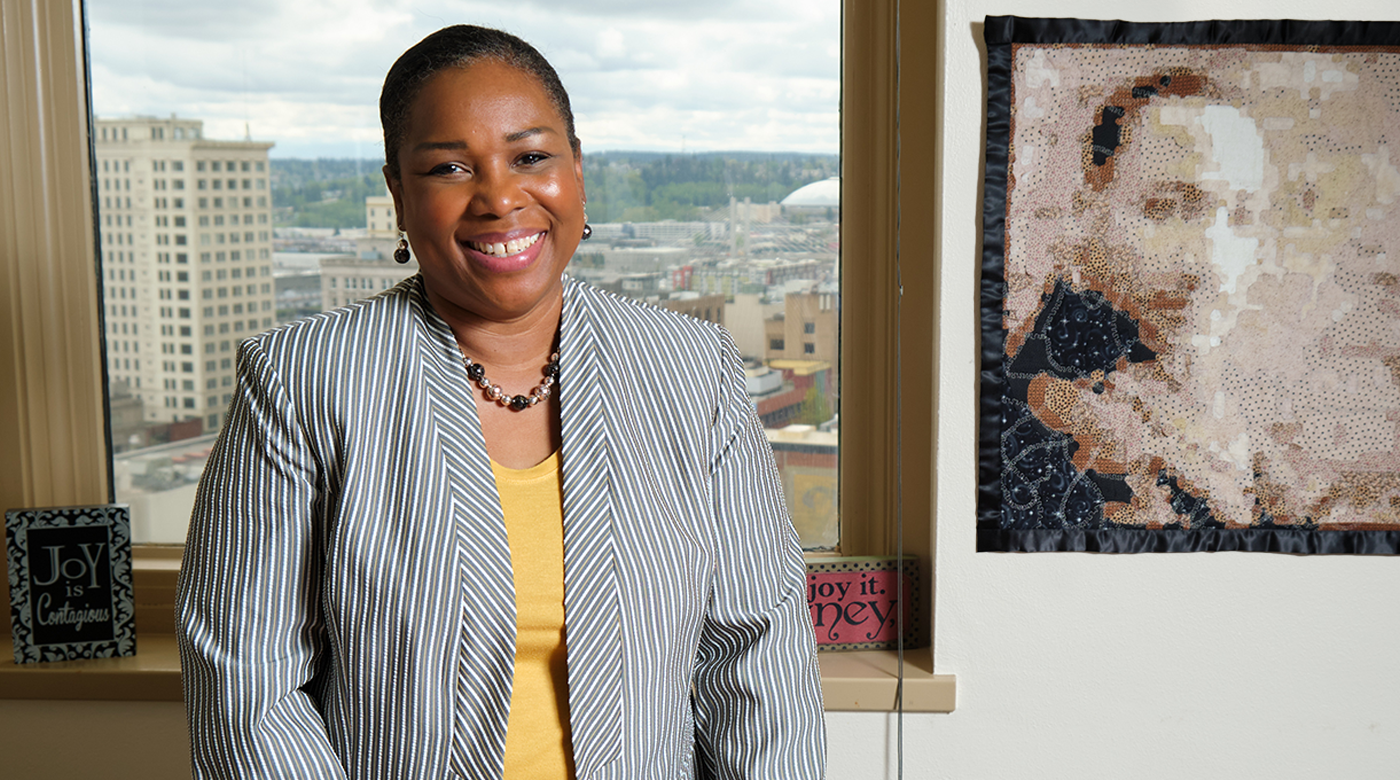 August 4, 2022
As far back as middle school, others noticed Lisa Woods' quiet strength and power of observation. "My demeanor is to listen, hear people and see people," she says. "I've developed that over time, but I've always been the listener in the room and not necessarily the talker."
Today, Woods ('92) uses her powers of reflection as chief equity officer within Tacoma's Office of Equity and Human Rights, leading anti-racist systems transformation efforts at the city level.
The path to the position started at PLU. After three years of college in Texas, Woods married and moved to Joint Base Lewis-McChord, only a semester shy of graduation. Soon, she heard great things about PLU's care for students and career placement program.
"I remember the care and concern of the professors and the administration," Woods says. "I felt like they cared about me as a person and were invested in helping me be successful. Even in the short period I was there, I felt that."
She graduated with an accounting degree, followed by a Master of Divinity at Tacoma's Faith Evangelical College and Seminary, then a certificate from Harvard University in the Driving Government Performance Program. Throughout, she applied her skills in city government roles, including becoming increasingly involved in Tacoma's equity work.
Woods is overseeing the city's equity and empowerment framework, guided by the racial equity action of Resolution 40622, passed by the Tacoma City Council in 2018. Resolution 40622 notes that Tacoma's existing systems haven't adequately served the needs of Black community members and other community members of color and directs the city manager to help remedy the issues.
In partnership with city departments, Woods and her staff help assess how community services are delivered and may even create new racial inequities. "We are understanding more just how connected our processes are in creating disparities," she says. "We've been educating our workforce on what equity is, how to look at things through an equity lens, and dissecting how we do what we do. We're typically one piece of the system, but often, the piece that we can change can still make a difference."
She's enthusiastic about encouraging community member participation in Tacoma commissions, explaining commission work and reasons to volunteer. "I love to develop and empower people, give information, and help them understand their roles, level of influence, agency, and how they can make a difference," she says.
Over the course of her employment with the City of Tacoma, Woods has facilitated many such meetings, workshops, conversations, and trainings. Cross-functional, cross-organizational teams allow learning more about your organization, she notes. This teamwork boosts personal development—your leadership and what you bring to the conversation.
"Being intentional about looking for those opportunities has been probably one of the biggest things," she says.
In her extremely busy, multifaceted role, Lisa often hears that she brings calm and peace. "We work in a very chaotic environment, so bringing a sense of stability and a sense of peace is something valuable. I hear that feedback a lot."
Woods can also translate between different groups of people, so they can hear what the others are saying. "I think it's a gift because of my creative, big picture perspective," she says. "I'm just listening for aspects of that bigger picture that can help others connect the dots."