Student-athlete forms special bond with coach
Posted by:
vcraker
/ August 2, 2022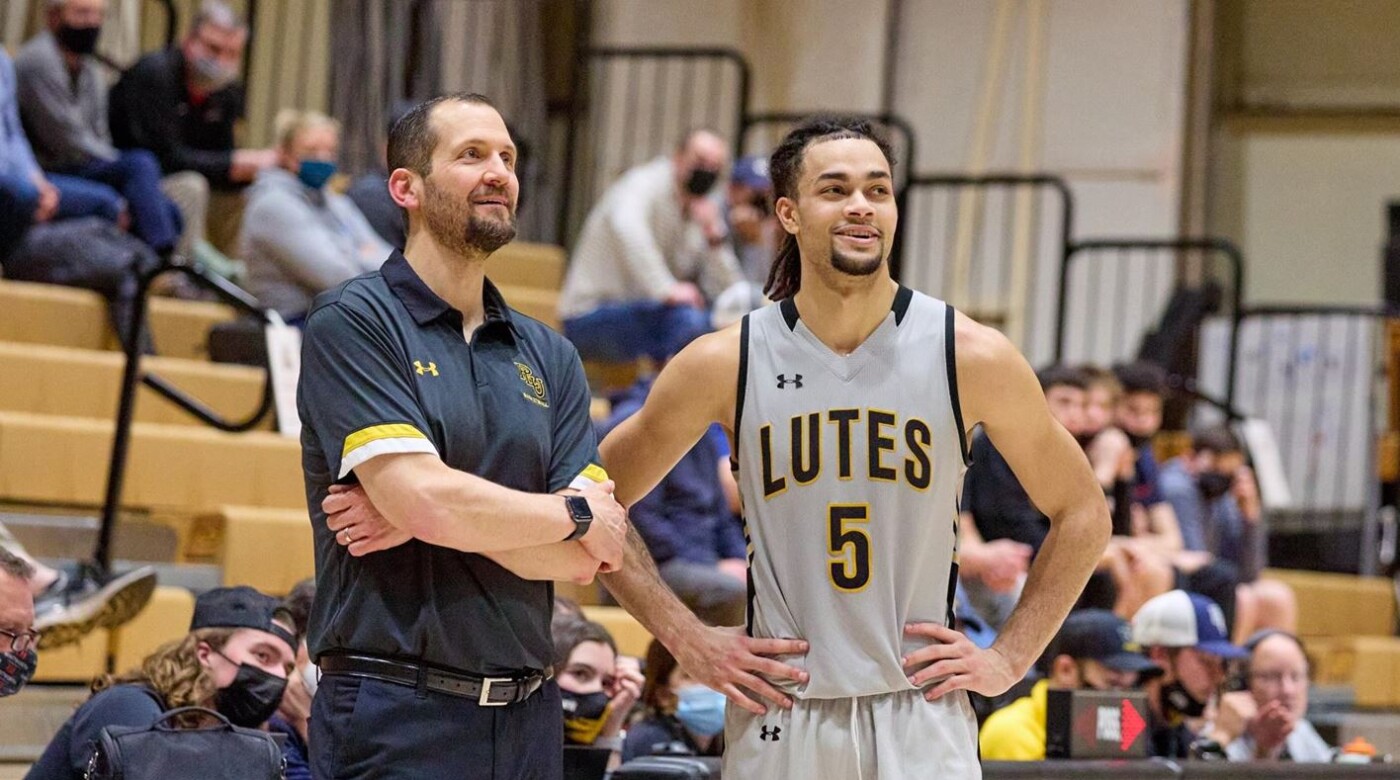 August 2, 2022
By Craig Craker
Sports Information Assistant
Every game day, usually around lunch time, Jordan Thomas and Chad Murray sit down to have a chat.
The Pacific Lutheran University men's basketball star and the team's head coach meet in Murray's office to talk about anything and everything.
The meeting can be as short as 15 minutes or as long as an hour. Topics range from that night's opponent to schoolwork, marriage, sports and anything in between.
It is a part of a special bond that began four years ago when Thomas first set foot on campus.
"It's therapeutic for me," Thomas said. "I've been honest with him since Day 1 and he knows everything about me. I've had relationships like this in the past, but never to this extent.
"I consider him family."
With the last game of the regular season at 8 p.m. tonight against Linfield University in Olson Gymnasium, the pair once again will meet to chat.
"Most of the time, it's him encouraging me and me encouraging him," Murray said. "He is one of the most courageous guys I have ever met. These conversations are just for us to connect and also to pump each other up a little bit and give each other some confidence.
"He is like a son to me. He and I have been through a lot of ups and downs. I trust him and he trusts me. I truly love him as a son and I want the best for him."
Thomas was raised in a single-parent household by his mom, Kathleen Cooper. While he didn't have a father figure growing up, his coaches over the years have helped fill the void – from his three coaches at W.F. West High School, in Chehalis, Wash., to Murray at PLU.
"It is a very, very special relationship," said Cooper, who was a star basketball player in her own right and is seventh all time in the state of Washington for points scored in high school. "Chad is one of the first guys that has been in his life that no matter what, stands by his side.
"Over the years, the relationship has grown to something that as a mom I'm so thankful for. Very few people have that chance to have someone like that in their lives. I don't know how to put it into words. I'm very thankful of everything Chad has done for Jordan."
The connection between the two extends onto the court as well.
Thomas has enjoyed perhaps his best season with the Lutes (18-6, 13-2 NWC), averaging 11.9 points, 6.6 rebounds, 4.6 assists, 2.0 steals and nearly a block per game all while helping lead the team to at least a share of the Northwest Conference title. A win against Linfield would give the Lutes their first conference title in 36 years and the top seed to the NWC tournament.
The winner of the conference tournament receives an automatic bid to the national tournament.
PLU Student Perspectives: Being a College Athlete
Post-game interview with Jordan Thomas.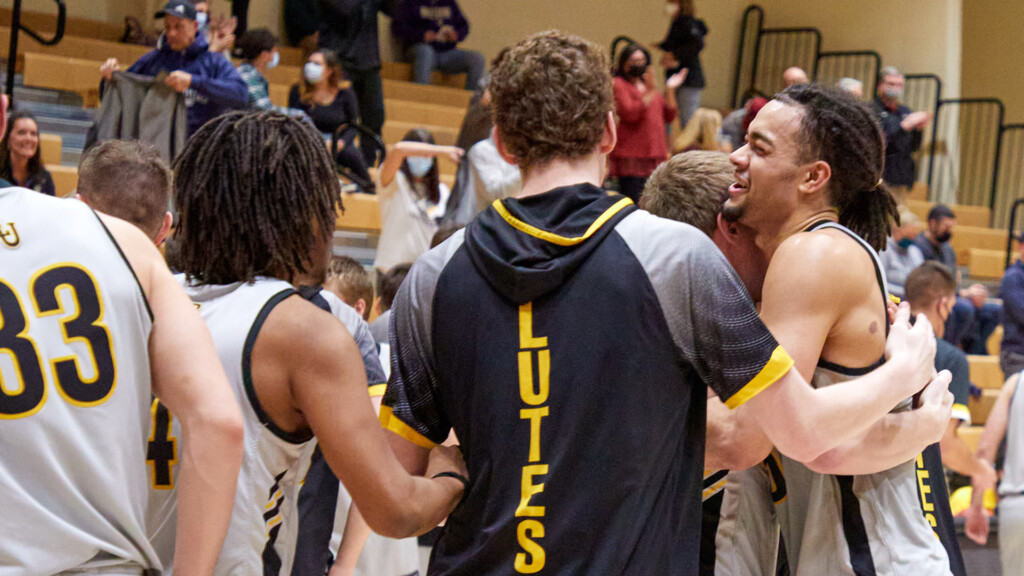 "It is everything I wished and dreamed for as a freshman," Thomas said. "When I came in they were 4-20 and my freshman year, we won eight games. To see where it is now … I can't put into words how gratifying it is to be a part of that."
Thomas came to PLU as a lockdown defender with tremendous athleticism. He has developed a solid offensive game to go with his defense, making him one of the most difficult players to guard in the league.
"These past three seasons, he has matured a lot," PLU junior Sean McCurdy said. "You can see it in his game – just the speed which he plays with. He feeds offensively off his defense, especially this season. He is getting lots of easy layups off steals."
His ability to get out in transition is aided by his time as a point guard in high school and from playing for his mother, who coached him from third to eighth grade. She instilled in her players the need to be unselfish on the court and make the extra pass.
"He is a matchup nightmare," Murray said. "He drives our offense in transition. Who are you going to put on him? Put a big on him and he blows by. Put a little on him and we are going to get it inside to him."
Thomas scored the 1,000th point of his career in Tuesday's win against rival Puget Sound, coming off the court to a standing ovation and a hug from Murray.
"It means everything to me," Thomas said. "When I achieved that milestone, it put everything into perspective. (Murray) stuck with me through thick and thin. To still be here and to experience everything we have the last week or two means a lot."
While Thomas is a senior and is graduating with a degree in sociology this spring, the near-4.0 GPA student will return for an extra season on the court while pursuing a Master's degree.
Which means there will be a lot more lunch meetings with coach.