PLU music majors produce free music camp
Posted by:
vcraker
/ November 8, 2022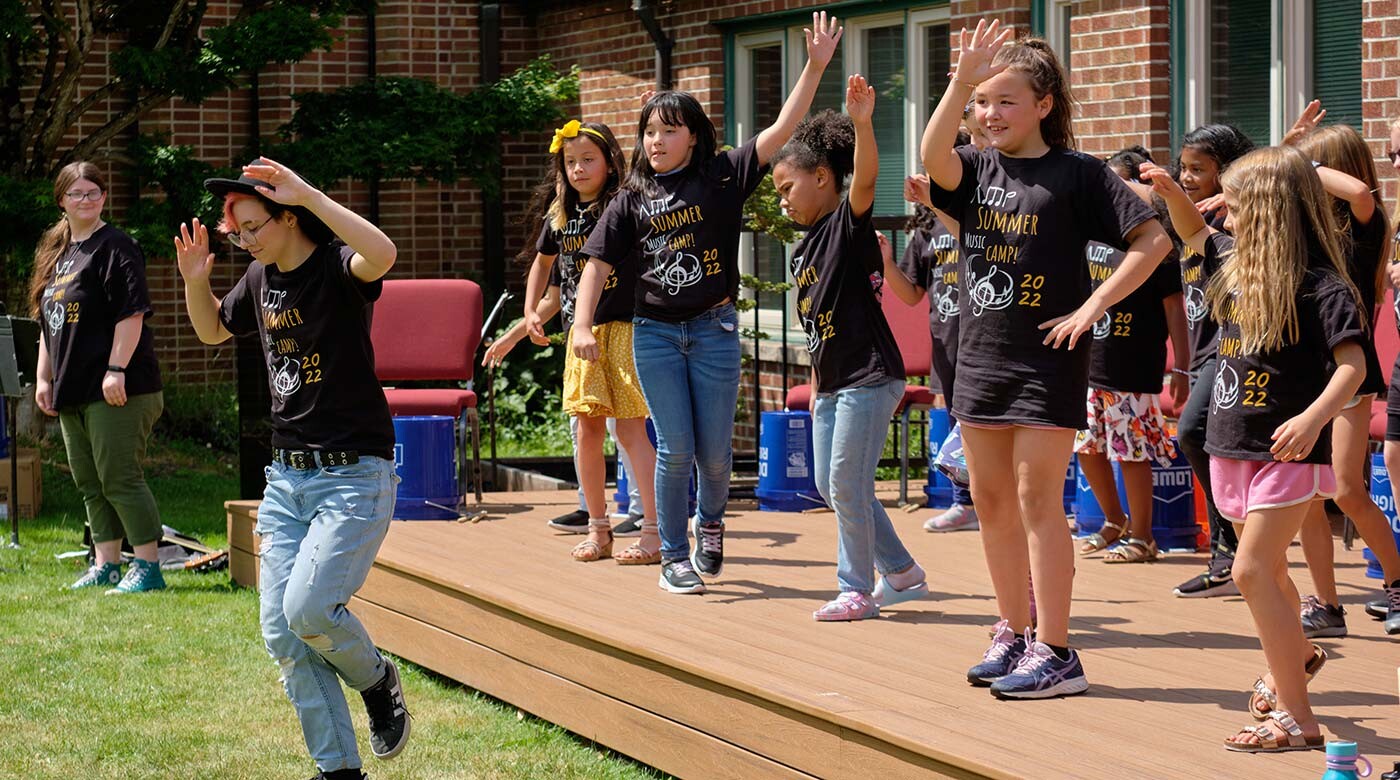 November 8, 2022
It's a warm summer morning and the scent of scrambled eggs drifts from the kitchen at Trinity Lutheran Church into an adjoining room where more than a dozen campers busily make beaded jewelry. Ranging from second to sixth grade, the kids are participants in the Artist Mentoring Program music camp, an operation run by Pacific Lutheran University students.
This morning, the PLU counselors move from table to table, stopping periodically to answer a question, assist with tying on a bracelet, or simply chat about the music being played as the kids assemble their crafts. In fact, the majority of the kids sing along loudly as they work on their jewelry.
"This song is 'House of Memories' by Panic at the Disco," says Kaila Harris '24, AMP student director and elementary education major. "We were surprised the kids knew it — it's an older song."
This is what an average morning at the AMP Camp looks like under the direction of Harris, and music majors Zyreal Oliver-Chandler '25, Madison Ely '23 and Ashton Allen '25.
The Artist Mentoring Program was active in the Parkland community for many years, but fell by the wayside when previous student leadership graduated. Harris was encouraged to revitalize the program by PLU faculty members she met with throughout the past year. Thanks in part to supportive donors, the two-week camp provides free music classes to elementary and middle-school students interested in the arts. It's an opportunity for local youth to learn about the arts for free. In fact, breaking down those financial barriers is part of the mission of Harris and her co-camp directors.
"There's a lot of money that is required to participate in the musical scene, and it's heartbreaking that a lot of kids are not able to participate in music as much as we all would like them to," Harris, who grew up in Castle Rock, Washington, says. "Music is very important for our brain function, mental health, and sometimes physical health, but when there's such limited access because of hardships, it's hard for the kids to connect to it."
Many of the campers represent Parkland's Franklin-Pierce School District, where students typically receive about 45 minutes of music class per week. The PLU students saw the need to help fill that gap, and armed with their own experiences of taking music lessons, they devised a plan to bring the camp back to life.
"While growing up, my sister and I went to a lot of free music camps, and I remember having so much fun," Ely, a native of nearby Buckley, Washington says. "I wanted to create a place where kids could come and have a lot of fun and also learn all these cool musical things."
In addition to offering the kids a chance to participate in choir, handbells, and the bucket band, the organizers created a program that embraces diversity by highlighting music from different cultures. Oliver-Chandler hopes that their presence will inspire other BIPOC students to pursue music.
"As a Black individual, it's really important to me to educate other students of color," Oliver-Chandler, from Lakewood, Washington, says. "The music field is predominantly white, so I think it's important for children to see someone like them who is making it in that field. It creates this positive cycle where they feel empowered."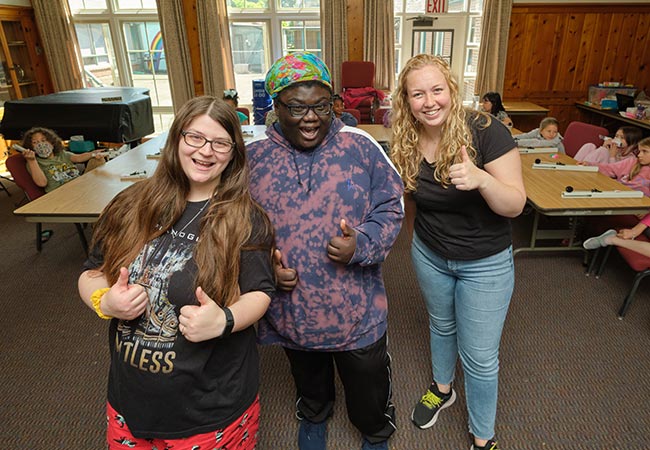 Oliver-Chandler and their fellow Lutes are sharing a diverse view of music through the type of songs they have chosen for the students to learn. In the camp choir rehearsals, Oliver-Chandler is teaching the students the Polynesian folk song "Tongo." They say the campers have been enjoying the lesson and learning the song.
"A lot of music being taught is very western," Oliver-Chandler says. "I think learning from different cultures provides variety, and as we are progressing in our society, it's important to expand their cultural lens, so they don't just have a single-minded view of the world."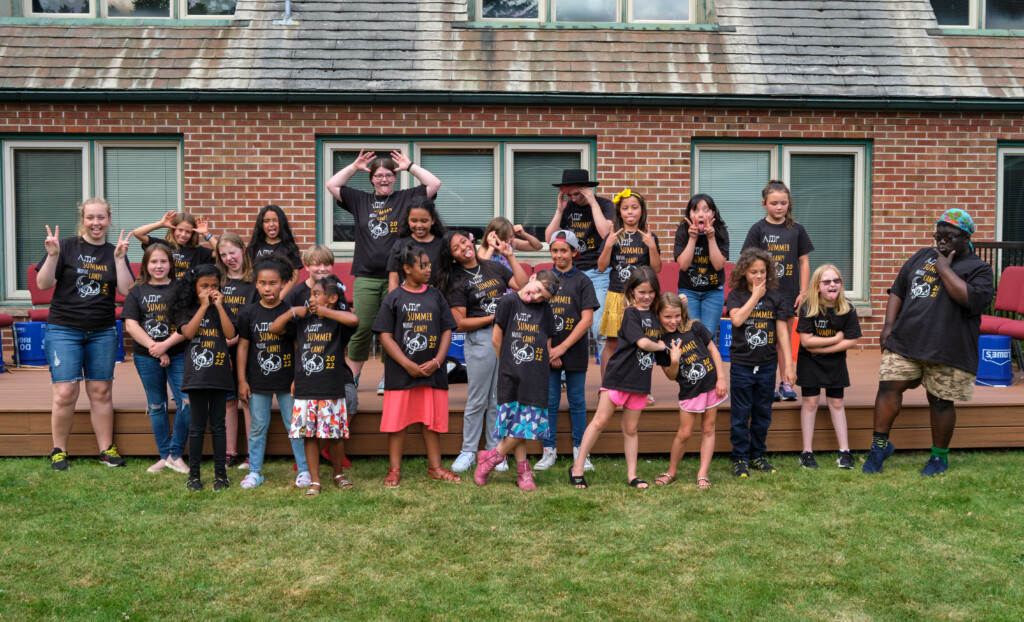 Organizers admit that running a summer camp is challenging. During the first week, some of their campers began complaining of hunger. This was causing campers to become distracted and unable to concentrate on the lessons. Harris says they originally planned to only offer lunches to campers, but soon realized they needed to offer breakfast options as well. Having only budgeted for lunch, the college students had to come up with a way to provide a second meal while continuing to provide the program they advertised. That hiccup in the plan is something they will keep in mind for future camps.
"We would love to grow the program and not just serve more students but also serve a better quality program," Harris says. "I'm having so much fun, but there's so much more we could do if we had the funding."
Despite these challenges, the camp organizers say this experience is helping them grow, especially toward their end goal of becoming educators.
"Originally, I wanted to teach high schoolers, so I was coming at this from a mindset that they could learn very quickly, but that is not the case," Oliver-Chandler admits. "I learned you have to take things slower with younger kids. In my lesson plans, I've been making modifications, using a bit more repetition. You know, we're still students, too, and learning every day."
Shortly after breakfast, with a hint of scrambled eggs still lingering in the air, one of the campers catches sight of her mother, Shayla Montgomery, who works for Trinity Lutheran Childcare and Preschool. The camper runs to her mother and delivers a beaded bracelet with the words "I Love You, Mom" spelled out in white beads.
After sweeping her daughter up in a hug of thanks, Montgomery says she was excited to find a program like the AMP Camp.
"I think this is a terrific idea," Montgomery says. "It gives the kids something to do, you know, interact with their peers, keeps them busy during summer, and it's a great opportunity for them to express themselves."
The PLU students hope the camp can continue to thrive in the future so that local children have the same opportunities and exposure they have had to music.
"Music is an important part of anybody's life, especially children as they figure out who they are," Harris says. "If we can put on something like this so that kids who are statistically less likely to have those opportunities can have them and we are able to further our own music teaching experience, well that sounds like a win-win."