PLUS 100 helps PLU student-athletes with college transition
January 10, 2019
By Thomas Kyle-Milward
Marketing & Communication
TACOMA, WASH. (Jan. 10, 2019) — For student-athletes, loaded down with team meetings, practices and weight room, transitioning from high school classes to collegiate course loads can be challenging. But PLU football coach Brant McAdams believes it doesn't have to be that way.
That's why McAdams had nearly his entire 2018 freshman class (28 of a possible 30 first-years) enrolled in the university's Fall PLUS 100 course. The concept behind PLUS 100 is a simple but valuable one: a class designed to prepare college freshmen for success, both academic and personal.
"It's comprehensively helping students take on the identity of a college student and understanding what that means," says Dr. Eva Frey, PLU's Dean of Students and the PLUS 100 instructor teaching McAdam's first-year cohort. "PLUS 100 is the only class (at PLU) that explicitly talks about the behaviors needed to be successful in and outside of a college classroom."
McAdams, who just completed his first season at the helm of PLU's football program, saw first-hand the kind of impact college skills courses can have on the academic accomplishments of first-year student-athletes when he was coaching at Trinity University.
"All the first-years came in together, got to know each other, but then got to dig into the transitions of the writing skills, research resources, time management," he said. "The changes we saw were an increase in freshman GPA and then over the course of four years we saw an increase in team GPA."
When McAdams discovered that his new job had a similar program, he was ready to get on board. So he worked out a plan with Dr. Frey and Director of Student Rights and Responsibilities Connie Gardner to co-teach the class, with one of his senior football players and captains,  Anthony Louthan, serving as a peer co-instructor.
"(You've) got Anthony, so now we have a peer for them, not just as a college student but also as this other (football) identity," Dr. Frey said. "You've got Connie and I, who are excited to work with this group.You've got the head football coach who wants to integrate this into his program. … the wraparound of support for these kids is through the roof."
That support has created a space where the first-year football players feel comfortable expressing themselves — in ways that go beyond the camaraderie and brotherhood of sports.
"Getting to know each other more, like on a deeper level — we'll have deeper talks that we normally don't have outside of that class," aid Justin Martinez '22, a first-year linebacker for the Lutes. "So it gives us that chance to get to know each other's personal views and values and that kind of thing. I feel like that helped a lot."
PLU's version of the course comes with all the benefits of a liberal arts lens, which means that these student-athletes aren't just getting educated on how to score better on tests and produce better homework — they're also learning about the world around them, their place in it and how they can better themselves and others as community members and global citizens.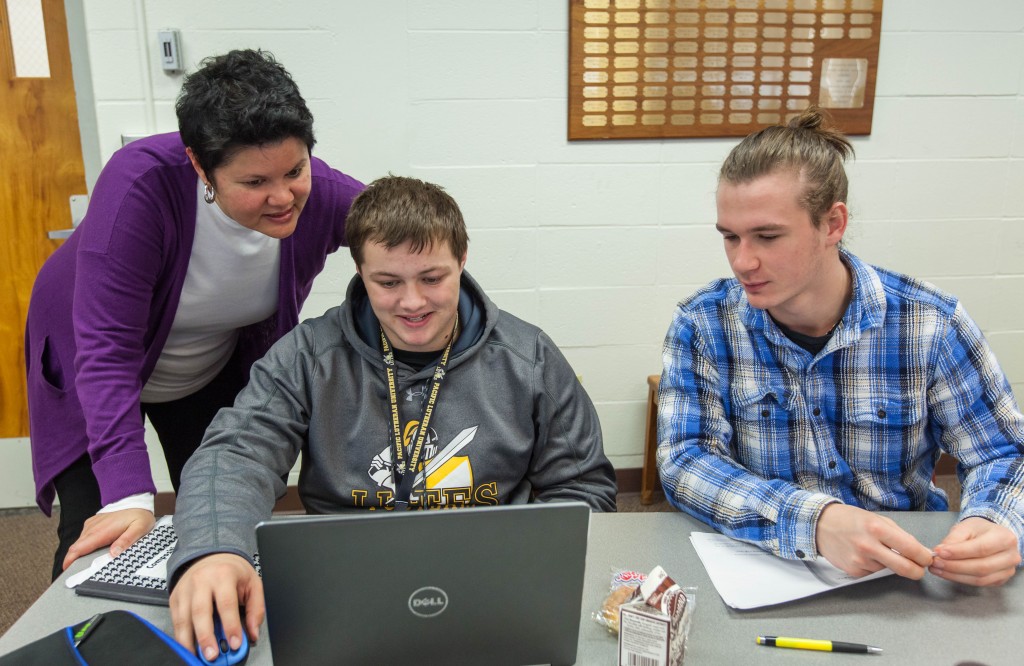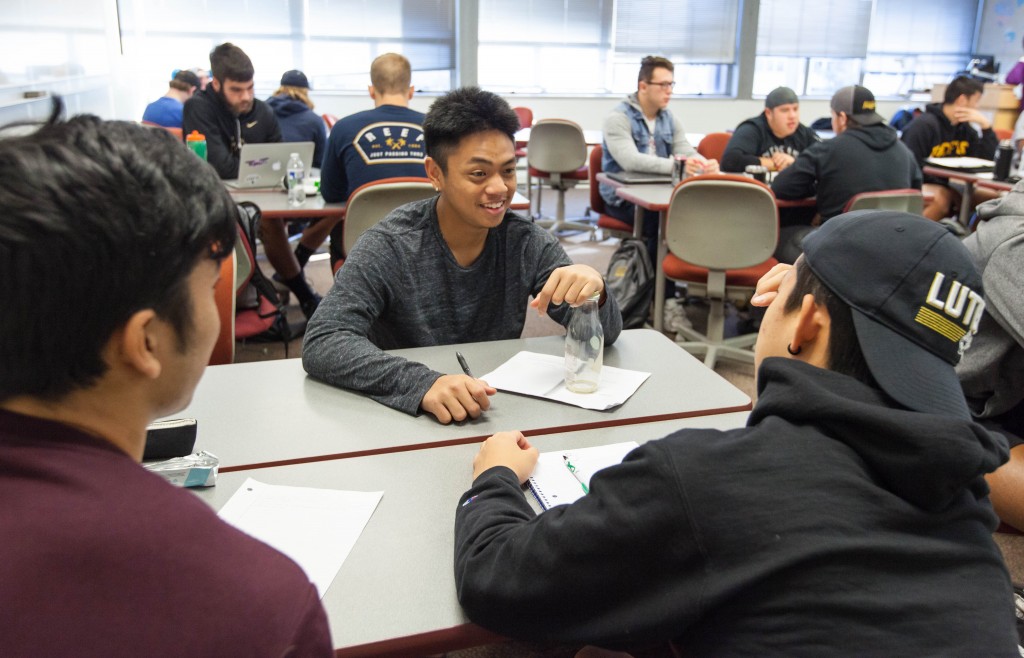 "In the beginning we talked more about work, time management, that kind of thing," Martinez said. "But now we've got into more social justice, implicit bias, things that have to do more with communication with people."
That ties into what McAdams considers just part of his role as a football coach: teaching his student-athletes how to win on the field while becoming better men off of it.
"One of the premises we lean on as a football program is 'Better People Make Better Competitors,'" McAdams said. "Just preparing them and equipping them with a perspective of what the entire campus brings and what they can bring to the entire campus kind of fits in line with going all the way back to 'Better People.'"
And while this year's all-football-player PLUS 100 cohort might be the first of its kind at PLU, the motivations of breeding excellence in those student-athletes has plenty of campus tradition behind them.
"The PLU football program has had a long-standing history of growing men of integrity," Dr. Frey said. "It is no different today."