Psychology major Stephanie Aparicio Zambrano '23 on her internship & student experience
Posted by:
shortea
/ March 30, 2023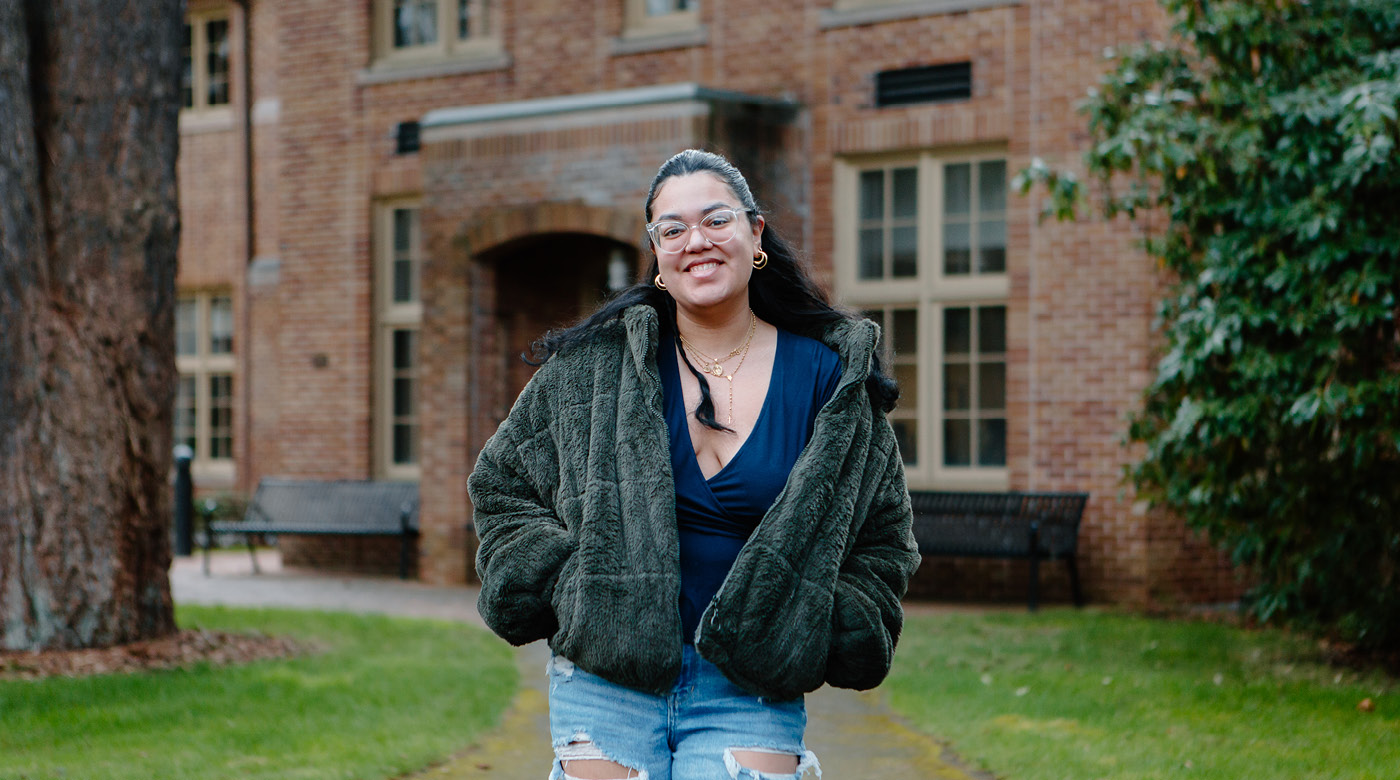 March 30, 2023
By Grant Hoskins '23
PLU Marketing & Communications Student Writer
Once a major in communication, Stephanie Aparicio Zambrano '23 found burgeoning success turning her advice-giving prowess into a future career path.
Zambrano found her calling in working with college students as an intern in PLU's Dean of Students Office. There, she learned the importance of allowing college students to take unique life pathways that might stray from conventional norms for the sake of their mental health, a topic she has advanced with her capstone research. Zambrano acknowledges her own challenges of transitioning to college and hopes to help other students who may be dealing with similar struggles. She expanded more on her passion for psychology and advice-giving in a Q&A session.
What made you decide to attend PLU?
I thankfully had a really good GPA in high school, so I was able to do the Presidential Scholarship interview, and I got the Regent's Scholarship — that's a giant reason why I came here. I knew a couple of people from high school who told me PLU was a good school and environment, as well. PLU is close to home — I live in Federal Way, so 30 minutes from here.
What motivated you to pursue a degree in psychology?
I was a communication major at first, and the classes were great, but nothing was clicking. It didn't feel good. I was always the advice-giver in high school — a lot of my friends came to me for advice — and I realized that I really enjoy talking to people and being a sense of safety or trust to them. I thought maybe I should be a psychology major to become a therapist or a counselor; then, once I got into the program, I discovered I wanted to work with college students.
What have you appreciated about your academic experience at PLU?
Everyone is really nice. I was very scared of coming to a big college and taking classes with professors, but I got here, and they were super lenient and chill. I struggled a lot mentally, specifically my sophomore year when COVID hit, but my professors were very understanding and caring — that's really important when you're a college student.
What is the topic of your psychology capstone?
We are doing a topic on script-divergent vs. script-consistent pathways (a sequence of actions that guide expectations and behaviors) and how they are perceived within racial identities. We are including three categories in our survey — one explores taking a gap year vs. entering a graduate program straightaway, another would be changing careers vs. settling within a career, and the last would be marriage vs. divorce.
What did you learn in your internship with the Dean of Students Office?
I loved that internship mostly because Susan [Pavur, Student Care Network manager], Eva [Frey, dean of students], Austin [Beiermann, accessibility and accommodation director] and everybody there was amazing and very sweet. The internship made me think about different opportunities that I can take with a psychology major, like case management. Being able to talk to students and fill out care forms solidified the fact that I genuinely enjoyed doing that work and being a psychology major.
What was your favorite job responsibility in that role?
I think responding to emails or sending out emails for the care forms — I would talk to students about being homesick, their general mental health, or other things. No matter how small or how big the care form was, it always felt really good to send out that email and get a response saying that I helped a student. My favorite thing was being able to connect with students and help them.
How did you find working with other students and your peers in a professional environment?
I first started giving advice to my friends, which is a very different thing. In my role in the Dean's office, I had to be very professional and more specific in the way that I said things, and sometimes I had a hard time doing that because I like talking to people as if they are my friend. Still being able to be professional and feel human was a difficult thing to do at first, but it definitely got a lot easier as I went on with the internship. Learning to trust myself was very helpful.
How did you realize you wanted to work with college students in your career?
College-age people are very important to society. I came from high school straight to PLU, and that transition was very hard for me and my peers as well. I wanted to know if that was how everyone else felt, as I think that college students have to balance still being a kid while also becoming an adult. We also have to figure out what we want to do with our lives immediately after graduation. I wanted to work with college students to show them that college is not an impossible transition and that they don't have to follow a traditional script. Mental health is more important than everything.