Refracting Spectrums of Color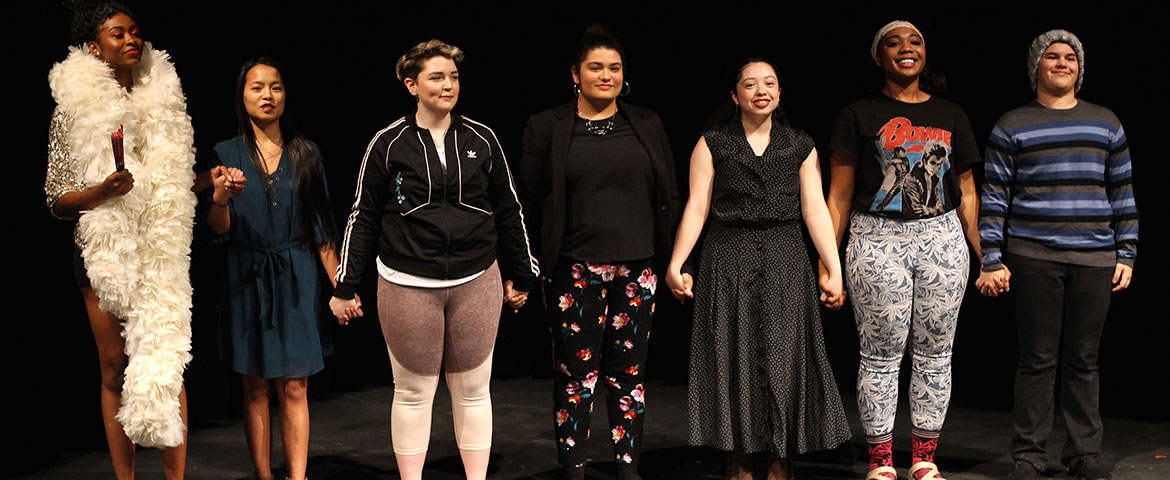 October 8, 2019
By By Kiana Norman-Slack '17
Marketing & Communications
Nayonni "Nai Nai" Watts has autism, and she's not afraid to be open and honest about it.
"If people want to learn about autism, it's best to learn from an autistic person rather than a non-autistic person," she says.
In January Watts debuted her student-led production "Spectrums of Color," a series of three vignettes focused on people of color with neurological disorders. With this production, Watts places both herself and other people of color like her in the faces of those willing — and not so willing — to learn about the autistic experience.
Watts always had a hunch that something was different about her, and so did her family.
"My mom knew something about me was different," Watts recalled, "Around the time children develop language and such, I was quiet."
Growing up, Watts was bullied by people who labeled her an "outsider" from an early age. Where some might have been crushed or silenced by that designation, however, she's grown from it and learned to become a self-advocate.
"Sometimes I still feel like an outsider in my own community," she said. "I was very aware that I was different — I see in an array of rainbows, and other people see black and white."
Watts said if it wasn't for her aunt, who urged her mother to get Watts diagnosed, this might have been a different story. Watts was finally diagnosed at age 14 with Asperger's Syndrome — a type of autism that is characterized by high levels of intellect accompanied by impaired social skills and a repetitive pattern of interest or activities.
A Las Vegas native, Watts originally wanted to go to college out of state. Although PLU wasn't her first choice, it was the best choice for her in order to achieve that goal. Watts will graduate this spring with a Bachelor of Arts in Theatre.
In her spare time, Watts enjoys hosting game nights and watching movies with her friends — creating a space where her friends of color can feel free to be themselves.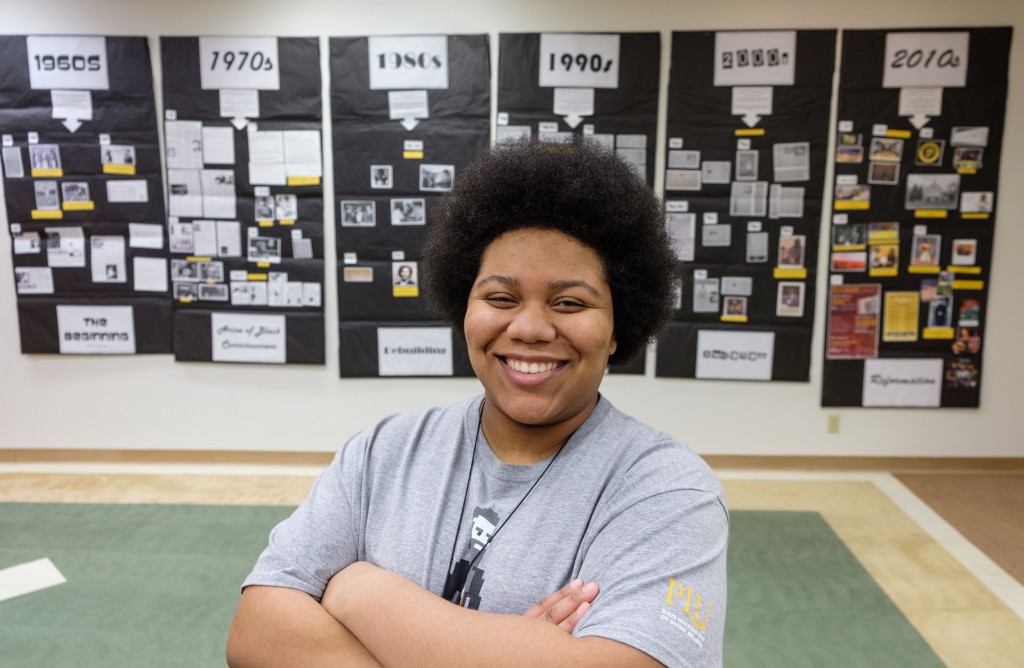 She enjoys watching cartoons such as "Steven Universe," "Craig of the Creek," and wants to eventually get into "The Miraculous Ladybug":  "Any show that has any kind of diversity that kids can pick up is just really fun to watch."
Watts gravitated towards cartoons because she particularly enjoys writing scripts for animated kids stories.
"I aspire to be a writer," she said. "It's where my passion lies."
"Spectrums of Color" tells a cohesive story using those separate vignettes — "Autistic Alliance," which aims to spread awareness of autism and showcase women of color on the high and low sides of the autism spectrum; "Why I Dance," which is inspired by a dance class Watts took at PLU; and "Greek to Me," which is a story about how Watts expresses love using the Greek words Agape, Philia and Eros. Watts fondly recalled the moment this all started.
"I can trace it back to Fall 2017 — I was in a playwriting class with Professor Tom Smith. It was the first time this class was offered, so I wanted to learn more about it," she said.
Watts received edits of her works from both her peers and professors. Smith in particular was enamored with the story of "Greek to Me."
"He said it was the most raw piece of all my work," Watts said. From that moment, she began to recruit her production team.
For "Spectrums of Color," Watts wanted to make sure she found all the representation she could.
"The hardest part was finding actors … I specifically wanted women of color," Watts said. "When you talk about autism, you always see white males. I wanted to show and uplift that these are the stories of autistic PoC, from what I've learned and what I've observed. I thought it would be really cool to have that chance."
"Spectrums of Color" received an outpour of love and support across campus.
"It was really splendid, especially for folks who knew the process of the show and other people who had seen it come to life," she said.
Watt wants people to know that the motivation for her production wasn't to seek sympathy: "I didn't do this to make people feel sorry for me, I just wanted people to know that these people exist." As for the future, Watts wants this conversation to continue.
"For people of color, I want them to raise awareness in their own community," she says. "For white people, I want them to realize that it's not about them. (I want them to) learn something. Observe that the system was built around your ethnicity, not mine."