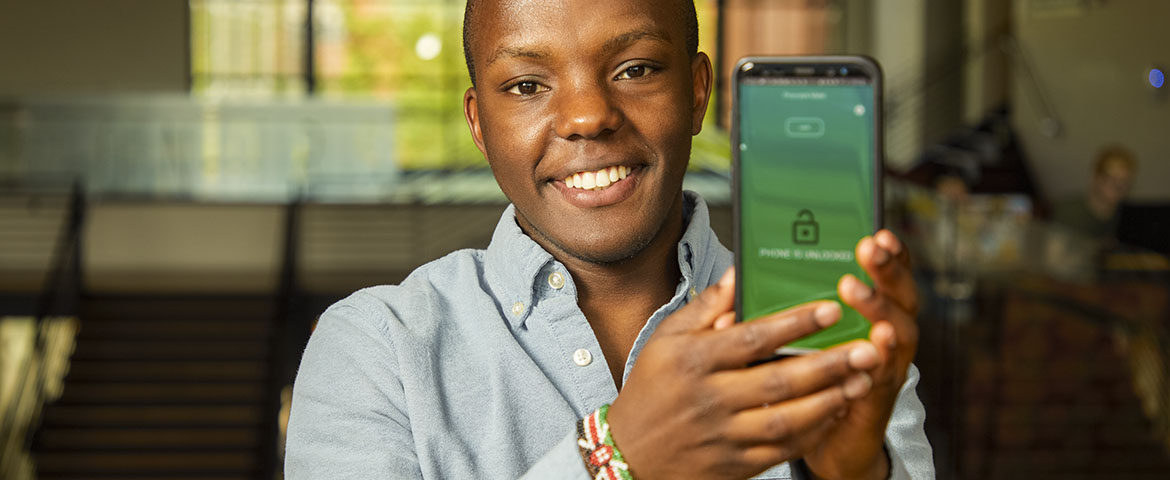 October 8, 2019
By Thomas Kyle-Milward
Marketing & Communications
The college experience is about education in the classroom, but it's also deeply rooted in building tools and traits that translate into rewarding professional careers after graduation. For some PLU student entrepreneurs, those budding careers get started while they're still on campus.
An app to beat procrastination
Smartphones are one of the most powerful inventions of the 21st century. The world's knowledge is literally at your fingertips, tucked into your pocket, purse or backpack. But they can also be a powerful distraction. Luckily, Moses Mbugua '20 has built an app for that.
Procrasti Mate, Mbugua's solution for our urges to check for new texts, tweets, Snaps and Instagram posts, locks the user's phone for anywhere from minutes to hours at a time. Need to use your phone during that time period? You'll have to answer a set of trivia questions to gain access — and a procrastinating student trying to complete a homework assignment or prepare for a test can set up those trivia questions to match the area of study they're working on.
"Being on the phone kind of prevents you from being present," Mbugua said. "The struggle is, how do you have a healthy relationship with your phone rather than it being addicting?"
His app aims to break the instant-gratification loop that continuously checking for new notifications brings by making students aware of how much time they're spending on their phone and helping them focus on tasks. Does it work? Yes, Mbugua says, because it's already made a noticeable difference with his own phone habits.
"I take time to respond back to people on texts, like maybe a couple hours," he said. "I would say I use my phone a good amount on the daily, but now I can go without it. I've been able to go a month without the phone, and it's really nice."
Creating an app appealed to Mbugua, a computer science major, because it required little startup cash and offered an opportunity to fund his education — while the app is free, he is able to make money off Procrasti Mate through Google AdMob, a revenue-generating ad model for apps. But watching his peers staring into their phones instead of paying attention in class convinced him to think bigger.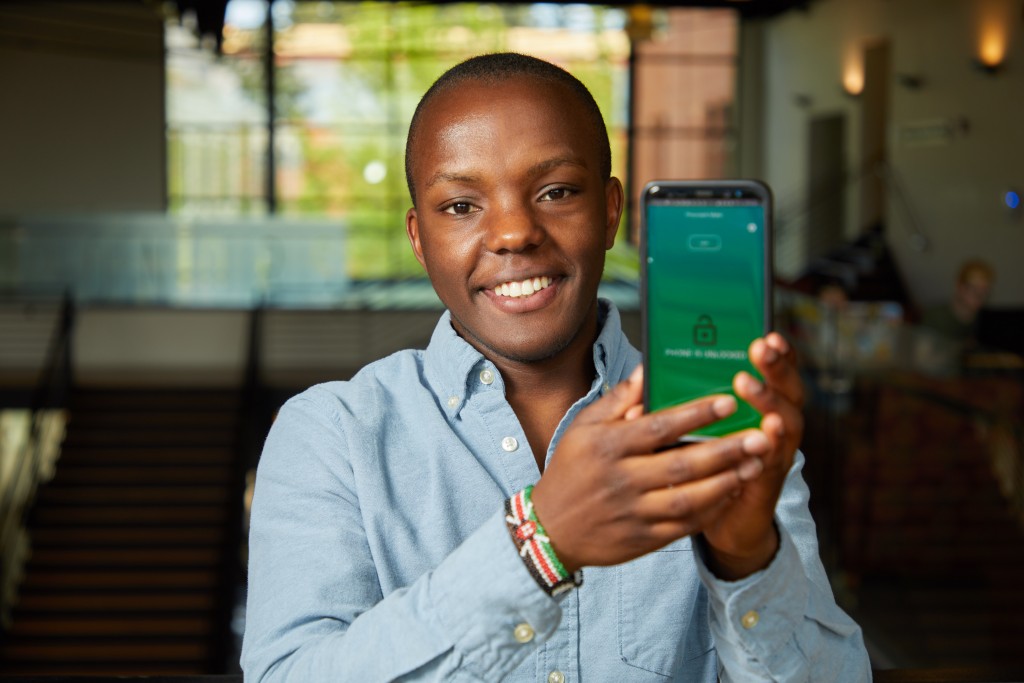 "(Smartphones are) a great tool, but also at the same time it's something people are dependent on," he said. "The goal is gone from me being able to pay from school to actually making a difference for other students."
Mbugua, who was born in Kenya but grew up in Kent and Federal Way, has an entrepreneurial streak and sees his app as the first step toward future business ventures. He also gets to be his own boss, which is something that's important to him.
"Tech companies like Google, they treat their employees very well, but at the end of the day you're still someone else's employee," Mbugua said. "This has (fueled) my desire to be able to lead and create my own stuff — I have full control, this is my baby. It's nice to understand what it's like to be a leader in this space."
His Procrasti Mate development team includes current and former students Adam Baldwin '18, Colton Walter '19 and Nick Sundvall '20, and local developer and educator Peter Gruenbaum. Engineer and entrepreneur Al Herron has also been a mentor. As the team manager, Mbugua says he's been able to develop marketing, time management, communication and delegation skills — and he doesn't see that continued evolution changing as he pursues future business ventures.
"My skills are always going to be changing depending on what I need to communicate," he said. "It's made me really appreciate not just having the ability to code, but also being able to talk with other people and understand how they're doing something."
No hurdle too big to overcome
Kait Dawson '19 just graduated summa cum laude with a BFA in graphic design. In September, she'll move to London and begin studying for her master's at the Condé Nast College of Fashion & Design. She already has her own clothing line, "Hooga Wear," and studied away five times during the course of her college education.
None of these accomplishments were supposed to happen.
At the age of 14, Dawson suffered a traumatic brain injury during a head-to-head collision on the basketball court. The impact dislocated two ribs and three vertebrae, but the real damage wasn't yet known — an undiagnosed concussion. Two days later, during a PE Ultimate Frisbee game, she caught an errant elbow on the exact same spot on her right temple and blacked out. The damage from two such consecutive blows to the head, doctors said then, may never be reversible.
"My head hurt every day for the first three or four years," she explained. Incapacitating migraines that felt like explosions inside her skull. Memory loss. Sensitivity to light and sound.
Dawson spent the next four months after the accident undergoing total cognitive rest — in other words, shuttered in total darkness without stimulus as her brain worked to recover. Neurologists urged Dawson to drop out of high school. A school counselor recommended she switch her focus to a GED, telling her she'd never graduate.
However, Dawson wasn't ready to give up on her education or her dreams. With the help of online and summer classes, she graduated from high school on time and with honors. After walking across a commencement stage for the second time, this time to retrieve a college diploma, the road to get where she is today has been weighing on her mind.
"I'm thinking a lot about my high school graduation and how emotional that was," Dawson said. "It's just crazy thinking about how much further I've come. When I started college, I had no idea how it was going to go and if I was going to finish."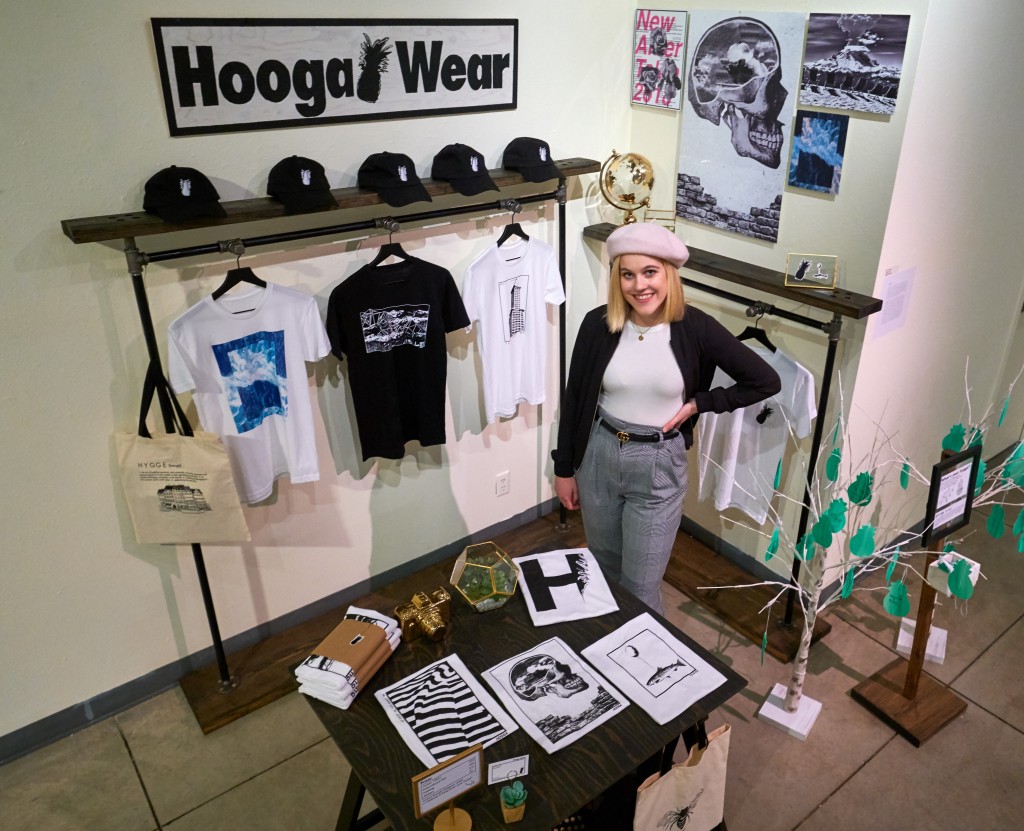 Something that's truly flourished during her college years has been her art. Dawson's Hooga Wear line, inspired by a summer semester in Denmark's Copenhagen, is entirely her own and intimately interwoven with personal experiences. A graphic tee, for example, emblazoned with a skull cut open to reveal an explosion with clouds and static, represents the debilitating pain Dawson experiences inside her head. Stamped on another is the Smith Tower, her favorite building in Seattle and the first landmark her grandmother journeyed to see when she moved to Washington from Montana.
"I always knew that I wanted to go into fashion after college," Dawson said. "I figured an apparel line would be a good combination of my graphic design knowledge and how I can show that, 'look, I can apply this to fashion' … a good way to kind of bridge that gap between the foundational knowledge in education that I've received at PLU to the education that I hope to received in grad school."
The "Hooga" part of her line's name stems from the phonetic spelling of the Danish word "Hygge," which can't be translated into a single English word but represents a feeling of joyful contentment and well-being stemming from life's simple pleasures. It's a foundational part of Danish culture and, Dawson believes, a fundamentally different outlook on life than what you'd find in the United States.
"Here, it's very 'the next big thing,' like graduation and getting a better car and getting a better job and it's all about 'what can I do next?'" she said. "Whereas I feel like Danish culture is very much just finding the joy in those little moments."
The logo's jazzy pineapple, Dawson's favorite fruit and a symbol of hospitality, is another call back to happiness and simple pleasures — the core message of the Hooga Wear line and an attitude Dawson herself has adopted.
"Hygge is the main thing I draw upon because it's finding that happiness and that joy no matter what circumstances you're in," she said. "I'm really fortunate that I learned how to do that when I went to Copenhagen."
Sales of her apparel, conducted primarily on Instagram, have been successful and an encouraging sign that Dawson's on the right track. Just another hurdle overcome as she sets her sights on London and the next step toward a long and promising career.
"My high school art teacher told me that I had no future in art and that I would fail," Dawson said. "But this is what I want to do … that's definitely made me push myself a lot harder. I have worked so hard in my mental health recovery and in school and haven't really let anyone tell me 'no.'"
Falling in love with football again — through podcasts
To say Zac Shomler's path to PLU has been unconventional would be an understatement.
Shomler, one of eight quarterbacks competing to be the Lutes' starter next fall, is on his third university and second college football team. But he believes he's finally found a home, a passion — and a career path.
Let's go back to the beginning. Shomler, an accomplished but undersized quarterback at Skyview High School, accepted a spot at Lewis & Clark College after not getting recruited as heavily as he'd liked. After losing the training camp battle to become the starter and being relegated to a backup role, he quit the football team and ultimately dropped out of school after just one semester. Looking back, he admits that reaction to a surprising setback wasn't his proudest moment.
"Lewis & Clark came knocking and I said, awesome, I'm going to play as a freshman. I'll be the man, I like being the man. That'll be fun," Shomler said. "And then I got beat out and it was like, well, crap, you're not the man. You're not proving anybody wrong. I was really immature and really lost, kinda, and angry."
Then, a terrible family tragedy struck: Zac's younger brother, Zayne, took his own life. Zac spiraled into deep depression, wandering while he grieved and slowly began to put himself back together — he ended up in L.A., working at a carwash and as a mechanic. But even as his life got messier, a light emerged at the end of the tunnel.
"My brother always was like, 'Let's do a podcast together.' I always ignored it," Shomler said. "The night he died, it's like 4 in the morning and I'm like, I'll listen to that podcast finally."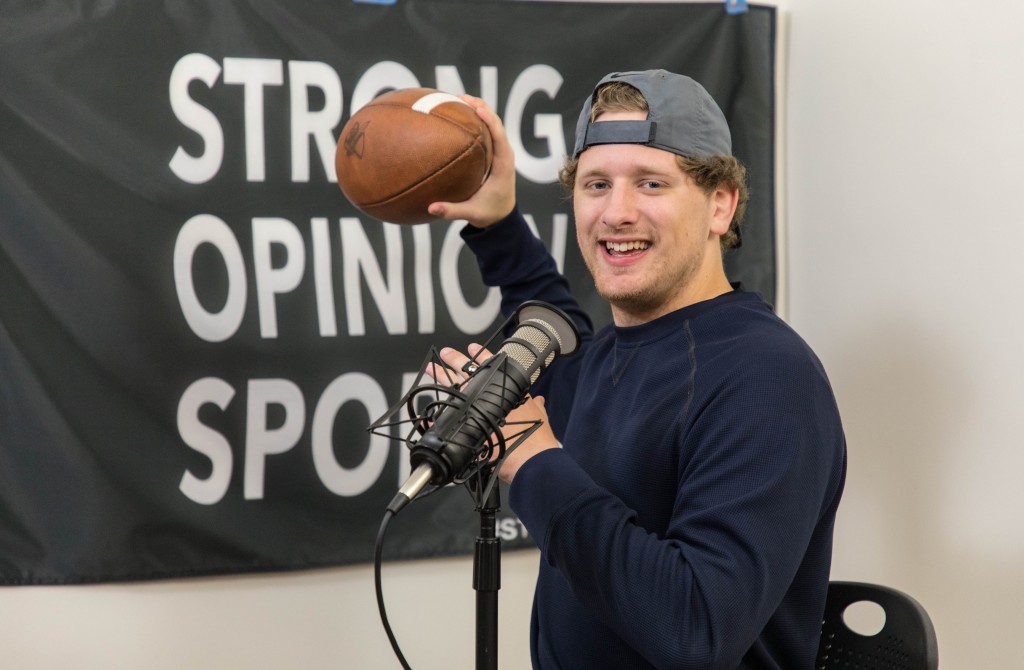 The podcast in question: a goofy show Zayne had discovered, enjoyed and periodically shared with the then-disinterested Zac. Over the next six months, Zac Shomler listened to every single old episode of that show. It was a way for him to stay connected to his brother, to pay homage to a memory — to fulfill a forever unanswered request. He experimented, starting a podcast of his own he describes today as "trash" about nothing in particular. But what started as part of the healing progress was evolving, first into a hobby and then into a passion worth pursuing. In August 2017, he tried again, launching a sports-specific podcast on YouTube that allowed him to talk about his old love — football.
Today Shomler's channel, Strong Opinion Sports, has more than 66,000 subscribers and 1,200 videos. He describes his style as honest and authentic, and experienced sportstalk listeners may detect a cadence similar to Colin Cowherd, one of his inspirations. Shomler believes Strong Opinion Sports will continue blossoming into a career after college, but insists that even if it doesn't, the journey has been worth it.
"You had to ask yourself, 'why am I doing this?' I'm not doing this for other people," he said. "I'm doing it because I enjoy doing this and it'd be cool to do it someday, but I just enjoy doing it."
That motivation helped get Shomler back on track. Eighteen months after dropping out of college, Shomler enrolled at Washington State to continue his education. But he felt lost on campus and in the classroom, awash in the 25,000-strong student body. After struggling academically, he started considering transferring in search of a better fit. He reached out to PLU head coach Brant McAdams and felt an immediate connection that helped rekindle his desire to get back on the gridiron. On February 1st, he announced his enrollment at PLU on Instagram.
"I wanted to play football again, I wanted to have a better situation for me all around, and PLU is like a perfect fit," Shomler said. "I love this place, like, I really am grateful for PLU. It's nice to be somewhere where I feel like I'm finally home."
After four years without football, he was back where he belonged. And, as the football team's elder statesman at 22 years old, he's taken on a mentoring role with his younger teammates and fellow students.
"I'm in a class where we're making a podcast for our project," Shomler said. "I've literally been the library like five times in the last week, helping other groups record their podcast. I'm older and I'm the oldest guy in all my classes — but it's fun to get to be like a young kid again."