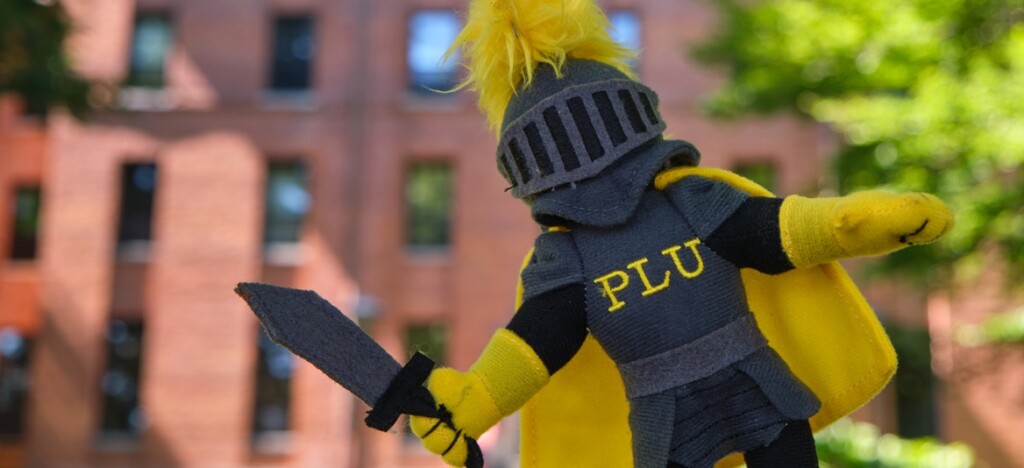 PLU Admitted Student Day
April 29
8:30am – 4:00pm
Join us on campus for a fun day-long event designed to help YOU experience what learning and living at PLU is all about! Sit in on a class, attend breakout sessions based on your interests, explore PLU spaces, and connect with current and fellow admitted students. You'll get lunch AND some great PLU swag.
At this time registration for the April 29th Admitted Student Day is closed. We do accept walk-ins for the event and encourage you to join us between 8:00-8:30am for check-in at the Karen Hille Phillips Center for the Performing Arts on Friday, April 29th if you are interested in attending.
Come see why we think you'll make a great Lute!
*These events are for admitted first-year students only.
Event Schedule
8:30am – Program Begins/Welcome
9:15am – Classes/Breakout Sessions/Student Panel
10:20am – Academic & Involvement Fair
11:15am – Classes/Breakout Sessions/Student Panel
12:30pm – Lunch/Student Clubs Showcase
1:30-3:00pm – Special Spaces Tours & Open Houses
1:30pm-4:00pm – Campus Tours
1:30pm-4:00pm – Financial Aid Conversations
2:30pm-4:00pm – Resource Fair
Schedule is subject to change and may have slight variations between event days.
ACADEMIC & INVOLVEMENT FAIR
Academic Participants
(See the majors and minors represented by each division)
Arts & Communication
Art & Design

Art History
Studio Arts

Ceramics, Graphic Design, Painting, Photography, Printmaking, Sculpture

Communication

Communication & Civic Engagement
Film & Media Studies
Strategic Communication

Music

Music (BA)
Music Education (BME)

K-12 Choral, K-12 Instrumental

Musical Arts (BMA)
Music (BM)

Composition, Instrumental Performance, Organ Performance, Piano Performance, Vocal Performance

Theatre

Acting/Directing, Design/Technical, Musical Theatre

Dance (minor)
Business
Business Administration

Management
Marketing
Accounting
Finance
Individualized

Non-Profit Leadership (minor)
Education & Kinesiology
Education

Elementary (K-8) Certification with endorsements in

Special Education (P-12), Reading (P-12), English Language Learners (P-12)

Music Certification (Music Education major)
Health & Fitness K-12 Certification (Kinesiology major)
Interested in teaching high school? We recommend you major in your area of interest, then earn your educational certification as part of the PLU Master's program. This 4+1 option is available at PLU for most subjects.

Kinesiology

Exercise Science
Health & Fitness Education
Health & Fitness Promotion
Pre-Physical Therapy
Coaching (minor)
Exercise & Sport Psychology (minor)
Personal Training (minor)
Pre-Athletic Training (minor)
Humanities
English
French & Francophone Studies
Hispanic & Latino Studies
Philosophy
Religion

Early Christian Studies (minor)

Chinese Language (minor)
Interdisciplinary Programs
Chinese Studies
Environmental Studies
Gender, Sexuality & Race Studies

Critical Race Studies (minor)
Gender & Sexuality Studies (minor)

Global Studies

Development & Social Justice, International Affairs, Transnationalism & Its Consequences

Individualized
Holocaust & Genocide Studies (minor)
Innovation Studies (minor)
Native American & Indigenous Studies (minor)
Peace Corps Prep (certification)
Publishing & Printing Arts (minor)
Natural Sciences
Biology
Chemistry

Biochemistry, Chemical-Physics

Computer Science
Engineering Dual Degree
Geosciences
Mathematics

Applied Mathematics, Mathematics Education

Physics
Pre-Health Sciences (pre-professional advising program)
Actuarial Science (minor)
Data Science (minor)
Engineering & Industry (minor)
Statistics (minor)
STEM Education (minor)
Nursing
Bachelor of Science in Nursing (BSN)
Health Services (minor)
Social Sciences
Criminal Justice
Economics
History
Political Science
Pre-Law (pre-professional advising program)
Psychology
Social Work
Sociology
Conflict Resolution (minor)
Public Affairs (minor)
Clubs & Organizations
Asian Pacific Islander Student Association
The Asian Pacific Islander Student Association (APISA) seeks to promote Asian and Pacific Islander cultures through cultural awareness and support within the PLU community to obtain unity through diversity. You do not need to be of Asian or Pacific Islander heritage to join our club. We welcome anyone who is interested in learning and supporting the API culture.
Black Student Union
PLU's Black Student Union seeks to provide a space for Black students, faculty, and staff to come together in community and solidarity, have a space to heal, and to celebrate our BLACK JOY.
Delta Iota Chi
PLU's chapter of the National Student Nurses Association (NSNA), a pre-professional organization which promotes and enhances student nursing in the United States. Delta Iota Chi is an organization of PLU student nurses who, in some way, want to give back to the school and community.
GREAN Club
GREAN, or Grass Roots Environmental Action Now, is a student club dedicated to all things that are green, with a mission to promote environmental awareness and action on campus and throughout the community.
Hawai'i Club - Nā Hoaloha O Hawai'i
Nā Hoaloha O Hawai'i (NHOH) seeks to promote the Aloha Spirit and the diverse cultures of Hawaii and its people through service projects, social activities, and our annual Lu'au.
Investment Club
The Investment Club provides, through the School of Business, hands-on experience in working with an investment fund.
Lacrosse - Men's
The PLU Men's Lacrosse team is a competitive college lacrosse club sport team that competes against the nation's top teams in the Men's Collegiate Lacrosse Association (MCLA). No experience required to join!
Parkland Literacy Center
The mission of the PLC is to serve the greater Parkland community through literacy training and academic support. We currently provide tutoring to all K-12 students in Franklin Pierce and Bethel School Districts.
Prism
Prism is a group dedicated to creating a safe and educational space for all queer, trans, and gender non-conforming students.
Red Cross Club
PLU's club to support the Red Cross.
Rowing - Women's
Nationally ranked, the women's rowing team competes in the Northwest Conference of NCAA Division III.