Be a Lute
Pay your enrollment deposit to join this fall's incoming class! #FutureLute
Submit your deposit
Below you'll find helpful information and next steps to take now that you've been admitted.
Check your PLU student applicant portal often for the most up-to-date information and to access your enrollment checklist.
Remember that at any point you can contact your PLU Admission Counselor or the Admission Office at 253-535-7151 or admission@plu.edu with questions.
BE A LUTE! SUBMIT YOUR ENROLLMENT DEPOSIT
To join the entering class of Fall 2022, request your housing, and prepare for class registration, submit your $200 Enrollment Deposit.
Steps to submit your Enrollment Deposit:
Go to plu.edu/bealute
Click on the button 'Undergraduate Students: Enrollment Deposit'
This will take you to the log-in page for your PLU student applicant portal
Once in your portal, click on either 'Admission Offer Confirmation' or 'Respond to your Admission Offer' then click 'I ACCEPT my offer of admission'

Not seeing these options? That means you need to review your official PLU admission letter first! Click on the link 'View Update' under 'Status Update'

From there, you can take the steps to submit your Enrollment Deposit!
PRINT YOUR OWN YARD SIGNS
Share that you're proud to be PLU Bound! Check out these yard signs for you and your family to download, print, and display OR find more PLU yard sign options through Custom Lawn Sign, which will ship directly to you!
SOCIAL MEDIA GIFS
Find PLU GIFs and stickers to add to your social media like IG, ZeeMee & TikTok by searching pacificlutheran on GIPHY.
GET YOUR PLU GEAR
The Lute Locker is offering 25% off your entire order when you shop online! Enter the code NewLute at checkout.
Have you visited yet? One of the most important things you can do is experience campus and see what it is truly like to be a PLU student (plus, when you visit, you'll earn a $1,000 per year Visit Scholarship)!
We also invite you to check out our virtual tour. Click the buttons below to start exploring!
REVIEW YOUR FINANCIAL AID PACKAGE
Submit your Free Application for Federal Student Aid (FAFSA) soon to ensure optimal financial aid awarding for the 2022-23 academic year.  The FAFSA is free, and it is the best way to see how much it will cost to attend PLU. (Note: PLU's FAFSA school code is 003785). If you are unable to fill out the FAFSA (i.e. if an undocumented student), and are a resident of Washington state, you can instead complete the WASFA to be considered for need-based financial aid.
2022-23 DIRECT COSTS



Tuition* & Fees: $50,928
Room & Meals: $11,826
TOTAL: $62,754
Once your Offer of Financial Aid has been mailed (we begin mailing financial aid offers in mid-December), you also have the option to view it online on your student account information (Banner Web). Banner Web log-in instructions can be found here. Be sure to review your financial aid offer with your PLU Admission Counselor, who is happy to schedule a meeting with you and your family to answer questions regarding scholarships, grants, loans, work study, and payment options.
*PLU's Fixed Tuition Guarantee ensures that your cost of tuition will be locked in from your first day until your graduation day. At most colleges, tuition increases each year – generally without increasing students' scholarships or financial aid – but PLU is stopping that cycle.
The fixed tuition for the incoming class of Fall 2022 is $49,472.  For more information, please visit the PLU Fixed Tuition Guarantee webpage.
Now that you're an admitted student, there are a lot of ways to connect with PLU students, groups, academics, clubs, (and of course your friendly neighborhood PLU Admission counselors) on social media. Here are a few to get you started:
ZeeMee: ZeeMee for PLU admitted students

Get to know other future Lutes and connect with current PLU students on this free app that allows you to build community as you explore, apply and make your college decision. All you need is your smartphone and a cell phone number to get started!

Instagram: Join the PLU Class of 2026 IG @plu_2026! There's also @plu_admission & @pacificlutheran.
YouTube: PacificLutheranUniv
We recommend the Student Perspectives playlist & the Academics playlist
Twitter: @PLUNEWS
Facebook: Pacific Lutheran University
TikTok: @pacificlutheran
GET YOUR FAMILY CONNECTED
We recommend you encourage your parents/family to sign up for the PLU Family Portal, which is a one-stop shop for:
Access to important news, updates, and deadlines
Personalized newsletters
Announcements via email
Sharing updates
You'll find more information on the Admission Parents & Family Page.
The PLU Pledge is a loan repayment assistance program, a safety net, we offer for incoming first-year students.* Once you are employed after graduation, if you earn less than $50,000 per year, we will help you repay your student (and parent PLUS) loans until you do. The PLU Pledge covers all federal direct and private alternative student loans, as well as parent PLUS loans.
*This does not include incoming first-year students intending to major in Nursing or international students
The PLU Pledge is FREE for you to participate, but you must opt-in before September 6, 2022. If you are not taking out loans for your first year, but there's a possibility you may take loans out in subsequent years to help pay for PLU, you must still sign up before your first year to take advantage of the PLU Pledge benefits.
READ THROUGH YOUR NEW LUTE GUIDE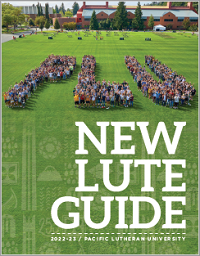 This handy guide (we'll be sending it to you in the mail!) includes important info about New Student Registration (getting your classes), residence halls and learning communities, how to buy your textbooks and apply for student jobs, planning for study away and more. There's even a tear-out sheet of important campus resources for your family to post on the fridge!
New Student Registration (NSR) is where you get your Fall 2022 class schedule and officially become an enrolled PLU student! During NSR (choose from an in-person or virtual appointment), you'll meet with a PLU advisor to register for classes, review your class schedule, and learn more about academic expectations and your path to graduation.
IN-PERSON DAYS: June 13, June 24, June 27, June 28, July 11, July 15
VIRTUAL DAYS: June 6, June 10, June 17, July 18, July 22
BEFORE you can request your appointment and before you can register for classes there are important steps you MUST complete! Read through the Next Steps Checklist info below.
NEXT STEPS CHECKLIST & SUMMER TO-DO'S
You've paid your enrollment deposit and you're ready to be a new Lute! Now what?
Next Steps Checklist
There are some things to get done before you can start classes in the fall – one of the most important (and exciting!) is actually getting your classes for the fall. The Next Steps checklist on your PLU student applicant portal lays out what you need to do (and what you've already done) to ensure you're ready to register for and start your PLU classes. Check this portal frequently!
How to access your Next Steps Checklist: After you've logged in to your student applicant portal, scroll down to find and click the 'Next Steps' button to display your personalized checklist!
Summer To-Do's
Once you've registered for fall classes, the Summer To-Do's webpage gives you those final details to wrap up before your first day as a new Lute!
NEXT STEPS CHECKLIST FAQ'S
I just completed one of the steps - why isn't the green check showing up on my checklist?
Just a heads up that because we're gathering info from across many different departments on campus, it may take up to 5 business days for your step to show up as "completed" (i.e. that lovely little green check mark) on your Next Steps Checklist.
If you know you've completed a step, you can absolutely move on to the next checklist item!
How do I activate and check my PLU email (ePass)?
Your PLU ePass gives you access to your PLU student email (and full Google suite), Banner Self-Service (your student account, financial aid, grades, etc.), Sakai Learning Management (for classes), PLU library resources and more.
Once you've got your ePass, check your PLU email consistently. Your New Student Registration appointment confirmation will only be sent to your PLU email, as well as information about LUTE Welcome, any class information from your professors, etc.
Not sure how to log on to your PLU email? Follow these steps:
Go to the PLU homepage.
Click on the menu on the top, select "EPASS", then select Gmail.
Sign in using your ePass log-in info. (Don't type in the '@plu.edu', though)
We recommend connecting your PLU email to your phone email app. That way you don't have to do steps 1-3 on your phone every time!
What is the Living Plans & Learning Community Application?
The Living Plans & Learning Community Application includes the application for housing (check out PLU's themed learning communities!), roommate questionnaire, AND, for students who will be living at home, the first part of the Confirmation of Living at Home (COLAH) process.
Whether you'll be living on-campus or off-campus, as a new student you must complete the Living Plans & Learning Community Application.
If you will be commuting to campus, you'll find additional helpful commuter resources here.
What is the Student Financial Agreement?
One of the most important steps to complete before you register for class is your Student Financial Agreement.
What the Agreement is: Essentially, you're telling us how you plan to pay any owing balance for tuition, fees and/or housing and meal plans after financial aid to PLU, and you have three different options (you can choose more than one!):
Payment in full – you'll pay the owing balance before each semester or term starts (August 25 for fall, December 25 for J-term & January 25 for spring)
Financial aid covers your costs – choose this one when tuition, fees, housing & meals are completely covered by scholarships, grants, and/or loans (this does include if you plan to use a Parent PLUS loan to cover all remaining costs)
Monthly payments – choose this one if you want to pay the owing balance in no interest monthly installments (we work with an outside company, Nelnet Campus Commerce, for which you'll need to sign up separately)
What the Agreement is not: Sometimes there's confusion between this Financial Agreement and a billing statement. This is not the billing statement and you are not paying any owing balance yet! That will come later, but we need to know ahead of time how you will pay any amount left owed after financial aid, hence this agreement.
How to complete the agreement: You can complete the agreement on your PLU Banner Self Service student account. You'll find instructions here on the Student Financial Services site.
What happens if I don't have the Agreement completed by my class registration appointment? Your student account will be put on hold and we won't be able to register you for classes until it's complete.
What is the Meningococcal Release Acknowledgement?
The Meningococcal Release Acknowledgement is a form you have to fill out only ONCE as a PLU student, where you must read and acknowledge the risks of meningitis, or meningococcal disease (this is a Washington State legal requirement).
This can be done on your PLU Banner Self Service student account:
Go to https://banweb.plu.edu
Select "Banner Self Service"
Sign in using your PLU ePass information
On the 'Personal Information' tab, select 'Notifications and Preferences' from the menu
Select 'Meningococcal Release Information'
Review the provided information, then click the acknowledgment button.
What happens if I don't have it completed by my class registration appointment? Your student account will be put on hold and we won't be able to register you for classes until it's complete.
How do I submit my Medical History Record?
The Medical History Record is a required form to complete and send to PLU's Health Center. (This is also where you'll be able to upload all medical documentation of vaccinations, including the required COVID-19 vaccine.)
How to submit your Medical History Record:
OR
Mail your completed form to: PLU Health Center, 12180 Park Ave S, Tacoma, WA 98447
OR
Fax your completed form to 253-536-5042
Do NOT email your completed Medical History Record form!
Do I NEED to have a healthcare provider signature on my Medical History Record?
If you have included a copy of your official immunization documents when you submit your Medical History Record, then you do NOT NEED to have a healthcare provider sign the form.
Do I have to take the Math Placement Evaluation?
The Math Placement Evaluation is one of the most important tasks to complete to ensure you get into the classes you need when you go through the registration process.
This evaluation is what PLU uses to determine which math classes you can be placed into and if you're allowed to start in some courses and/or majors (think biology, chemistry, nursing pre-requisites, business pre-requisites and more).
*All students, no matter their math background or their planned academic major, must take this evaluation.*
Here are some of the most frequently asked questions about the evaluation (and their answers):
Is it really required for registration? Yes, it is.
Do I really have to take it even if I (fill in the blank with whatever your question(s) might be)? Yes, you do.
How do I find out what my Math Placement Evaluation score means?
The Center for Student Success has this super helpful Google Doc with information about what each score means for course placement, as well as answers to the most common questions we get about Math Placement.
I'm interested in taking a language course - what is the Language Placement Guide?
The PLU Department of Languages & Literatures offers the following language courses:
Chinese
French
Spanish
Southern Lushootseed
If you have previous experience with French, Spanish, or Chinese, you can use the Language Placement Guide to determine the course level that is right for you. After looking over the guide, if you're still uncertain about which course to take, you can fill out a Language Placement Survey and a faculty member will contact you with a personalized recommendation on which course to take.
The PLU Department of Languages & Literatures
Our three programs–Chinese, French & Francophone Studies, and Hispanic & Latino Studies–offer introductory and intermediate-level courses in Chinese, French, and Spanish, as well upper division literature, film, and cultural studies courses. We also support the Native American & Indigenous Studies Program by offering introductory level courses in Southern Lushootseed.
In addition to counting towards majors and/or minors in these fields of study, our courses can fulfill General Education Requirements, such as the Cross Cultural Perspectives (C) requirement, the Literature requirement (LT), and in some cases, the Alternative Perspectives in Diversity requirement (A). If you intend to major or minor in one of our programs, the sooner your start, the better!
How do I send my final high school and/or college transcripts?
Final official transcripts from high school and any college/university attended are required to start classes. This includes transcripts for credit by exam (AP, IB, CLEP, etc.).
High school transcripts must show your graduation date and should be sent in the month of June, but no later than July 1. They can be mailed or delivered electronically by the high school, or delivered in person to the Office of Admission (Hauge 109) in an official sealed envelope.
College/University transcripts must show final grades for all courses enrolled and should be sent no later than August 1. They can be mailed or delivered electronically by the college/university, or delivered in person to the Office of Admission in an official sealed envelope.
Transcripts can be sent to:
PLU Office of Admission
12180 Park Avenue South
Tacoma, WA 98447
admission@plu.edu
Helpful On-Campus Resources